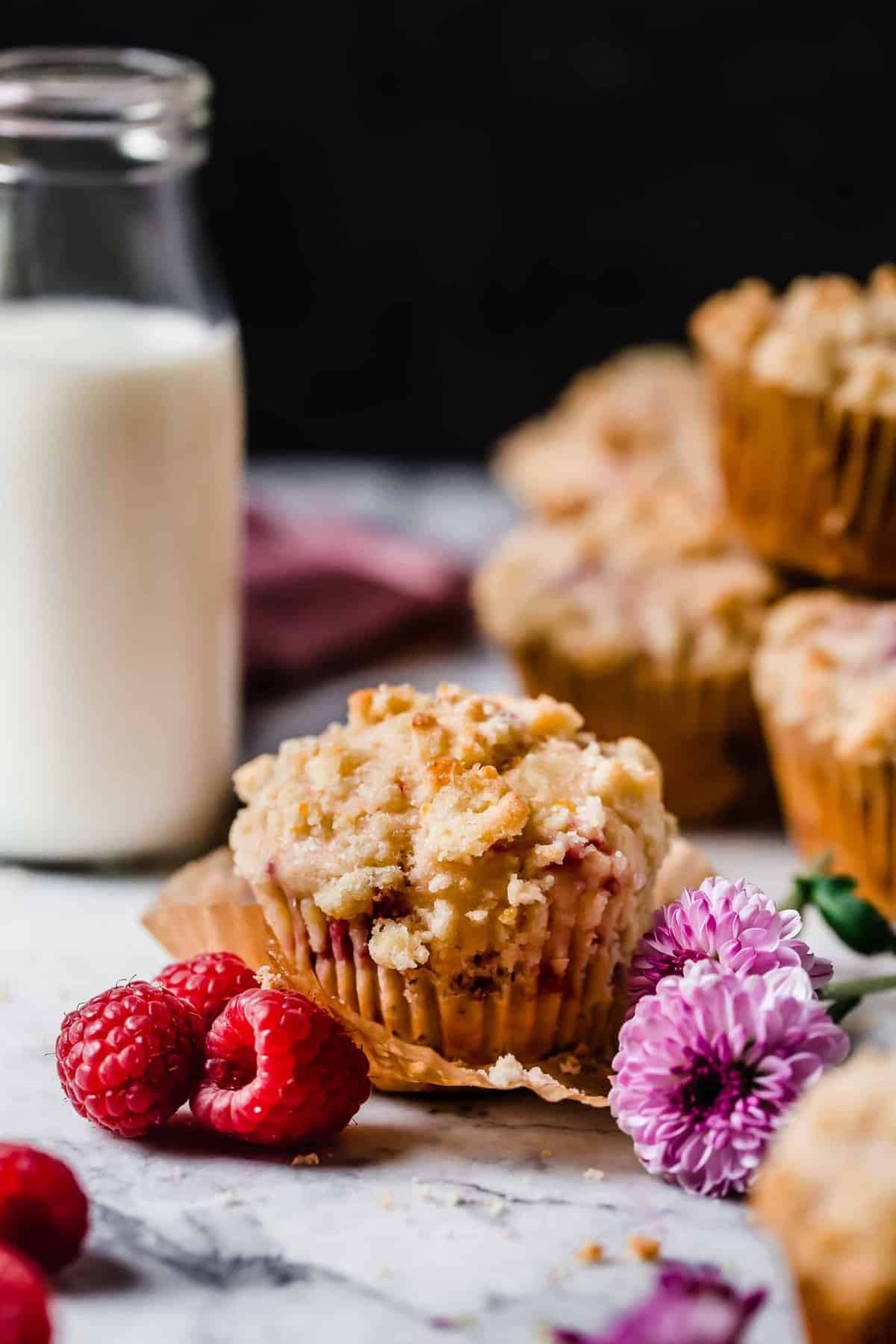 Raspberry Lemon Streusel Muffins that make your kitchen smell like a warm, sunny day.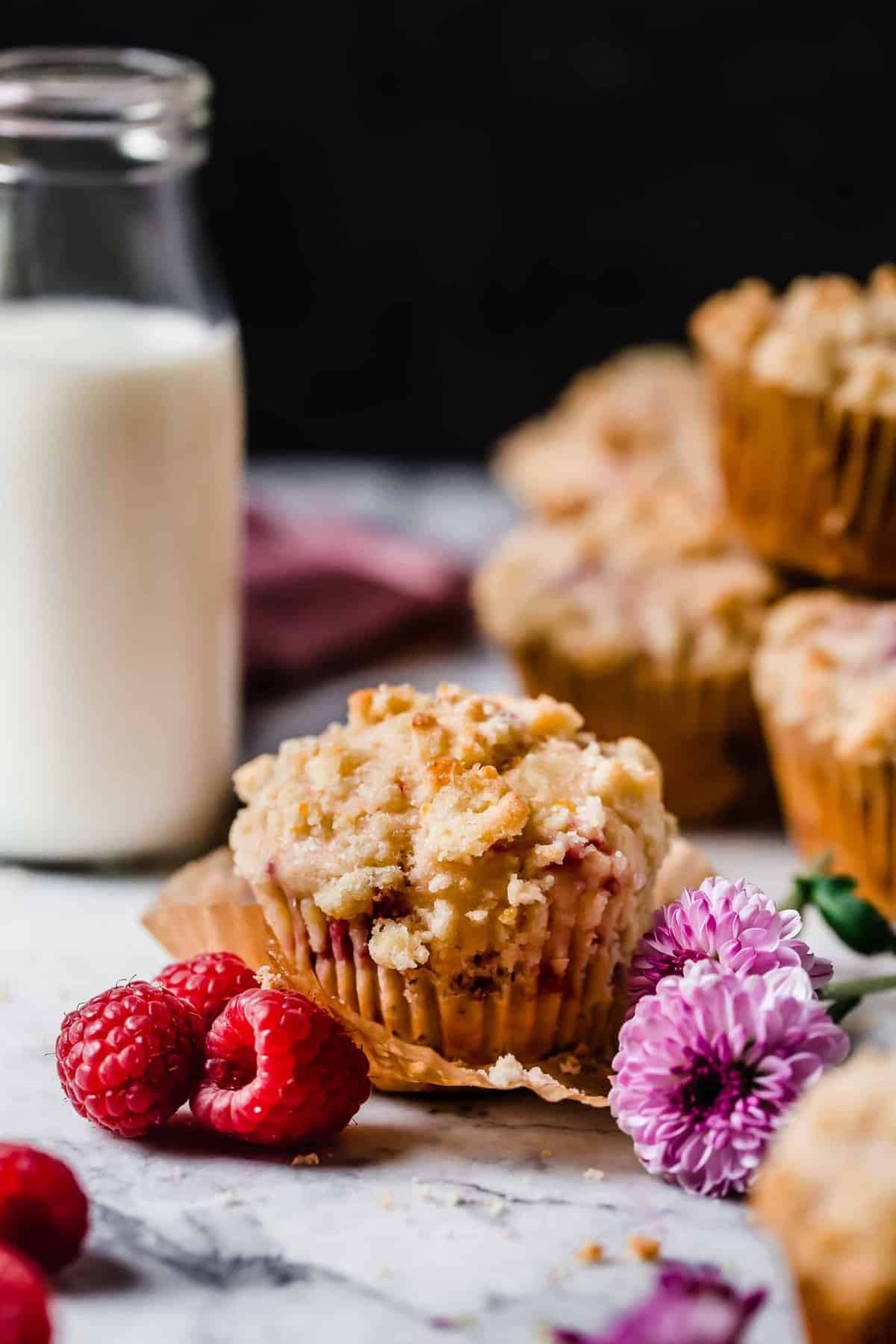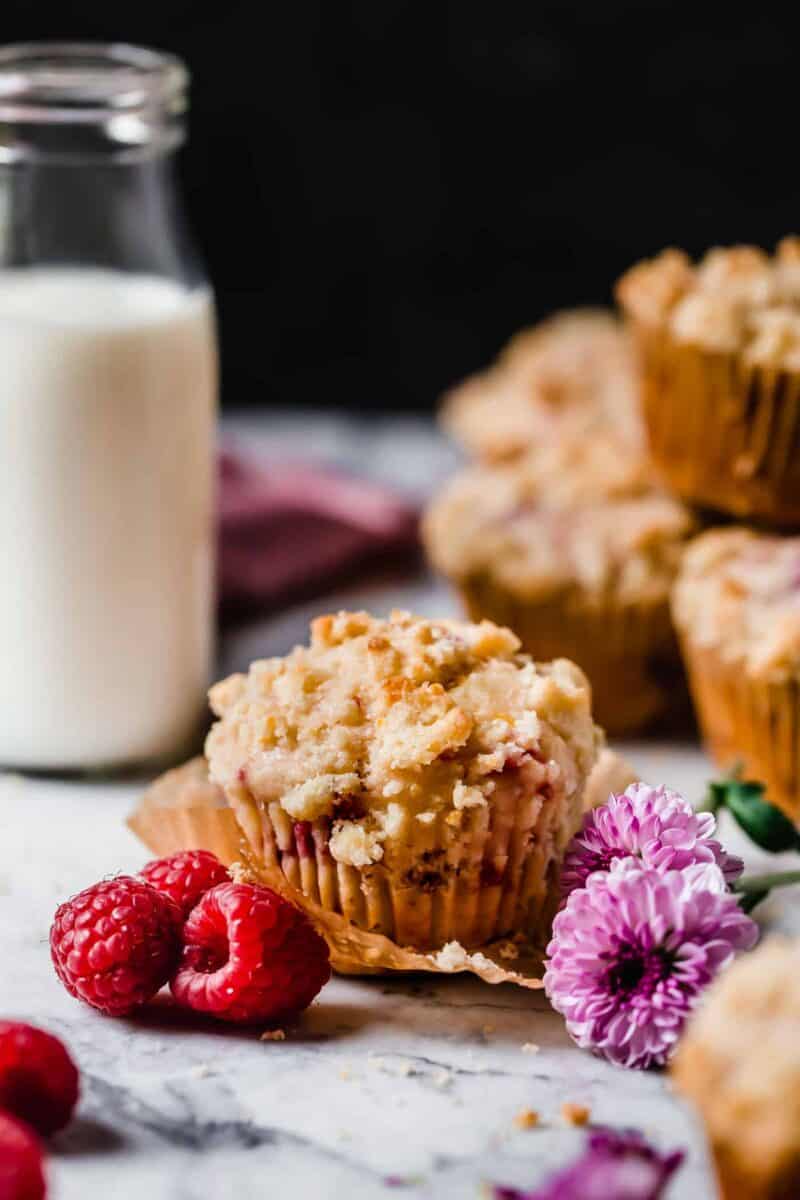 Raspberry Lemon Streusel Muffins
There's something about the raspberry lemon combo that makes me crave warmer weather.  It's just the feeling it gives you, Like, things are blooming and growing and the sun is out and you're frolicking in a field of daisies!
These moist and soft lemon raspberry muffins give me all of those feelings with their perfectly sweet yet tart fruity flavors. As soon as you bite into that crumb topped muffin you'll think it was made by a professional bakery, not just your home kitchen.
You get random bursts of tartness and you get the sweet lemon citrus at the same time for the most amazing combination!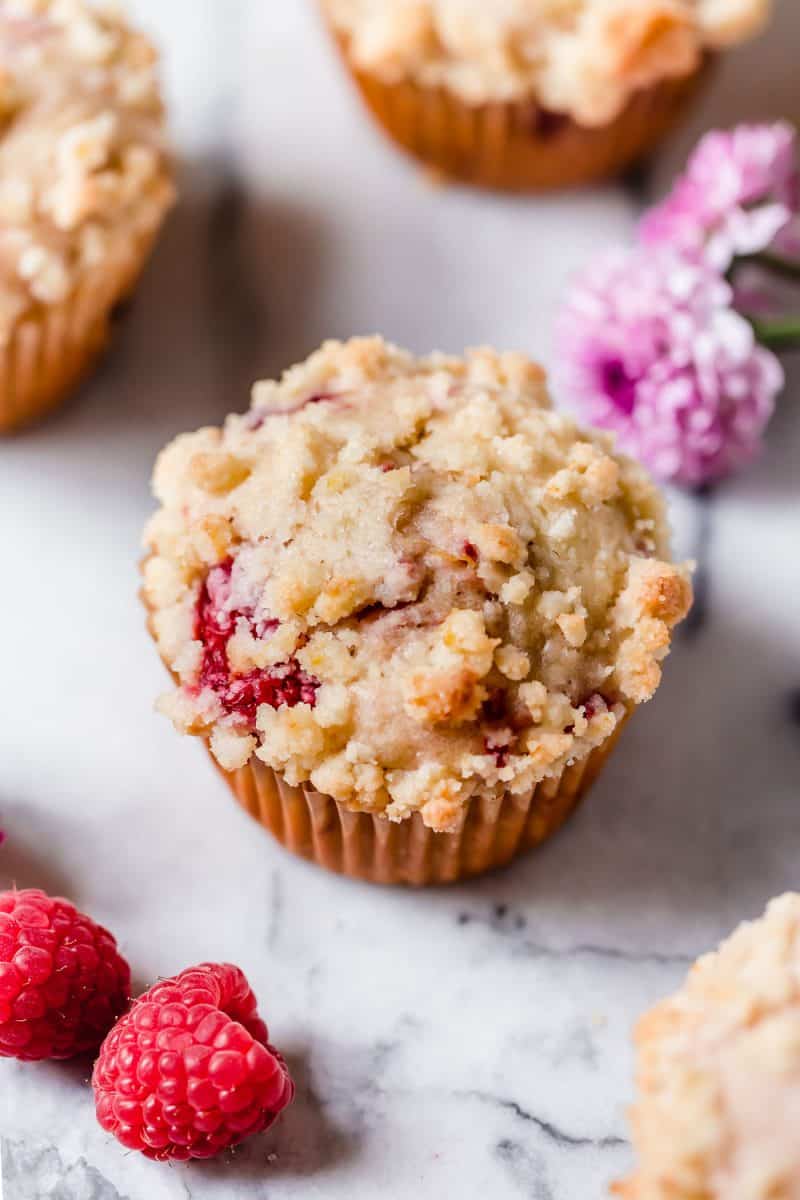 How To Make Bakery Style Lemon Raspberry Muffins
We all love those amazing bakery style muffins, but it almost seems like an impossible feat to recreate those creations. Thankfully with this muffin recipe making your own bakery creation comes easily!
What is Streusel Topping?
Streusel/crumb toppings are my favorites on a muffin. I will automatically go towards any muffin decked out with streusel/crumb topping. I love the crunch it gives. This particular one has lemon zest in it and the buttery texture rounds out the muffin perfectly.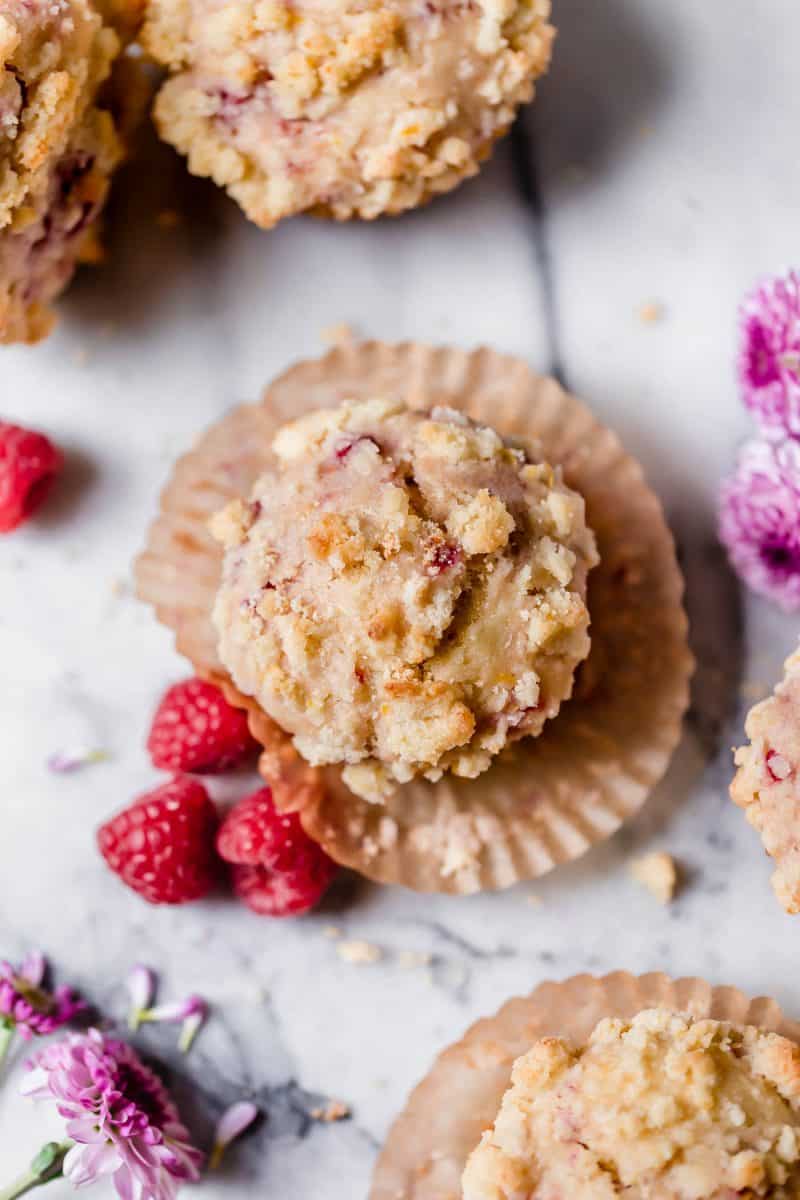 The Next Best Thing To Raspberry Lemonade
Raspberry lemonade isn't just for drinking anymore. Now you can enjoy your favorite spring/summer sipper in the form of a breakfast favorite.
The combination of raspberry and lemons reminds me of my favorite lemonade from Simply Lemonade. The raspberry lemonade flavor. If you haven't had it before, you need to get yourself a jug.
It's got the most perfect tang to it without being overly sour. Just like the drink, the raspberry within these muffins gives the muffins a bite.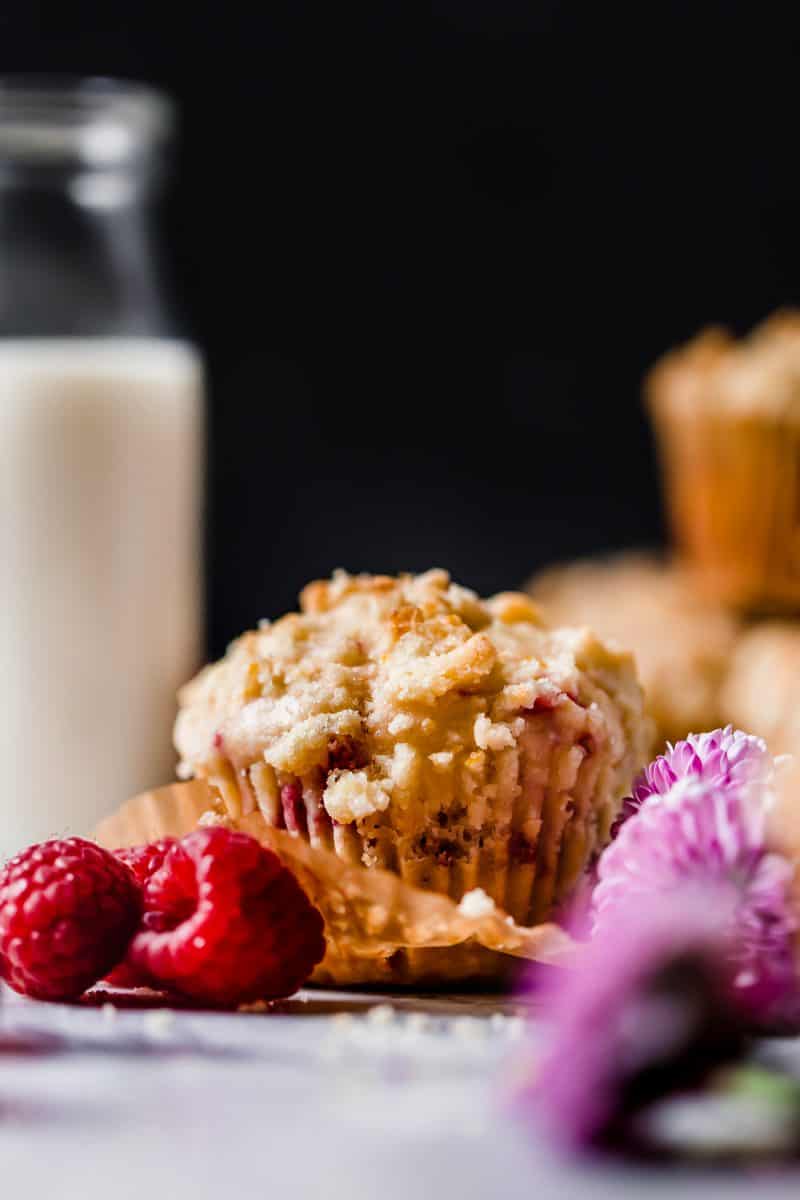 Muffin Baking Tips You'll Want To Remember
Do NOT overmix the batter: The light fluffy texture will be ruined if you overmix and crush all the air bubbles. Resist the urge to mix and mix until everything is smooth. Lumps are your friend in this scenario.
Grease the pan or use liners: Either method works fine but you need to do one of the other. If you try to skip the grease and liners you'll end up with a crumbly mess when trying to remove each from the pan.
Fill the cups 2/3rds full: Just like how cakes rise, so do muffins. This means you don't want to fill the cups to the brim or you will end up with an awful mess in your oven to clean up when all 12 muffins spill over.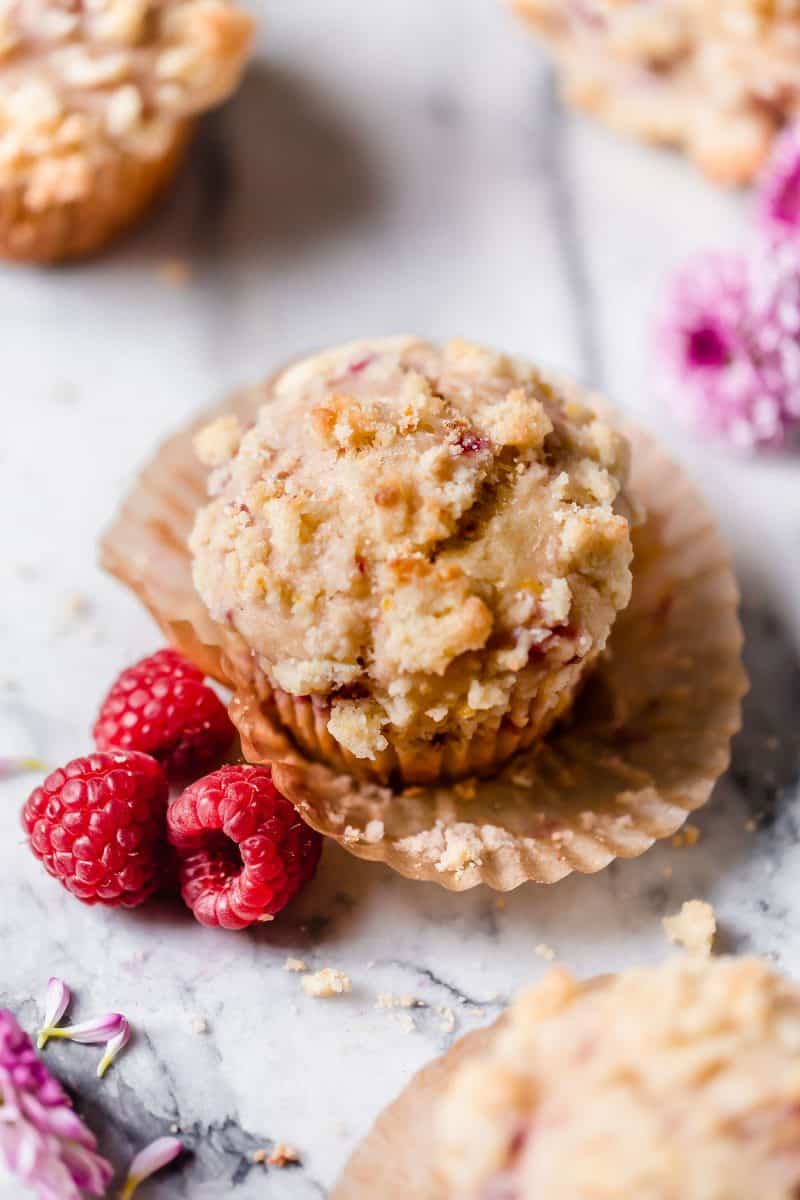 How To Serve and Store Your Raspberry Lemon Muffins
Whether you want to snag a couple for a good grab and go breakfast or end your day on a sweet note by treating yourself to an after dinner snack, these muffins are perfect for you!
They are great for almost any situation, be it a weekend brunch, baby shower, or just your run of the mill breakfast at home. No matter what you make this recipe for, they will be gone in no time!
Storing Leftovers
These raspberry-lemon muffins are really at their best when served and eaten the day they are baked. So, if possible, I recommend trying to bake just before serving, for those deliciously warm bites of heaven for everyone to enjoy.
If you do end up with leftovers don't just throw them out though, they will keep in an airtight container or ziptop bag at room temperature for up to 4 days. To step up your leftover muffin experience, try splitting each muffin toasting it in the oven on broil, then slather it with butter. So good!
Start Your Morning Off Right With These Breakfast Recipes!
We all know that breakfast is the most important meal of the day, so why not also make it the most delicious meal of the day? Give yourself the breakfast you deserve and check out some of these show-stopping recipes that are sure to jump-start your morning in the best way possible.
Blueberry Peanut Butter Pancakes for Two
Overnight Bacon Breakfast Casserole
Triple Berry Brioche French Toast
3-Ingredient Cherry Coffee Cake
Print
Raspberry Lemon Streusel Muffins
Raspberry and lemon make a great flavor combination for these muffins!
Course
Breakfast, Dessert, Pasta
Ingredients
For the topping
1/3

cup

granulated sugar

3

tablespoons

all-purpose flour

Zest of 1/2 a lemon

2

tablespoons

unsalted butter,

melted
For the muffins
2 3/4

cups

of all-purpose flour

1

tablespoon

baking powder

1/2

cup

granulated sugar

1

egg

Juice of 1 lemon

plus enough milk to fill 1 cup

4

tablespoons

unflavored oil, like avocado oil

Zest of 1/2 a lemon

1

cup

fresh or frozen raspberries

(see notes below)
Instructions
Preheat the oven to 400 degrees. In a 12 cup muffin tin, line with muffin/cupcake liners or grease it with cooking spray.

For the topping, in a small bowl, combine the sugar, flour, and lemon zest. Mix in the butter until the mixture is crumbly. Set aside.

In a large bowl, sift the flour and baking powder together then mix in the sugar with a whisk. Set aside.

In the bowl of a stand mixer with the paddle attachment, pour the egg, lemon juice/milk, lemon zest, and oil in. Turn it on low to lightly combine it. Slowly add in the flour mixture and mix quickly until just combined.

Turn off the mixer and remove the bowl. Gently fold in the raspberries. It's okay if they burst. It might turn your dough a bright raspberry color, that's ok.

Using a large cookie scoop, divide up the mixture into the muffin cups, filling them about 2/3 full.

Divide up the crumb topping between the 12 muffins, sprinkling them on top and pressing lightly onto the muffin batter if needed.

Bake 20-25 minutes, or until golden brown on top and firm in the center. Transfer to wire cooling rack to cool completely.
Notes
If raspberries are in season, by all means use fresh raspberries! I had to get frozen ones but they still turned out great. I baked my muffins for 20 minutes. They were perfectly moist so if you don't want your muffins to dry out, I suggest you take them out at the 20 minute mark to check with a toothpick and pop them back in if they aren't quite ready yet.
Photography by Jesse Reilly