Pumpkin Bread Pudding with Bourbon Whipped Cream is made with pupkin puree, fall spices, challah bread and pecans. Serve with homemade Bourbon Whipped Cream for a fantastic fall dessert.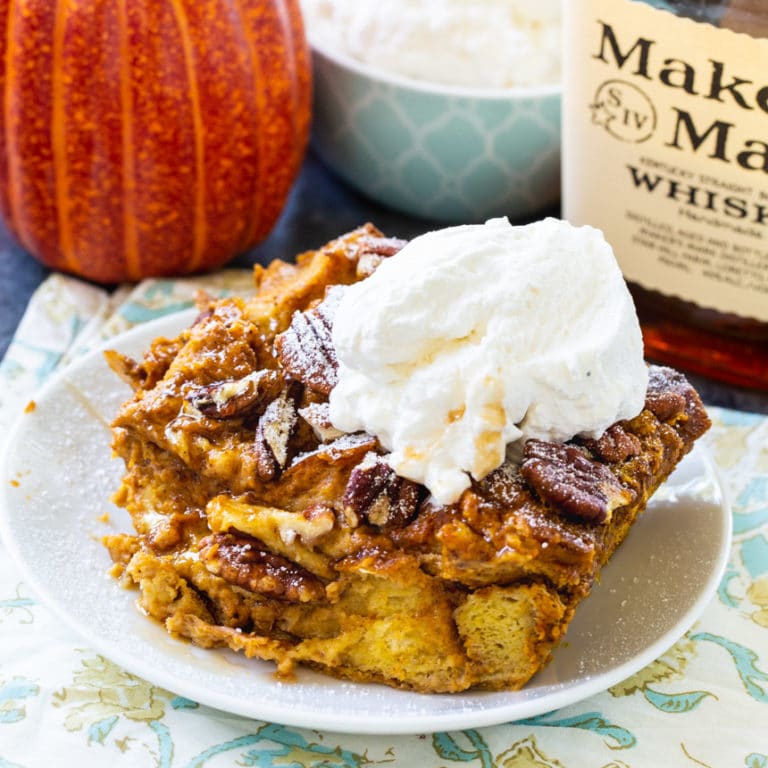 I know some people dont like bread pudding and to tell you the truth, I was one of those people until a few years ago. But now I love it and cant get enough of it.
If you love the flavor of pumpkin desserts, but arent sure you like bread pudding (I mean it is soggy bread after all. It can take some warming up to.), this is the perfect recipe to get you to fall in love with bread pudding.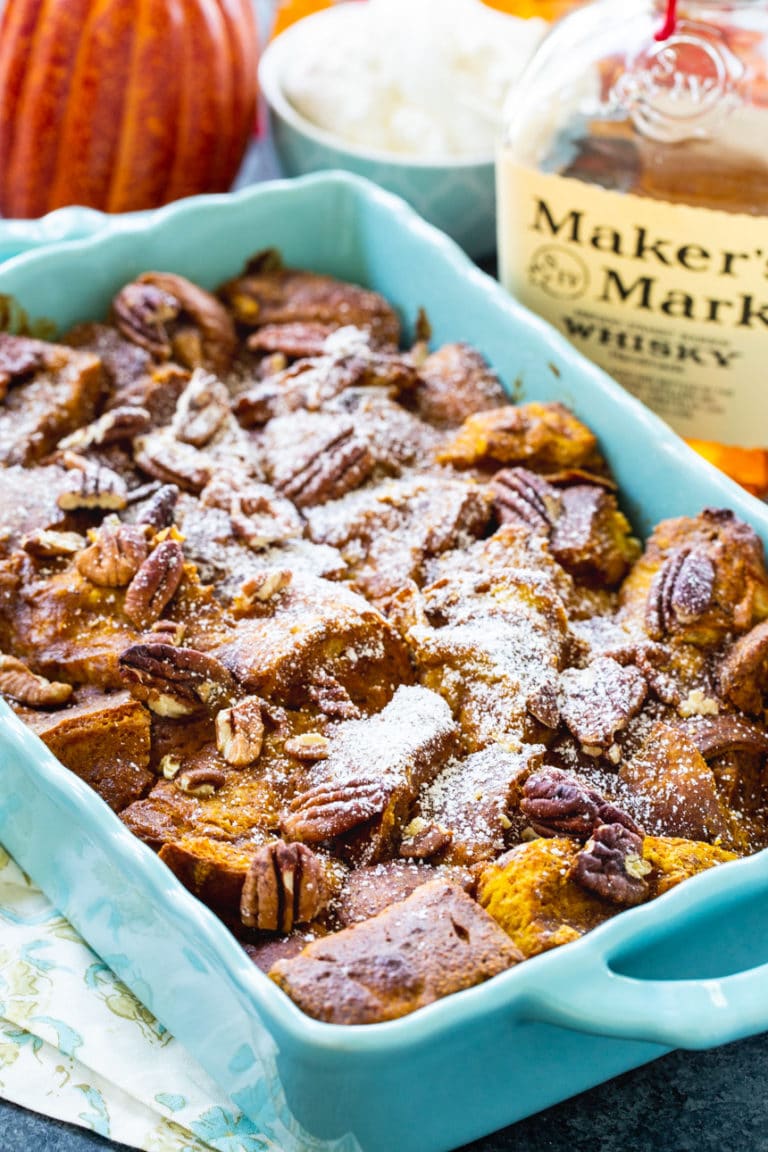 This recipe for Pumpkin Bread Pudding was in the November/December 2013 issue of Fine Cooking Magazine. The one with the too-die-for Bourbon-Caramel Pumpkin Tart on the cover. I saw that gorgeous tart and thought I have to make that ASAP. But that recipe looks so involved and complicated. And truth be known, I sometimes feel a little lazy this time of year when the weather starts to change. I just wanted something easy and forgiving and bread pudding is both of those things.
I changed the recipe a little, basically cutting the quantity of most ingredients by one-third because god knows I didnt have 12 people to serve it to and I was worried I would have eaten 9 of those servings.
I also topped it with some pecans. As a child we would go pecan picking at our grandparents house every fall and I have to resist the urge to add them to everything this time of year.
Instead of serving it with ice cream which I usually do with bread pudding, I whipped up some cream to which I added a little bourbon and maple syrup. The end result was delicious and Im thinking its totally worthy of a place on the Thanksgiving buffet.
Be sure to serve it warm.
And if youre looking for more bread pudding recipes try Cinnamon Roll Bread Pudding (for breakfast or dessert!) , Krispy Kreme Bread Pudding, Toffee Biscuit Bread Pudding, or Blueberry White Chocolate Bread Pudding with Amaretto Cream.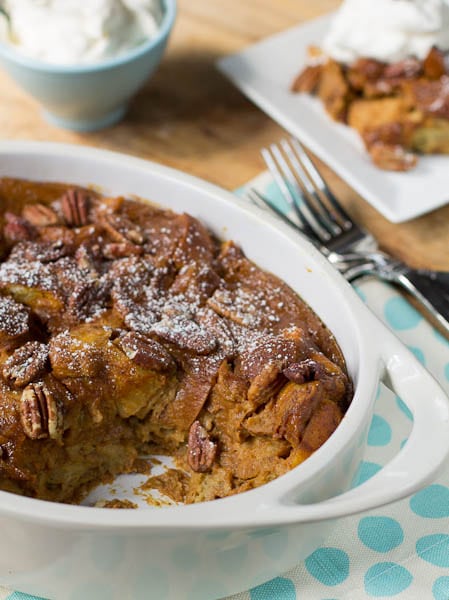 Tips for making Pumpkin Bread Pudding:
You can use 3 teaspoons of pumpkin pie spice instead of the cinnamon, ginger, nutmeg, and cloves.
If you cant find challah bread or brioche bread, you can use French bread.
Vanilla ice cream also tastes great with this bread pudding and can be used instead of or in addition to the Bourbon Whipped Cream/
Try drizzling a little caramel sauce on this bread pudding for even more flavor.
PS-If you made the Bourbon-Caramel Pumpkin Tart on the cover of Fine Cooking, let me know how it turned out.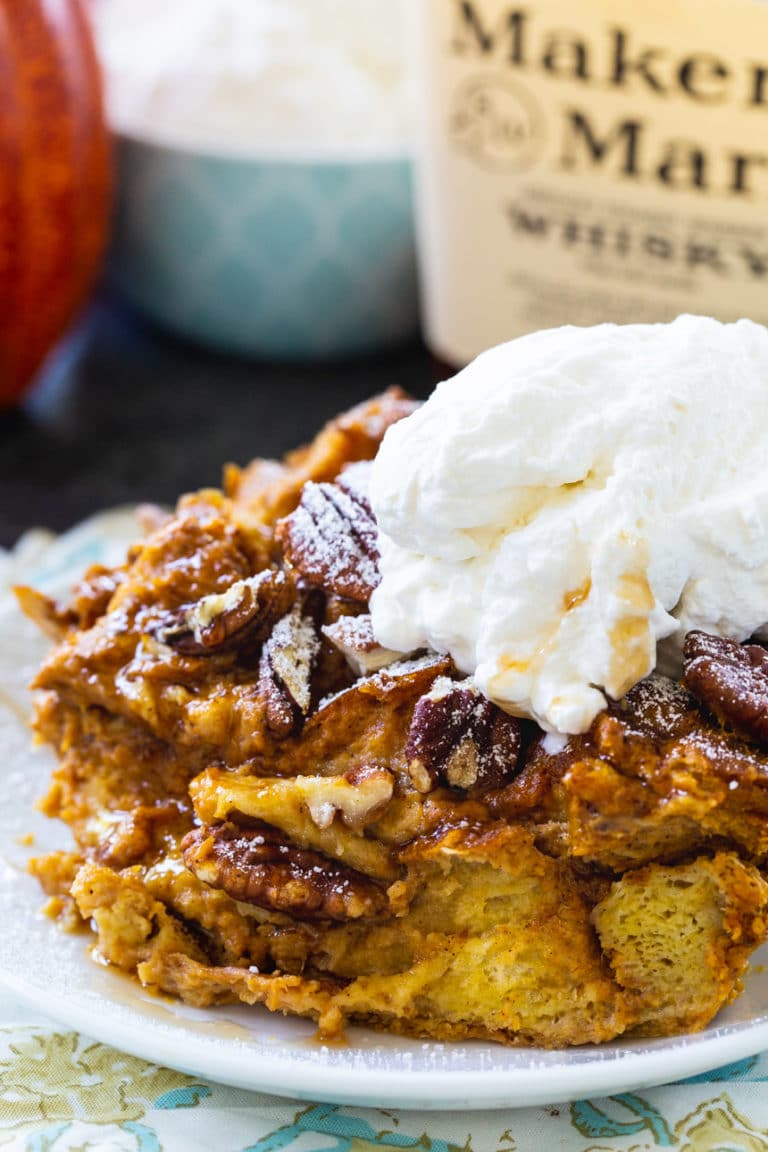 Pumpkin Bread Pudding with Bourbon Whipped Cream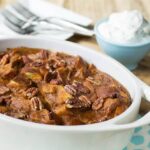 A rich pumpkin bread pudding deliciously flavored with dark brown sugar and fall spices and topped with pecans. Serve it warm with bourbon-spiked whipped cream for a memorable cool-weather dessert.
Butter for greasing baking dish
1 1/3 cups canned pumpkin, (not pumpkin pie filling)
1 1/3 cups whole milk
1 1/3 cups heavy cream
1 1/3 cups dark brown sugar
5 large eggs
2 teaspoons vanilla extract
2 teaspoon ground cinnamon
3/4 teaspoons ginger
3/4 teaspoon sea salt
1/2 teaspoon nutmeg
1/4 teaspoon ground cloves
1 lb challah or brioche bread, (about one loaf, cut into 1-inch cubes)
1/2 cup pecan halves
Confectioners' sugar for dusting, (optional)
Whipped Cream
1 cup whipping cream
2 tablespoons confectioners' sugar
1 tablespoon bourbon
1 teaspoon maple syrup
Place rack in center of oven and heat oven to 350 degrees.
Butter a 9X13-inch or slightly smaller baking dish.
In a large bowl, whisk together the pumpkin, milk, cream, brown sugar, eggs, vanilla, cinnamon, ginger, nutmeg, salt, and cloves until blended well.
Fold in bread cubes and let sit at room temperature for 15 minutes.
Stir pumpkin/bread mixture and pour into prepared dish. Sprinkle pecans on top.
Bake for 40 minutes or until skewer inserted in center comes out clean. Let cool for 20 minutes before serving.
To make cream, beat whipping cream using electric mixer with whisk attachment until soft peaks form. Continue to beat while adding in the confectioners sugar. Once stiff peaks start to form, beat in bourbon and maple syrup and turn mixer off.
When whipping cream, it helps if the beater and bowl are cold. Put them in the refrigerator before hand to chill.
3 teaspoons of pumpkin pie spice can be used instead of the cinnamon, nutmeg, ginger, and cloves.
Originally published Oct 2, 2013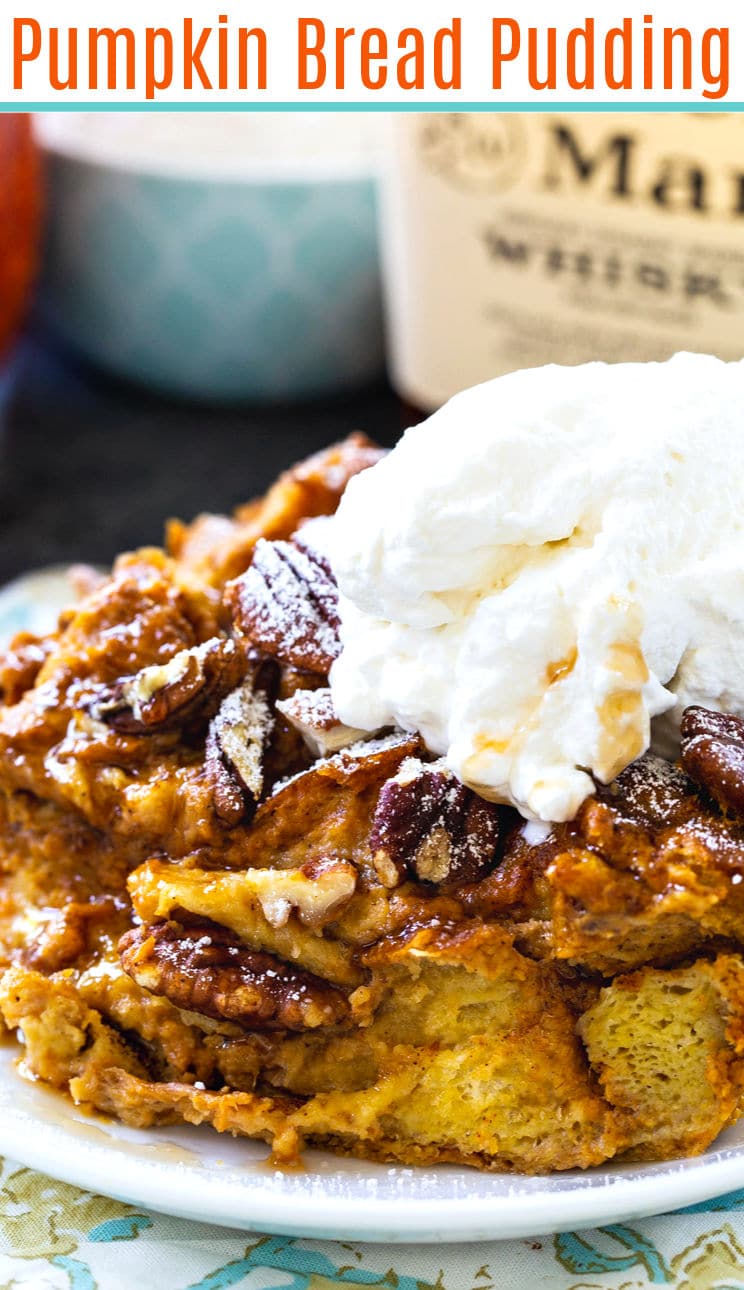 The post Pumpkin Bread Pudding with Bourbon Whipped Cream appeared first on Spicy Southern Kitchen.