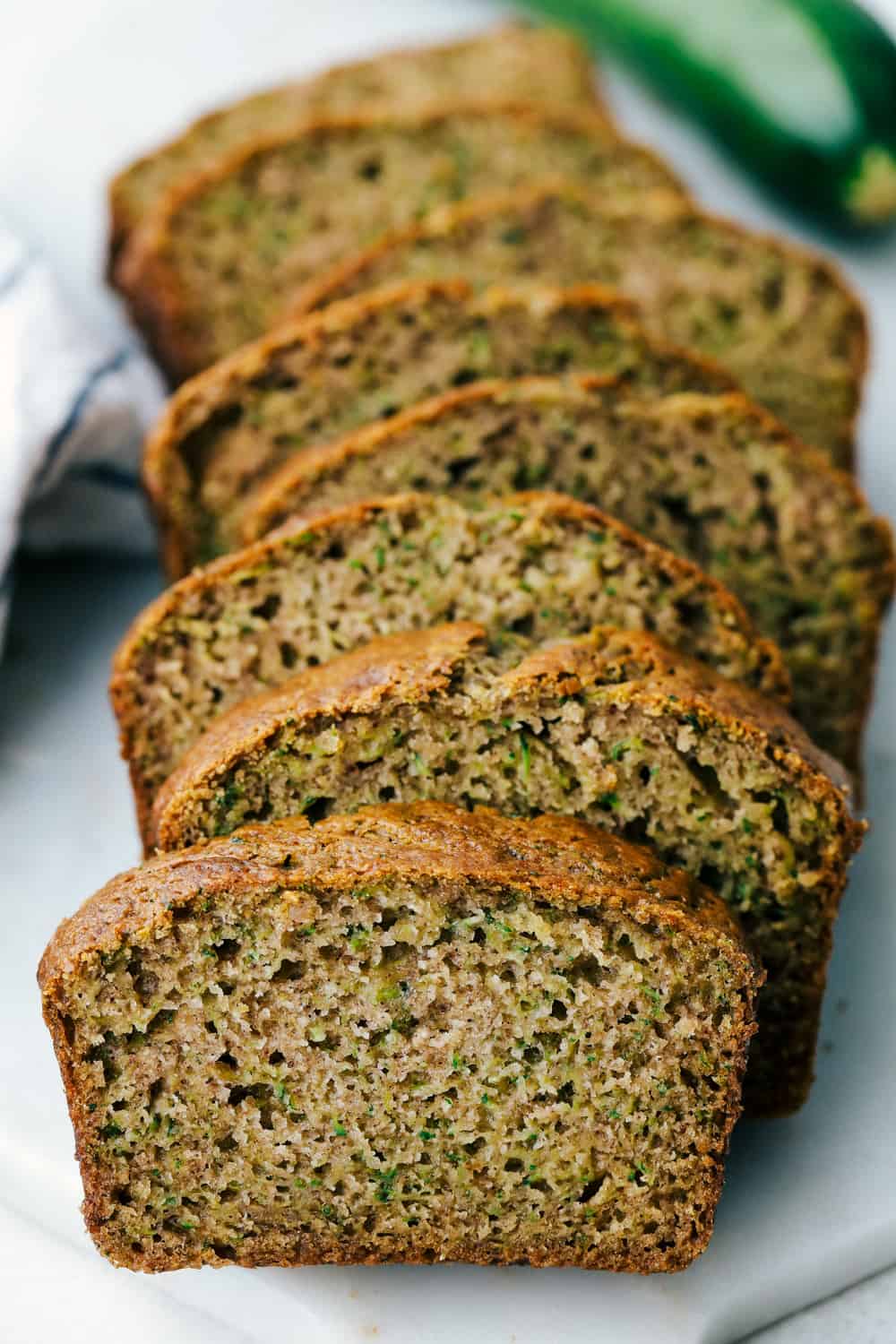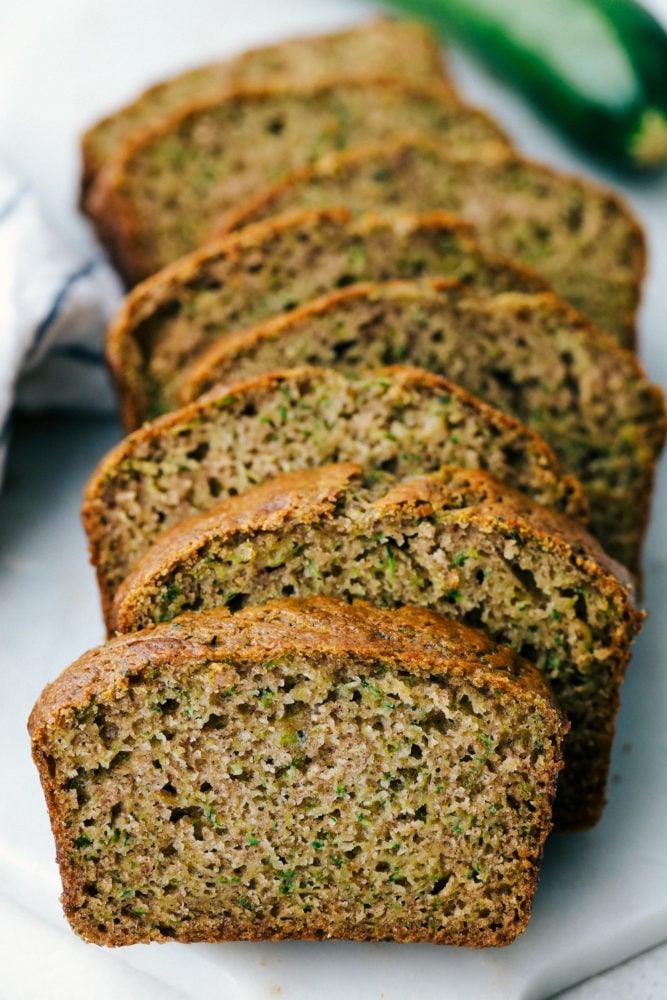 My favorite zucchini bread recipe is a sweet and savory, full of flavor, moist bread! Slice a piece of heaven and enjoy this delicious quick bread with your family and friends.
Zucchini is in abundance right now and no better way than to enjoy fresh quick bread this season! Try this chocolate zucchini bread, blueberry zucchini bread or pistachio zucchini bread for more great zucchini recipes.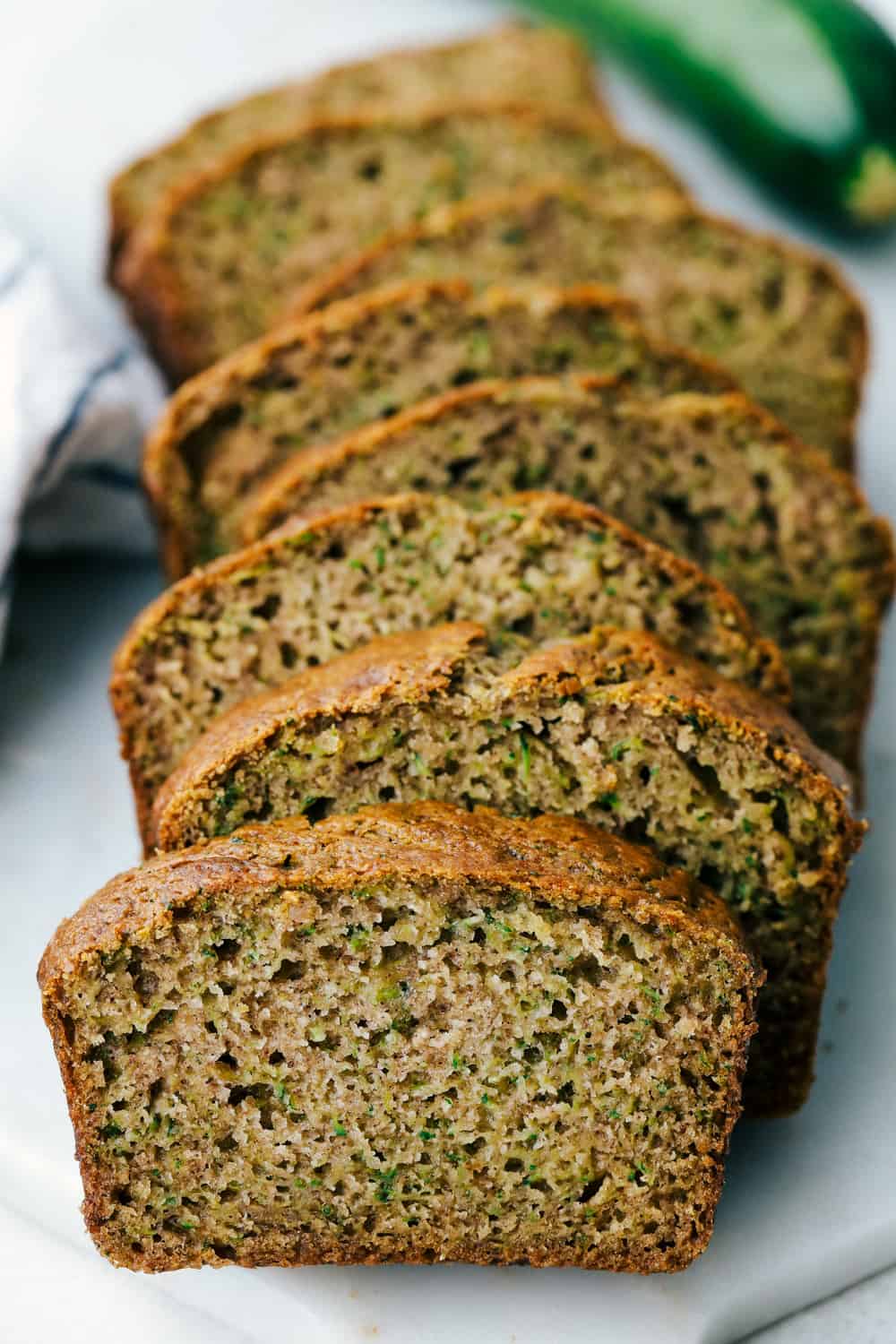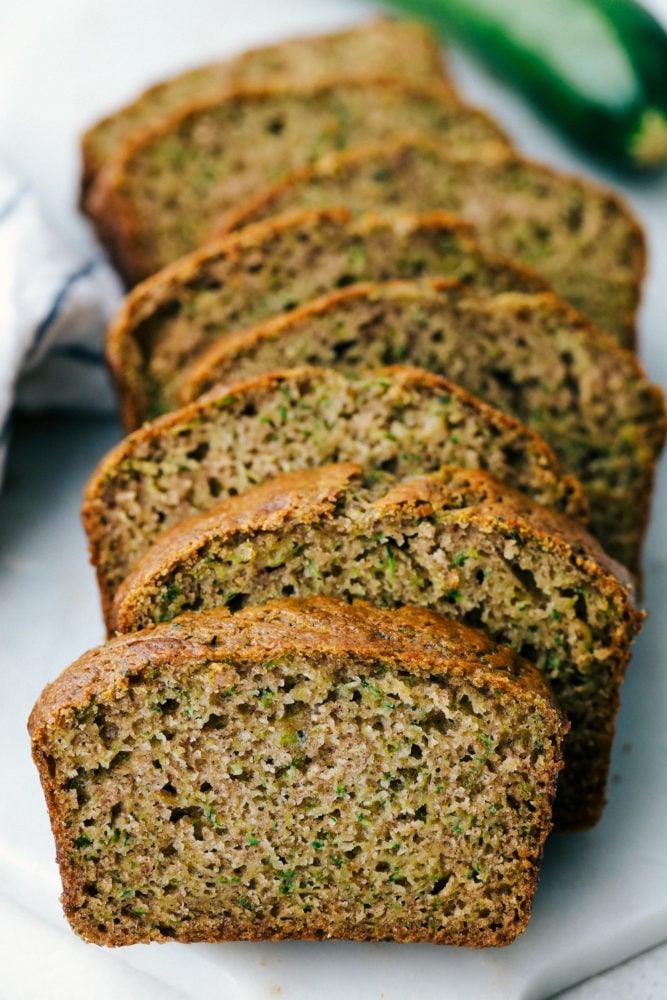 Zucchini Bread Recipe
I promise this is the only zucchini bread recipe that you will ever need!  It has been perfected and is a tried and true recipe that everyone raves about. This zucchini recipe is a MUST make and so delicious! The fresh zucchini creates a hidden flavor that makes this bread sweet and savory. Add in a hint of cinnamon and vanilla for extra flavoring. Then finish the mixture off with a blend of sour cream in the bread mix. Blend together and you will have the perfect combination of zucchini bread!
This tried and true favorite zucchini bread is a family favorite! Be ready to make several loafs of bread just to keep it on hand. It is going to go fast and loved by all. My kids love homemade zucchini bread and beg me to make this every year. It is the ultimate zucchini bread recipe and comes together quickly. The texture is soft, moist and full of green speckles showing all the zucchini hidden inside. You can't go wrong with this zucchini quick bread!
Easy Zucchini Bread Ingredients:
I just love how quick and easy this zucchini bread is to make. The ingredients are simple and all in the pantry. Mix them all together to create the perfect zucchini bread for your family this summer!
Flour: Helps thick the bread and lifts it with the help of baking soda.
Cinnamon: Just a hint for a slight spice in the mixture.
Salt: Add a pinch!
Baking Soda: Raises the loaf of bread as it is baking.
Canola Oil: Is best for baking bread.
Sugar: Sweetness is added in the bread mix.
Brown Sugar: Moistens the bread with sweetness.
Eggs: Creates a higher rise when baking.
Vanilla: Great for flavoring!
Sour Cream: Making the inside moist and savory.
Zucchini: Grated and strained for best results.
How to Make the Best Zucchini Bread:
Mix the dry ingredients together first. Then blend together the wet and dry. Simply add in zucchini and bake. This homemade bread will smell so good as it is baking in your oven. One of the best breads you will ever make!
Whisk Dry Ingredients: Preheat oven to 350 degrees. Butter and flour a large 9″ bread pan and set aside. Whisk together flour, cinnamon, baking soda, and salt in a small bowl until combined. Set aside.
Blend Ingredients: In a stand mixer or using a hand mixer, beat together sugars, oil, and eggs for about 1-2 minutes until slightly fluffy. Add vanilla and sour cream.
Add in Zucchini: Fold in the grated zucchini. Lastly, add the remaining dry flour ingredients. Stir to combine and pour into prepared 9″ bread pan.

 

Bake for 50-60 minutes. I set a time for 45 minutes and mine was done at that time. Oven temperatures vary, so just make sure a toothpick entered in the center comes clean.
Serve Slightly Warm: Let cool for about 5-10 minutes and remove from pan. Delicious served a little warm, even with a little butter on top.
Tips and Variations:
Here are a few tips and variations to use when making zucchini bread. It is always fun to add in or create a recipe that is your own. Try these ideas or add-ins for extra help while you are baking in the kitchen.
Zucchini: Wash the zucchini and cut of both ends. Leaving the skin on the zucchini, grate the zucchini the best that you can using a paper towel or strainer. Once the water has been released place in the bowl to be blended in the bread mix.
Fresh Zucchini: It is best to use garden fresh zucchini. Store bought zucchini has been sitting in several trucks and boxes before it arrives in a store to be sold. It is not as fresh and moist as a garden zucchini is.
Add Ins: Chocolate chips or nuts are always a fun add in to put in the zucchini bread. Add in 1/2 cup to 3/4 cup chocolate chips or nuts into the blended mixture before baking.
Baked Bread: For best results use a toothpick to insert into the center of the bread. If the toothpick comes out clean that is the best indication that your bread is fully cooked through.
Storing Quick Bread:
This zucchini bread is not going to last long. It is a favorite family recipe and quickly gone before I am ready to store it. Usually doubling the recipe helps me be able to store a few slices for a day, hopefully!
Storing Zucchini Quick Bread: Store the homemade baked bread in a ziplock bag. Leave out in room temperature for about 3 to 4 days long. Slice when ready to serve.
Freezing Zucchini Bread: Follow the instructions to make the best zucchini bread. Once it has completely cooled, wrap tightly in plastic wrap and then aluminum foil. Add it to a ziplock or freezer bag. Place in the freezer up to 1 month long. When ready to thaw, place in the refrigerator over night and unwrap to serve.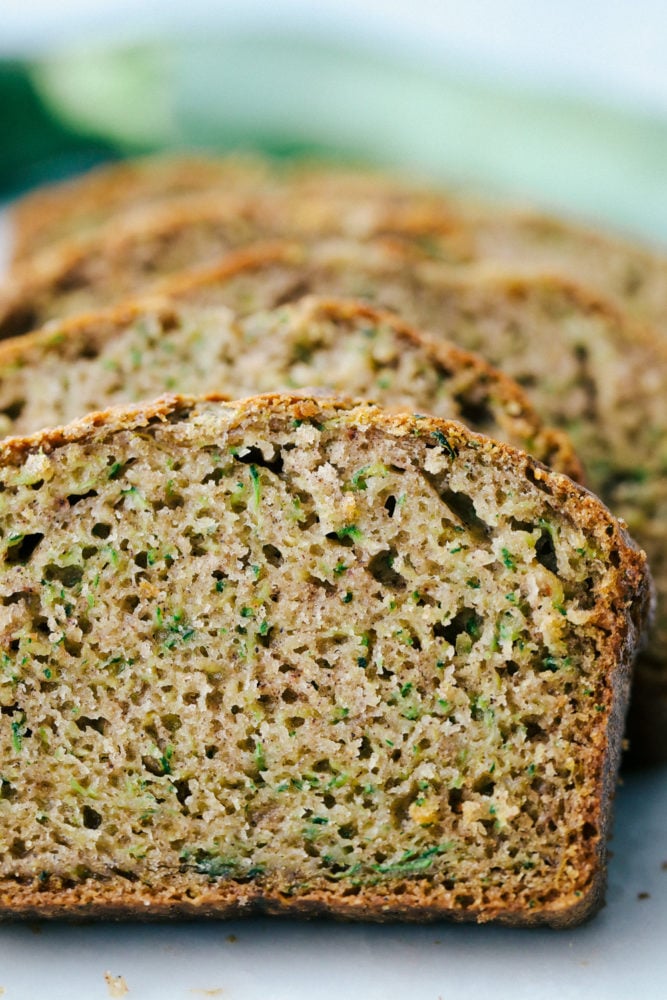 More Ways to Enjoy Zucchini: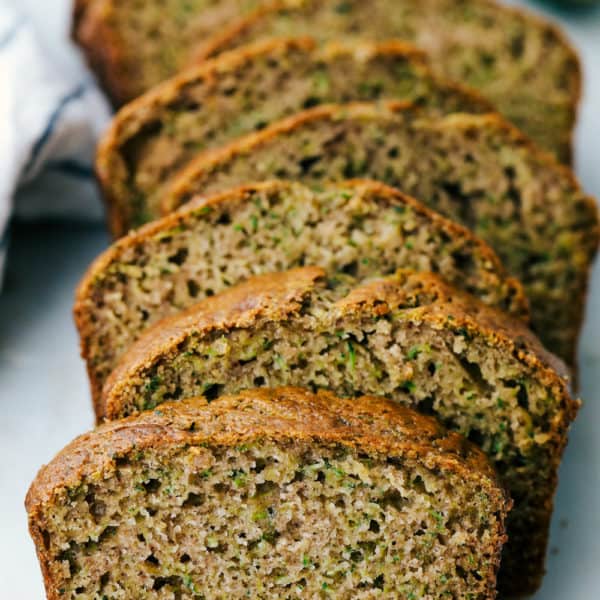 Print
My Favorite Zucchini Bread Recipe (Tried and True!)
My favorite zucchini bread recipe is a sweet and savory, full of flavor, moist bread! Slice a piece of heaven and enjoy this delicious quick bread with your family and friends. 
Course
Appetizer, Bread, Side Dish, Snack
Total Time
1
hour
10
minutes
Ingredients
1

Cup

All Purpose flour

1

teaspoon

cinnamon

1/4

teaspoon

salt

3/4

teaspoon

baking soda

1/4

Cup

canola oil

1/2

Cup

sugar

1/4

Cup

brown sugar

2

eggs

1

teaspoon

vanilla

1/4

Cup

sour cream

1 1/2

Cups

zucchini grated and strained
Instructions
Preheat oven to 350 degrees. Butter and flour a large 9" bread pan and set aside. Whisk together flour, cinnamon, baking soda, and salt in a small bowl until combined. Set aside.

In a stand mixer or using a hand mixer, beat together sugars, oil, and eggs for about 1-2 minutes until slightly fluffy. Add vanilla and sour cream.

Fold in the grated zucchini. Add the remaining dry flour ingredients. Stir to combine and pour into prepared 9" bread pan. Bake for 50-60 minutes. I set a time for 45 minutes and mine was done at that time. Oven temperatures vary, so just make sure a toothpick entered in the center comes clean.

Let cool for about 5-10 minutes and remove from pan. Delicious served a little warm, even with a little butter on top. 🙂
Nutrition
Calories:
150
kcal
|
Carbohydrates:
21
g
|
Protein:
2
g
|
Fat:
6
g
|
Saturated Fat:
1
g
|
Cholesterol:
30
mg
|
Sodium:
133
mg
|
Potassium:
34
mg
|
Fiber:
1
g
|
Sugar:
13
g
|
Vitamin A:
69
IU
|
Calcium:
16
mg
|
Iron:
1
mg