Mini Chocolate Cream Pies are the perfect pies to make if youd like to serve pie in individual serving portions.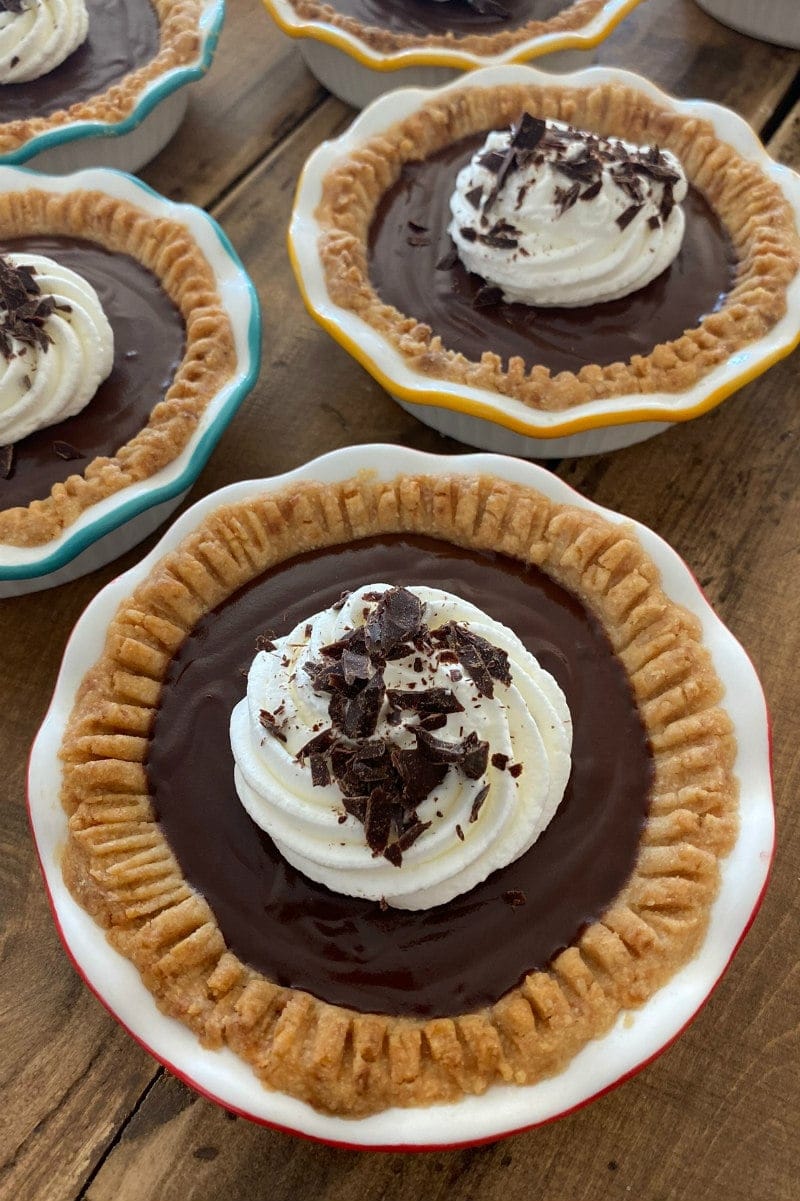 Chocolate cream pie is a delicious, rich chocolate pudding pie that is spooned into a baked crust. Its generally topped with freshly whipped cream too. These are a miniature version of the classic chocolate cream pie. You can serve them as an individual dessert after a meal, but theyre substantial enough to serve as a shared dessert for two as well.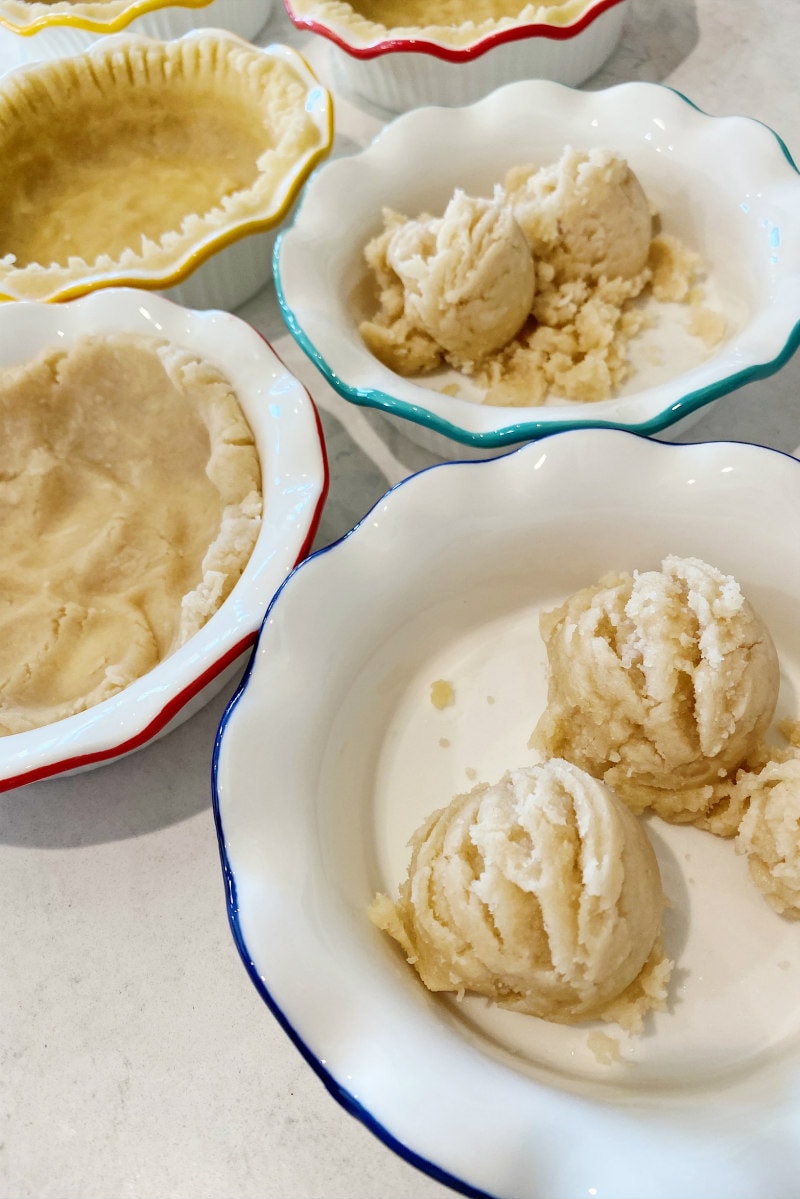 The crust for this pie is so simple because its an oil-based crust and there is no rolling needed. You simply divide the pie dough between your mini pie pans and press the dough into the bottom and up the sides of the pans.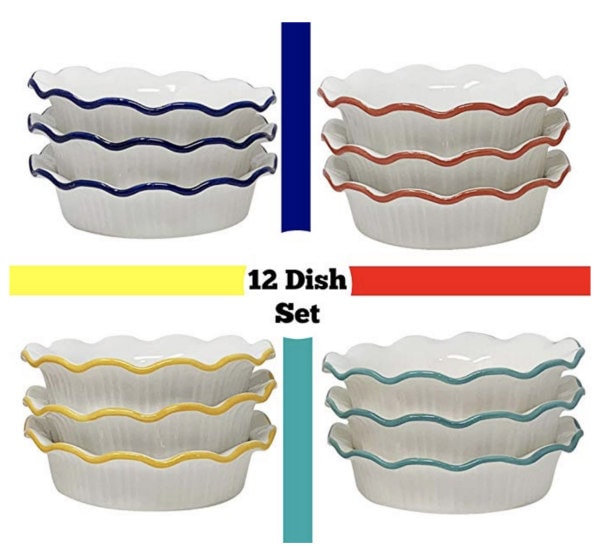 Mini Pie Pans
There are Amazon affiliate links included in this post.
Speaking of pie pans, I just ordered these porcelain ceramic mini pie pans. This is the first recipe I have used them for, and they worked out great! They come in a set of twelve, and I thought they were very reasonably priced for such a large set. I plan to use them for mini chicken pot pies too!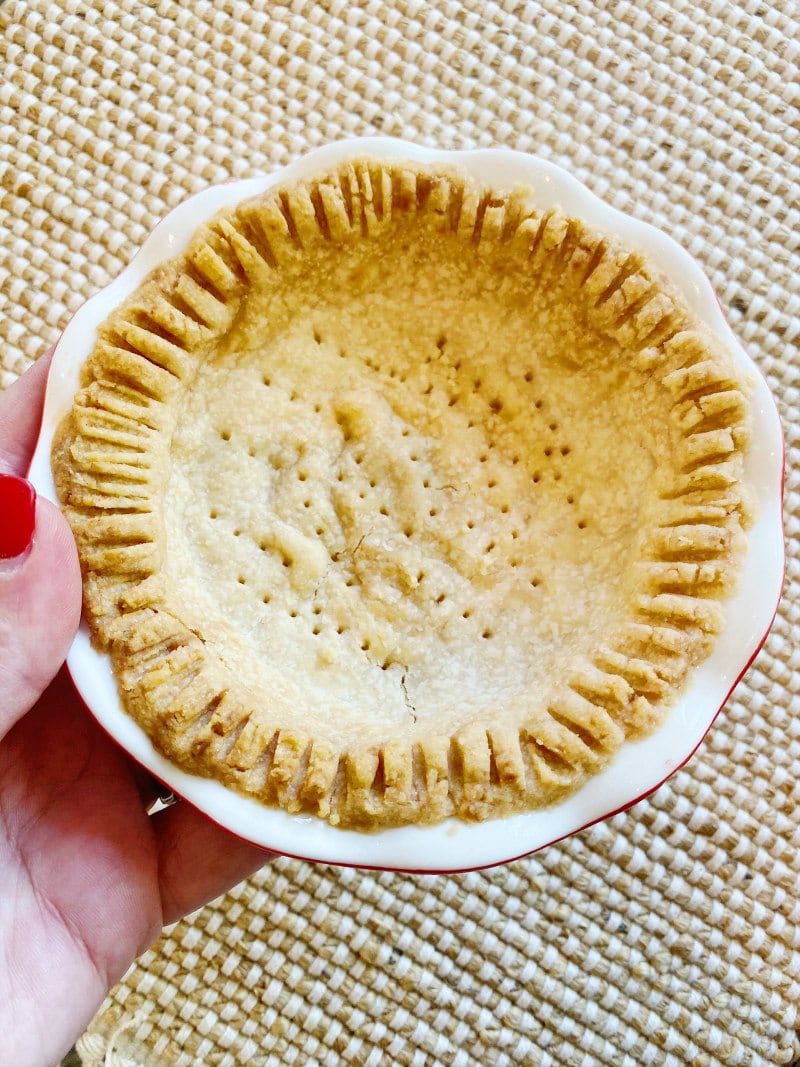 The crust bakes up perfectly nice and golden brown! After baking, the pans are set aside to cool while you make the chocolate filling.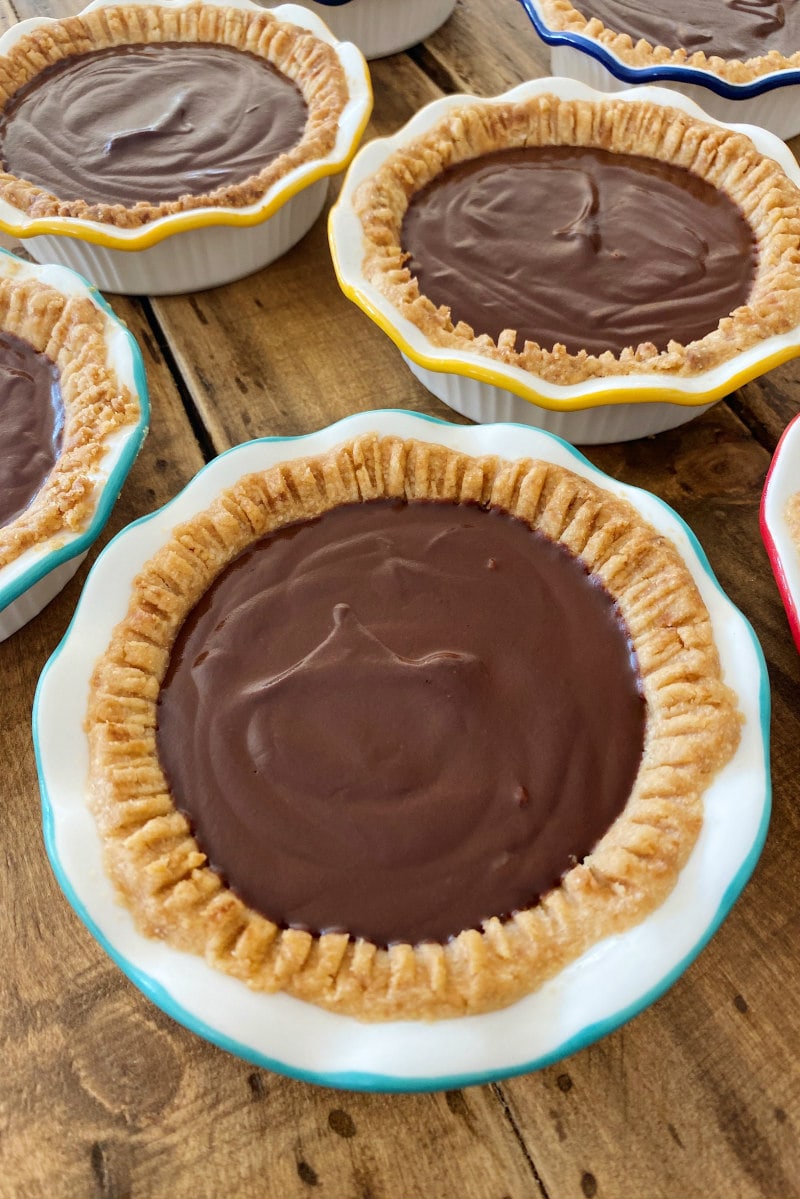 Chocolate Filling for Mini Chocolate Cream Pies:
The chocolate filling for these pies is much like chocolate pudding. In fact, when you make the chocolate filling youre going to want to take out a spoon and sample many spoonfuls of it!!
The first thing youll do in making the filling is to put semisweet chocolate, butter and vanilla in a bowl. You can chop some semisweet chocolate or you can use chocolate chips. I used the Bakers brand of semisweet chocolate chips for recipe testing. They worked out great.
In a saucepan, youll combine sugar, cornstarch, cocoa powder and salt. Then youll whisk in a little bit of cream and egg yolks. Next youll warm the mixture over medium heat and whisk in more cream and milk. Youll bring it just to a boil, and then youll remove it from heat and pour the hot mixture over the chocolate in the bowl. The heat will melt the chocolate and butter, and youll just whisk to combine until the chocolate filling is nice and smooth. That filling is then refrigerated until cooled.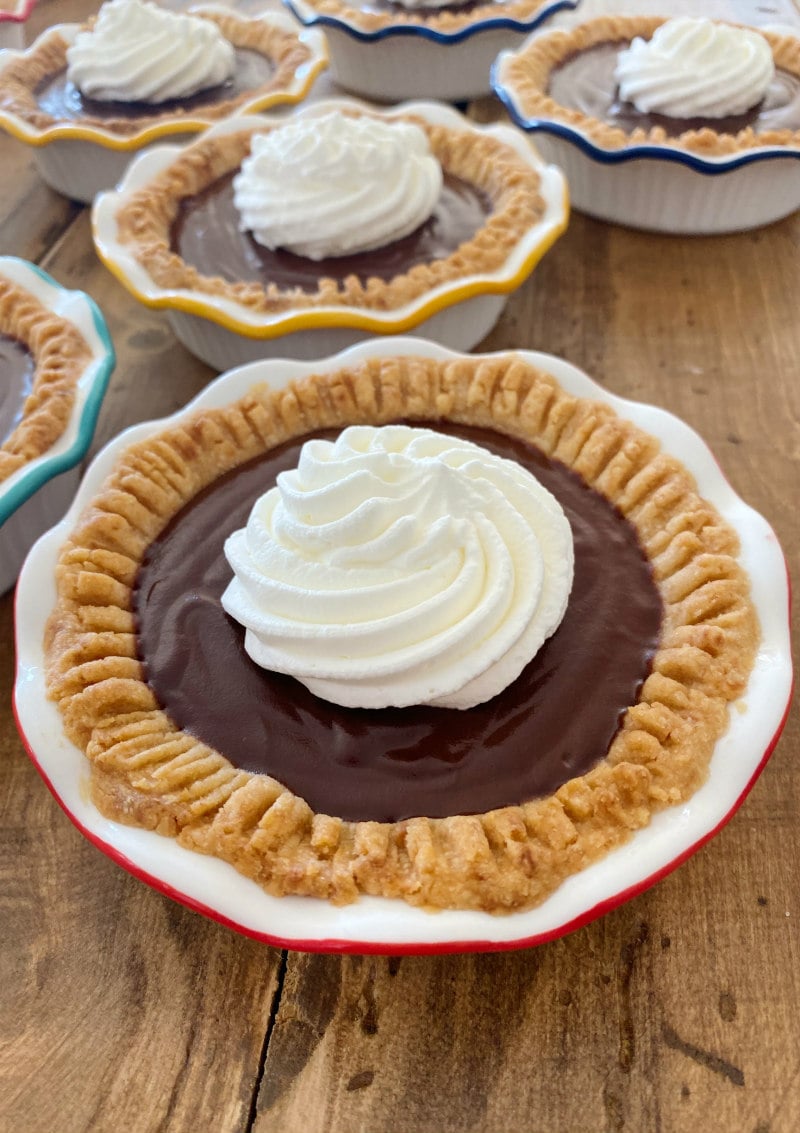 When you are ready to assemble the pies, simply divide the chocolate filling between the pies. Top with freshly whipped cream.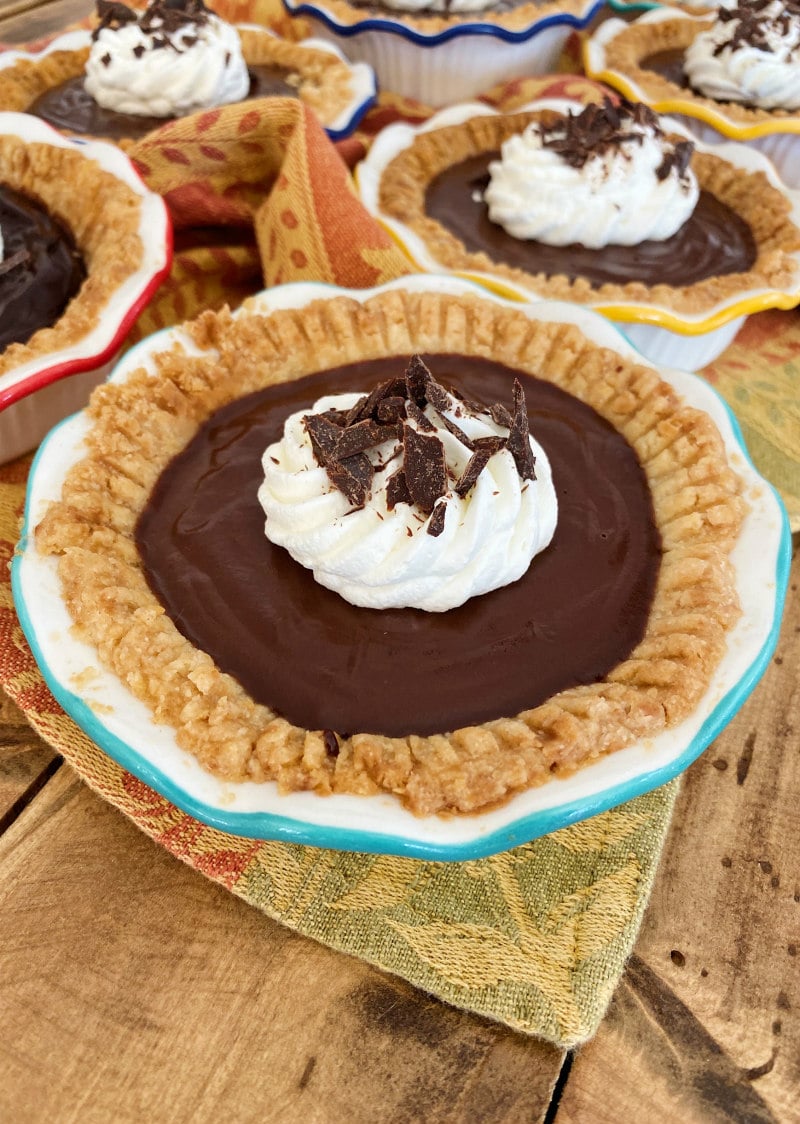 I added a few chocolate shavings on top for a decorative touch, but thats completely optional.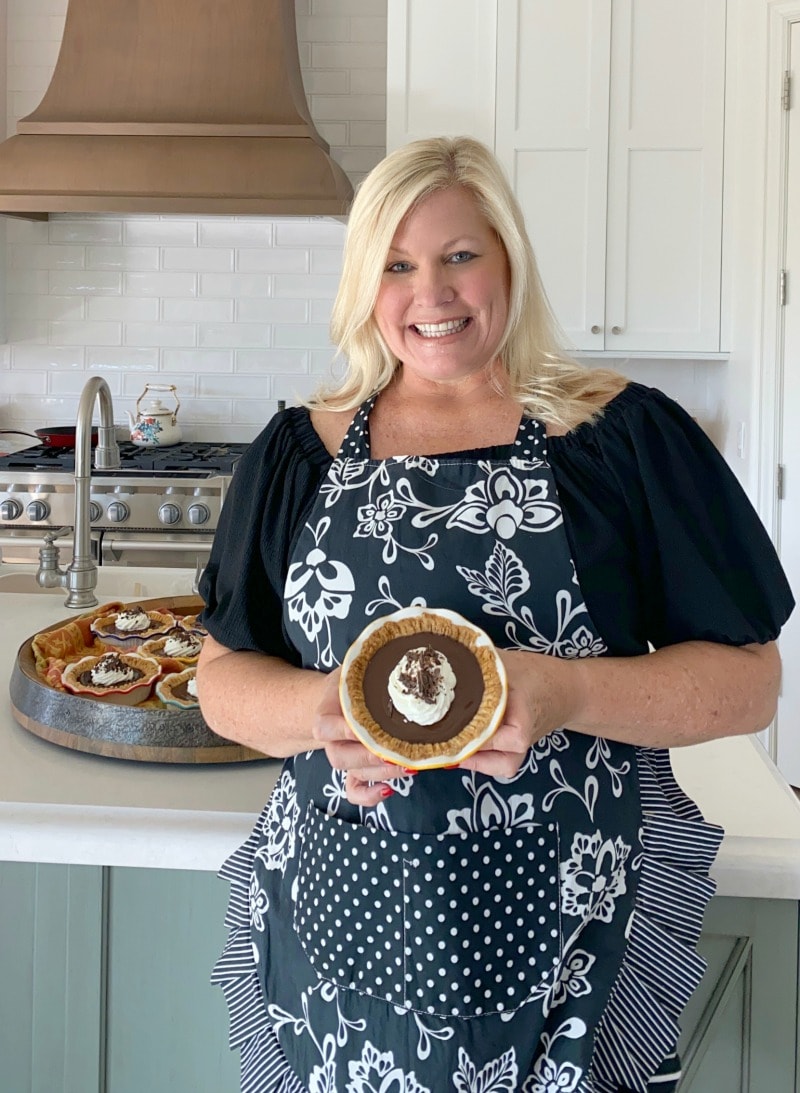 And now youve got your cute mini chocolate cream pies to share for dessert! My thought is that this would be a nice dessert to serve at a couples dinner party. The pies are big enough for each couple to share a pie. Enjoy!
Here are a few more pie recipes you might like to try:
Mini Chocolate Cream Pies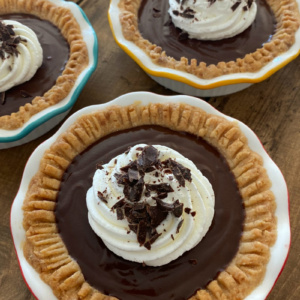 Great recipe for individual pie servings!
CRUST:
3 cups all purpose flour
4 teaspoons granulated white sugar
1 teaspoon salt
1 cup vegetable or canola oil
1/4 cup milk
FILLING:
1 1/3 cups chopped semisweet chocolate or chocolate chips
2 tablespoons unsalted butter
1 teaspoon vanilla extract
2/3 cup granulated white sugar
3 tablespoons cornstarch
2 tablespoons unsweetened cocoa powder
1/8 teaspoon salt
1 cup heavy cream
3 large egg yolks
2 cups whole milk
TOPPING:
1 cup heavy cream
1/4 cup powdered sugar
1/2 teaspoon vanilla extract
chocolate shavings, (optional)
PREPARE THE CRUST:
Preheat the oven to 400 degrees F. In a large bowl, stir together the flour, sugar, salt, oil and milk with a fork until well combined. Press the dough into the bottom and up the sides of eight 5-inch mini pie pans. Prick the dough with the tines of a fork and crease the edges around with the fork too. Bake for 15 minutes or until the crust is lightly browned. Let cool.
PREPARE THE FILLING:
In a large bowl, combine the chocolate, butter and vanilla. Set aside.

In a medium saucepan, whisk together the sugar, cornstarch, cocoa powder and salt. Whisk in 1/4 cup of the cream until smooth. Repeat with another 1/4 cup of the cream. Whisk in the egg yolks.

Place the saucepan over medium heat. Whisk in the remaining cream and the milk. Bring to boiling, whisking constantly, until the mixture thickens. Boil for 1 minute. remove from heat, pour over the chocolate mixture. Whisk until the chocolate is melted and the filling is smooth. Cover the surface with plastic wrap and chill in the refrigerator for at least one hour.
ASSEMBLE THE PIES:
Make the whipped cream topping: In a medium bowl, whip the cream with an electric mixer and mix in sugar and vanilla. Beat until soft peaks form.

Divide the chocolate filling between the 8 pie crusts. Top with whipped cream and chocolate shavings. Refrigerate until ready to serve.
The post Mini Chocolate Cream Pies appeared first on Recipe Girl.