These chocolate and berry cheesecake slices are a beautiful layered dessert made with whole foods! Reach for this healthier treat when your sweet tooth strikes! This cheesecake is rich, creamy, and sweet. It has notes of cherries and rich chocolate with a crunchy crust. You will never believe it is made from whole foods!
This healthier treat is free from dairy, eggs, gluten, flours, and refined sugars, making it a perfect dessert option when feeding those with allergies or for when you want that after dinner sweet without the guilt. This dessert is also a looker. With bright layers and studs of sweet cherries, everyone will be reaching for a slice of this cool, creamy concoction.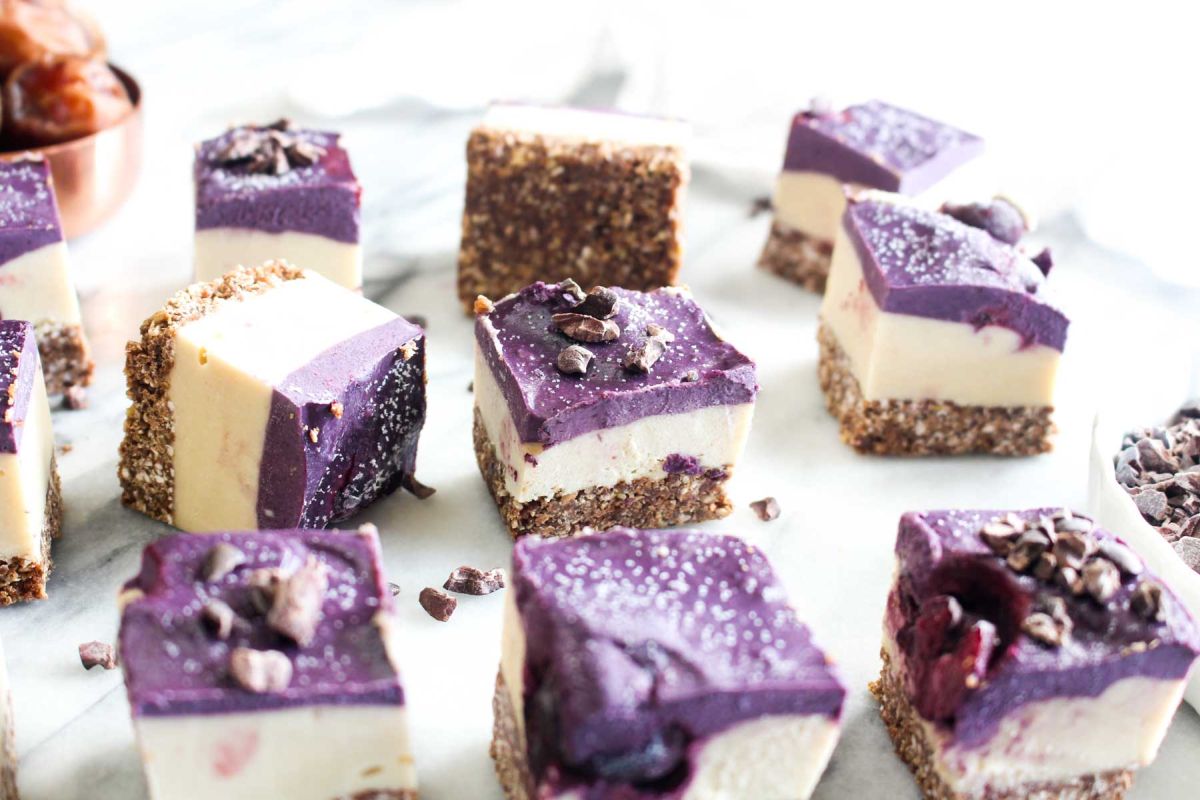 The chocolate crust layer is made from buckwheat and oats. The buckwheat retains its crunch, and the chocolate adds a rich flavor. Dates add natural sweetness and help the crust hold together.
Next, the rich cream layer. The texture is just like cheesecake, but relies on coconut oil and cashews to give it that signature creamy texture.
The bright berry layer uses real cherries for the vivid color and sweet flavor. Nothing artificial to be found.
Cherries are not only sweet tasting, they are sweet on nutrients. Cherries deep red color is indicative of their high antioxidant content. These antioxidants can fight free radicals which would otherwise cause disease and cherries even reduce inflammation. Eating cherries has also been shown to promote weight loss, making them a perfect fruit to reach for as dessert.
Cashews are full of minerals that can increase bone strength and health. Cashews can also improve brain health and cognitive abilities. Their high fat content is very satiating, so a handful of cashews can stave off an unhealthy snack, helping us to maintain a healthy weight.
Ingredients for chocolate and berry Cheesecake:
For the crust:
1/2 cup buckwheat groats
1/2 cup rolled oats
1/2 cup pitted dates, packed
2 tablespoons cacao powder
2 tablespoons coconut oil
Pinch salt
For the cream layer:
1 cup raw cashews, soaked for at least 4 hours
1/4 cup maple syrup
1/4 cup coconut oil
2 teaspoons lemon juice
Pinch salt
1/4 cup water
For the cherry layer:
3/4 cup pitted sweet cherries (thawed if frozen), separated
1/2 cup cashews
2 tablespoons maple syrup
2 tablespoons coconut oil
Directions to make a delicious chocolate and berry cheesecake:
Add the buckwheat and rolled oats into a food processor fitted with the S blade attachment. Pulse until the mixture is broken down and resembles a course meal.
Remove the mixture and set aside. Add the dates to the food processor and process until broken down and the dates form a ball.
Add the grain mixture, cacao powder, coconut oil, and salt into the food processor with the dates. Process until combined and the mixture holds when pinched together.
Line a loaf pan with parchment paper. Press in the crust mixture, compacting it down to form a crust. Set aside.
Add all the ingredients for the cream layer into a high speed blender. Blend until smooth. Pour over the crust and smooth out with a spatula.
Take 1/4 cup of the cherries and press them into the cream layer. Place into the freezer to firm up, about 1 hour.
Add the remaining cherries, and all other cherry layer ingredients into the blender. Blend until smooth. Once the cream layer has finished setting in the freezer, pour over the berry mixture and smooth out with a spatula.
Return the cheesecake to the freezer and freeze until firm, at least 4 hours. Remove the cheesecake from the freezer and let it thaw 10 minutes before removing it from the pan. Using the parchment paper, lift the cheesecake out of the pan. Slice into squares and serve. Store the slices in the freezer.
The post Chocolate and Berry Cheesecake Recipe – How To Make Blueberry Cheesecake appeared first on DIYs.com.