We are different in Turks and Caicos; we are a family regardless if we are competitors. Were here to support each other. Most importantly support the island as a unit. Caribbean Food and Wine Festival guest.
Started by Grace Bay Club, the annual Caribbean Food and Wine Festival unites award-winning chefs with passionate food lovers in Turks and Caicos. The Caribbean Food and Wine Festival spans for 3-4 nights highlighting different chefs on the island. Whom serve food enthusiasts like myself a five-course gourmet meal. Each dinner showing off the talents of the at award-winning restaurants and chefs. Each venue serves its own unique fare alongside the finest wines, all with a great spirit of culinary adventure.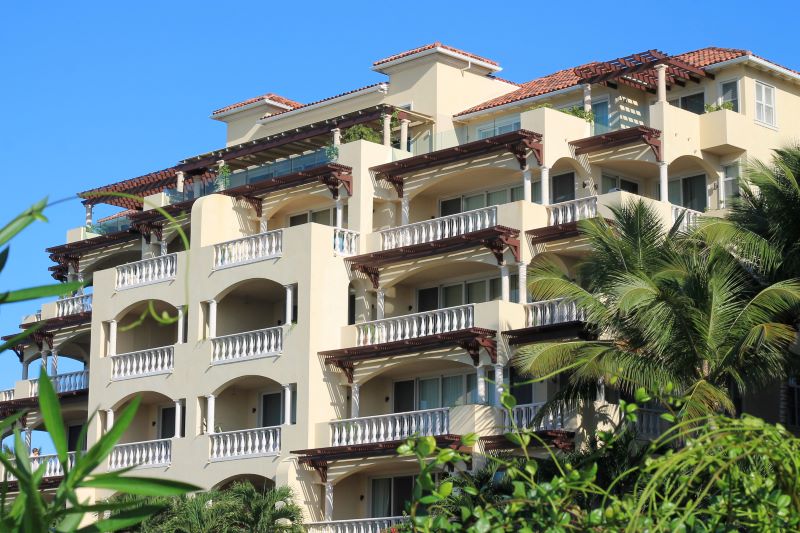 This year the gourmet event featured the following chefs; Chicago based Chef Ryan McCaskey, Indian and British Chef Atul Kochhar and Miami Beachs Chef Micheal Schwartz. Additionally, wine pairings from Michele Chiario Winery and Bespoke Collection.
My sister and I attended the festival last year and we couldnt wait to book tickets again this year. An incredible, interactive experience. Its the highlight for my vacation on top of Turks and Caicos beauty. I get an opportunity to try various foods from amazing chef and get a true feel of the island Canadian guest Christina.
The gourmet party started at the beautiful Palms hotel. As a Grace Bay Club guest, I hopped in a car with several others to experience the treat of the Caribbean Food and Wine Festival.
My first dreamy night at the Palms dinner was led by Chef Ryan MCCaskey. The two Michelin starred Chef and proprietor based in Chicago. Famous for layering flavors and using modern techniques to create innovative and inventive cuisine. A bit skeptical, yet intrigued to try Chef MCCaskeys takes on the traditional Caribbean cuisine. As a fellow islander I am very particular about changing the norm of my local dishes. But Im happy to declare the dishes did not disappoint.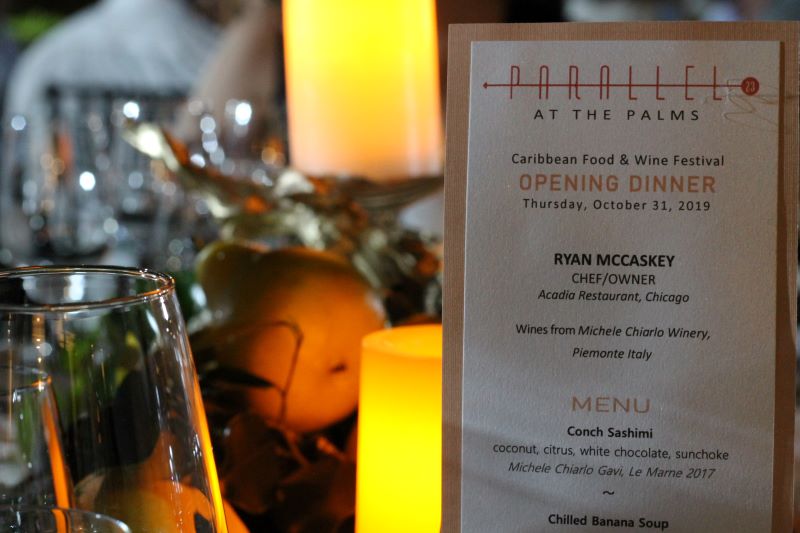 Hitting off the night to a great start, the Conch Sashimi delighted my palette. An Asian rendition to the Turks and Caicos local food, the Conch. Prepared with coconut, citrus, white chocolate and sunchoke. The dish flavor combinations of the sea and sweetness of the coconut and chocolate were perfect together. Following this appetizer, I enjoyed a creamy banana soup. Layered uniquely with truffle, smoked trout roe and celery. Oddly the soup reminded me of a Thai coconut soup yet there were no traces of coconut. Nonetheless very tasty.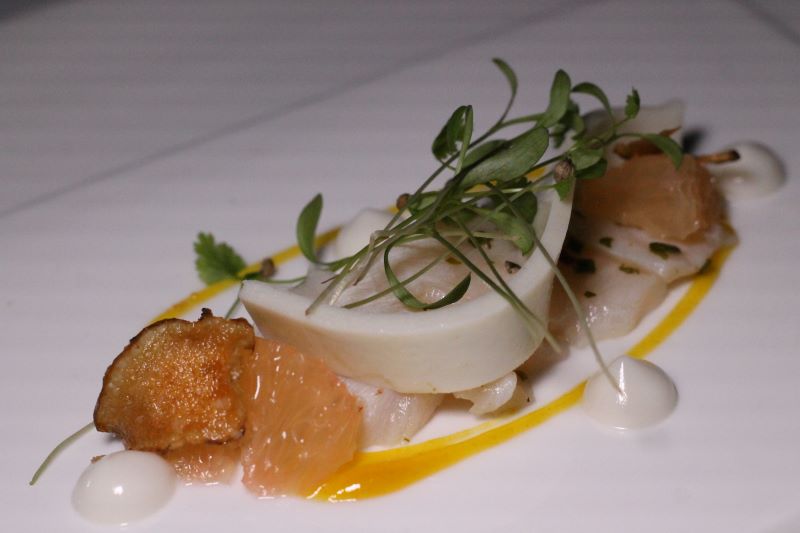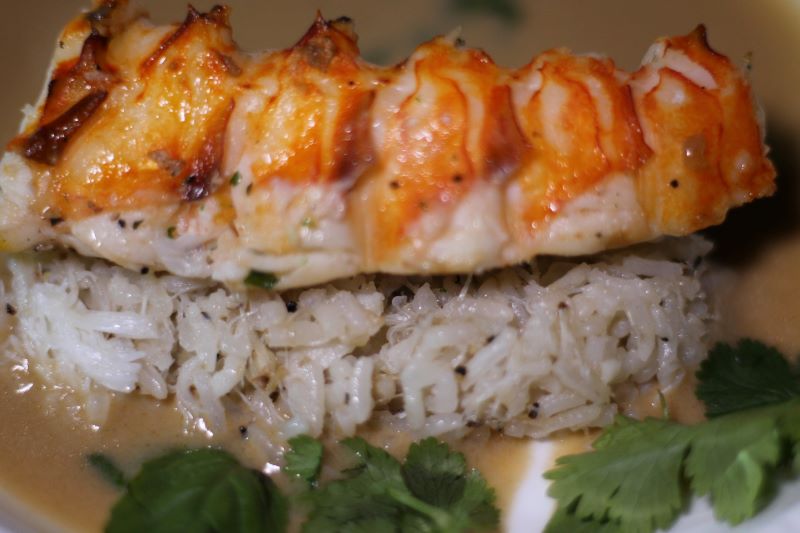 Next my favorite of the night was the fresh spiny grilled lobster. The mouthwatering lobster sat on a bed of crab fried rice and Tom Kha bisque. My plate was clean within seconds. Tables were then set with a dish from the land. A lacquered duck served with olives and a grit cake. Also, delicious but not as groundbreaking as the lobster and banana soup did for enlightening my stomach. Dessert also reflected Chef Ryan MCCaskeys creative talent. Here he prepared the local baba rhum. A small yeast cake saturated in syrup made with Turks and Caicos unique Bambarra Rum, pineapple and non-traditional flavor of foie gras.
Women of Wine Luncheon
Post the hearty Welcome Dinner at the Palms, a beach run was necessary the next day to prepare for the Women of Wine event. Hosted at Solana Restaurant at the Grace Bay Club. This event highlighted the Bespoke collection wines from Creative Director, Chairman and Founder Michael Polenske. Aerena Chardonnay 2017 and Aumuse Bouche rose wines were perfectly paired with Solonas Signature Sushi rolls. In addition to a refreshing Honeydew Melon Green Gazpacho and a Grilled Snapper.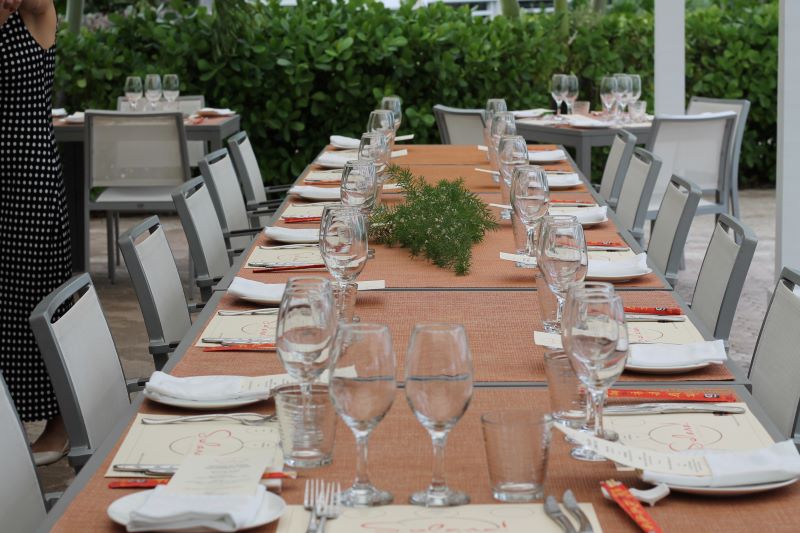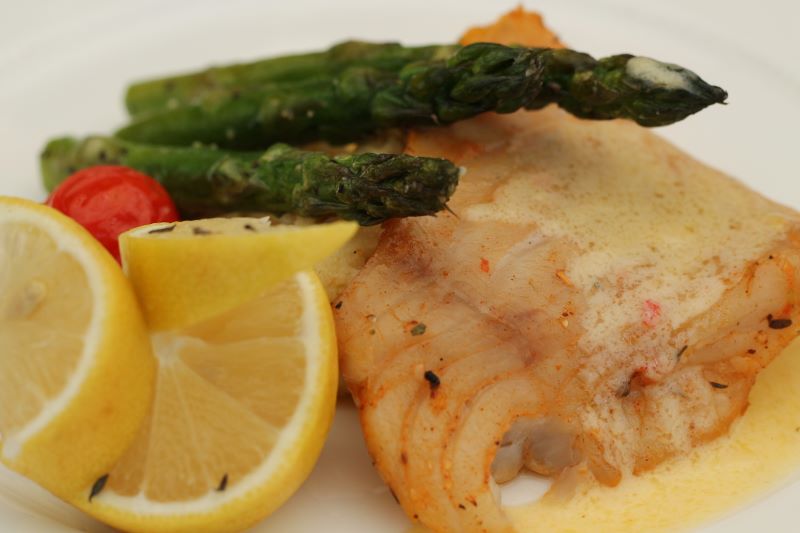 This event was more relaxed compared to The Welcome Dinner and celebrated women in the culinary, hospitality, spirit and wine industry.
Gourmet Safari
Hands down the most fun dinner Ive ever experienced. It started at the Grace Bay Club near the Infiniti pool. Tiki torches lit the path leading to the first stop of the food journey. Down the path, I found a group of guests mingling among tiki lights, sipping on signature cocktails and lobster tacos. Then the sound of drums, whistles and shack shacks startled everyone.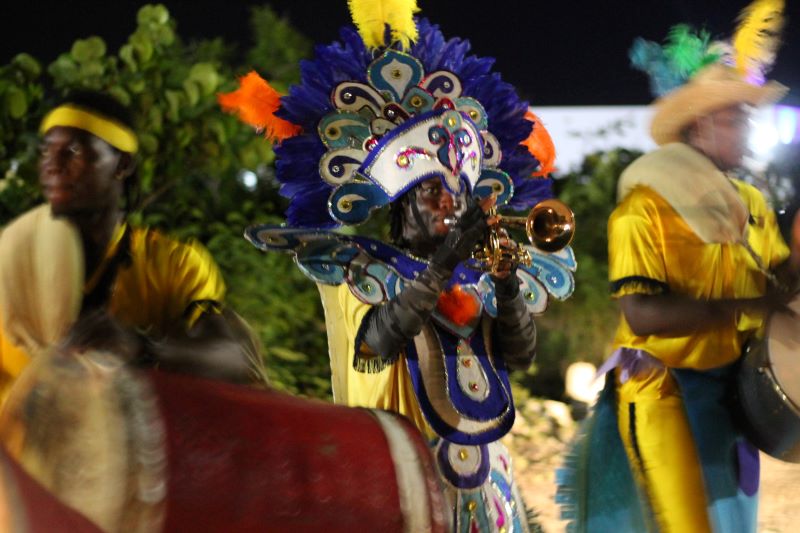 Wide eyed I stopped chewing on my tempura lobster taco and saw a set of colorful clothing and music waking towards the crowd. Coming in our way was called the Jukando Parade. A traditional band of Turks and Caicos and reminded me a lot of the festive Carnival bands from Trinidad. The band highlighted the night, leading guests to our first official dinner of the Gourmet Safari. Walking alongside the band, we paraded to restaurant Coyaba. Within ten minutes from Grace Bay Club we sadly said farewell to the lively Jukando. But at this point I couldnt wait to try all the great flavors of the night.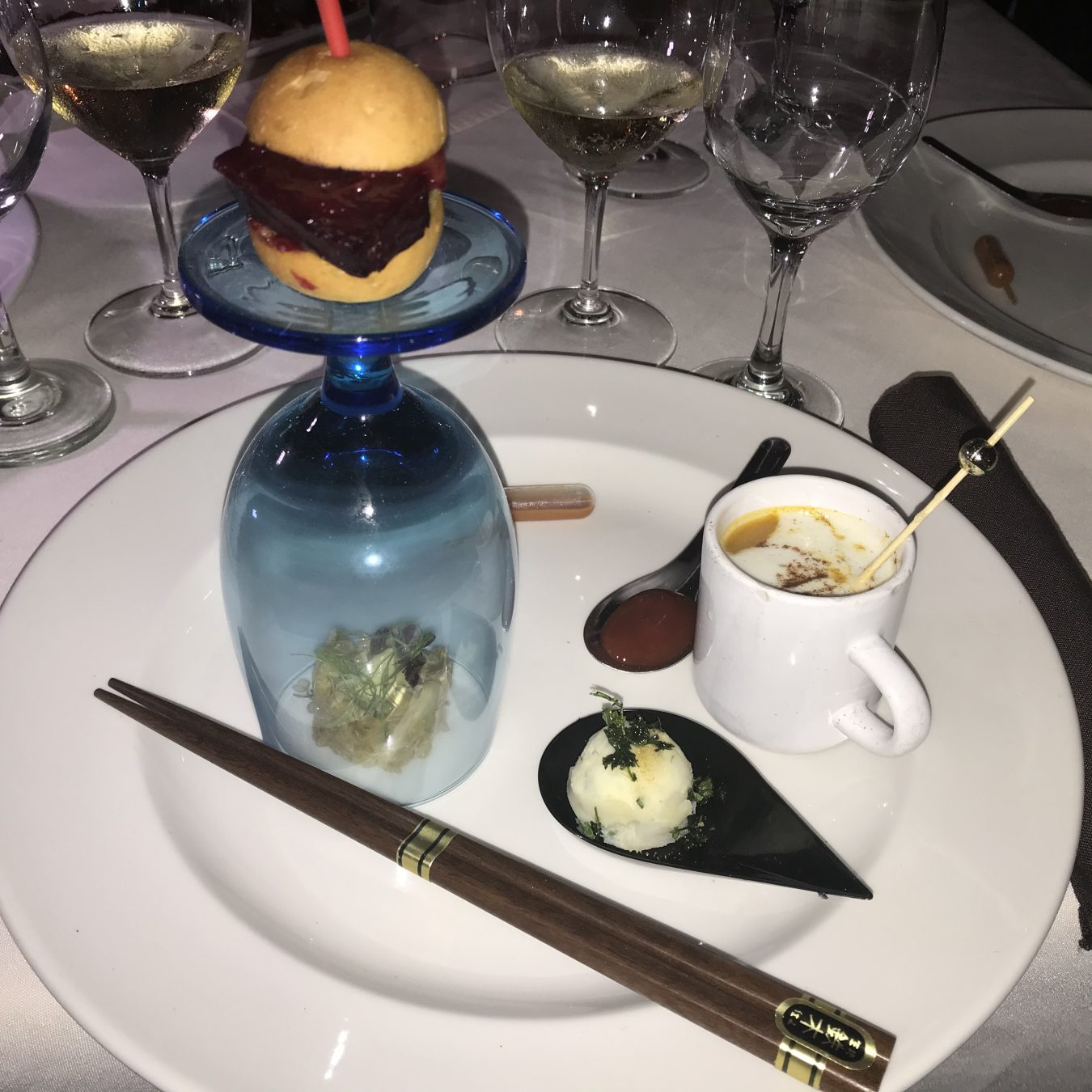 A lovely eatery decorated with palm trees, wooden ceilings, white draperies. In addition to Coyabas rustic beauty, the beet dish on my plate of mini tastings pleasantly surprised me . At first glance I thought the slider was tuna tartare but when I bit into it, it was earthy beet. Beet is one of my least favored foods but this preparation of beet with orange and saffron was an exception. Other dinner tastings included a curry endive slaw and carrot ginger espresso. All paired with the Bespoke Collection that was featured at the Women Luncheon.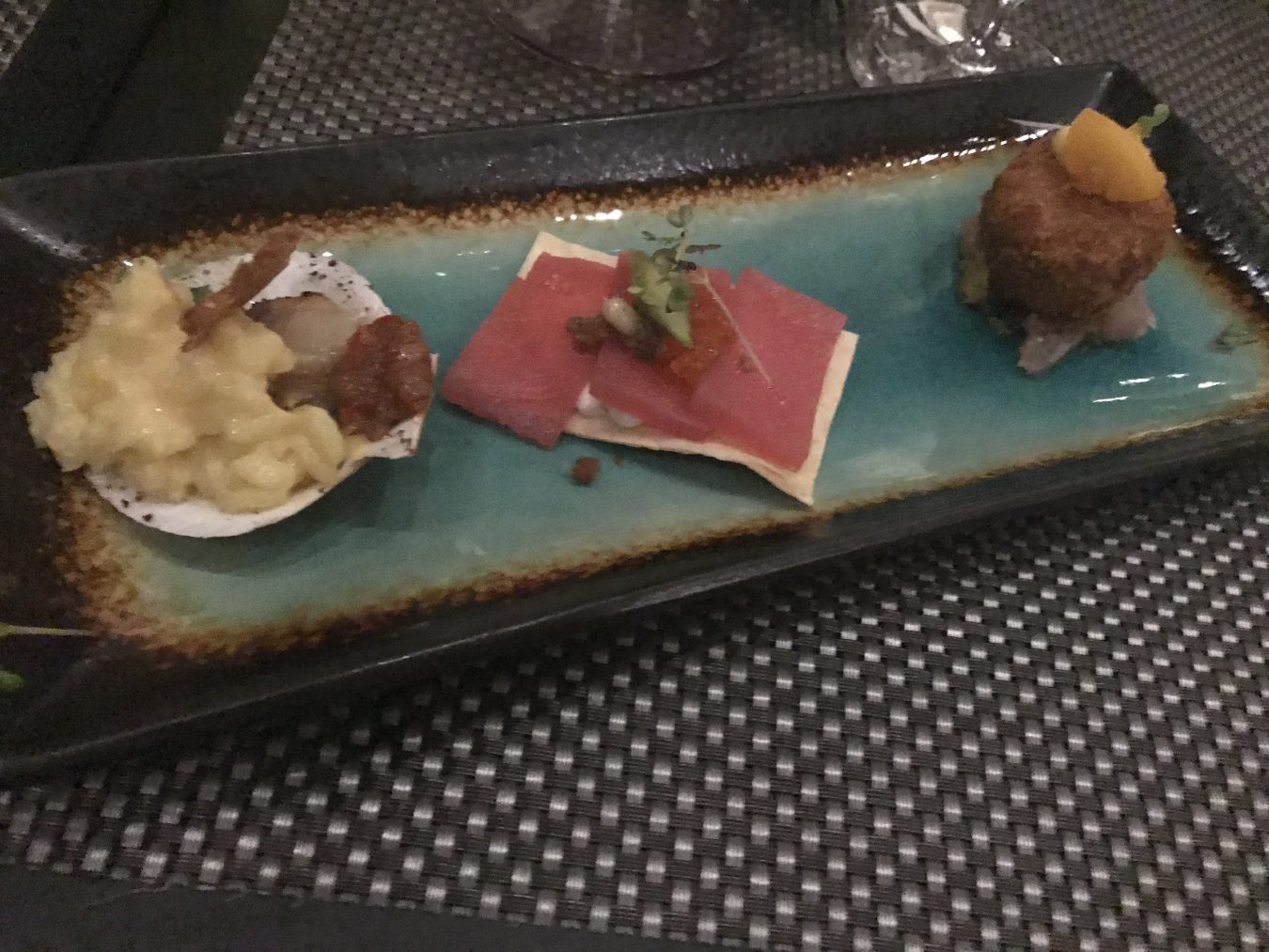 Following Coyaba, we transported via bus to Wymara Resort. Another beautiful dinner destination, Wymara focused on the flavors of the sea. Overall my favorite from the Gourmet Safari considering I am a seafood enthusiast. Tastings included a paella cracker made with bay scallops, sofrito puree and saffron aioli. Tuna Carpaccio served on a crusted tortilla, kalamata tapenade, spicy mayo sturgeon and micro greens. Lastly a lump crab cake brightened by a mango salsa, citrus chutney and micro cilantro. In addition to dinner, Wymara entertained guests with local dancers helping guests find their groove.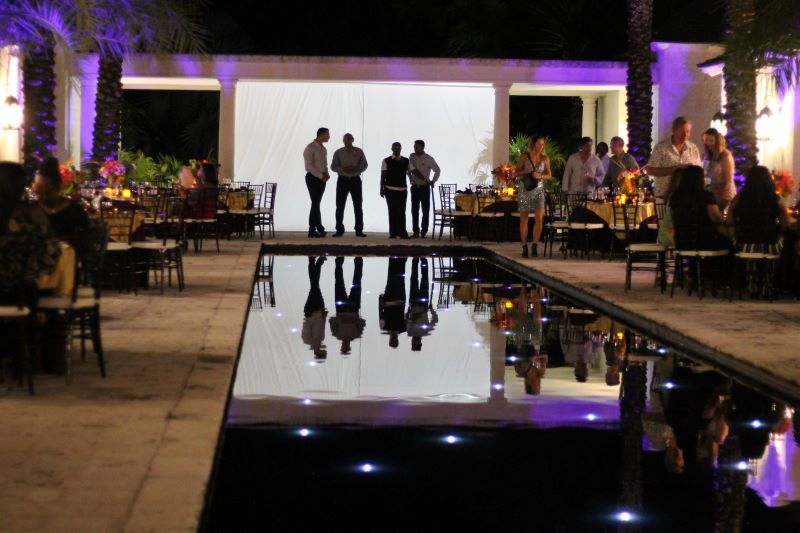 Returning to the Palms for the final savory course, the chefs menu focused on meats. Led by Executive Chef Lauren Callighen ,Chef De Cusine Nadine Stangl and the Parallel23 Culinary Team. I literally had one bite of the featured dish the Poached and Herbed Veal fillet. Which was complimented with a beef cheek ravioli, creamy savoy cabbage and marinated plum. Unfortunately I couldnt savor more of the rich meats at Wymara. Although I did make room for dessert!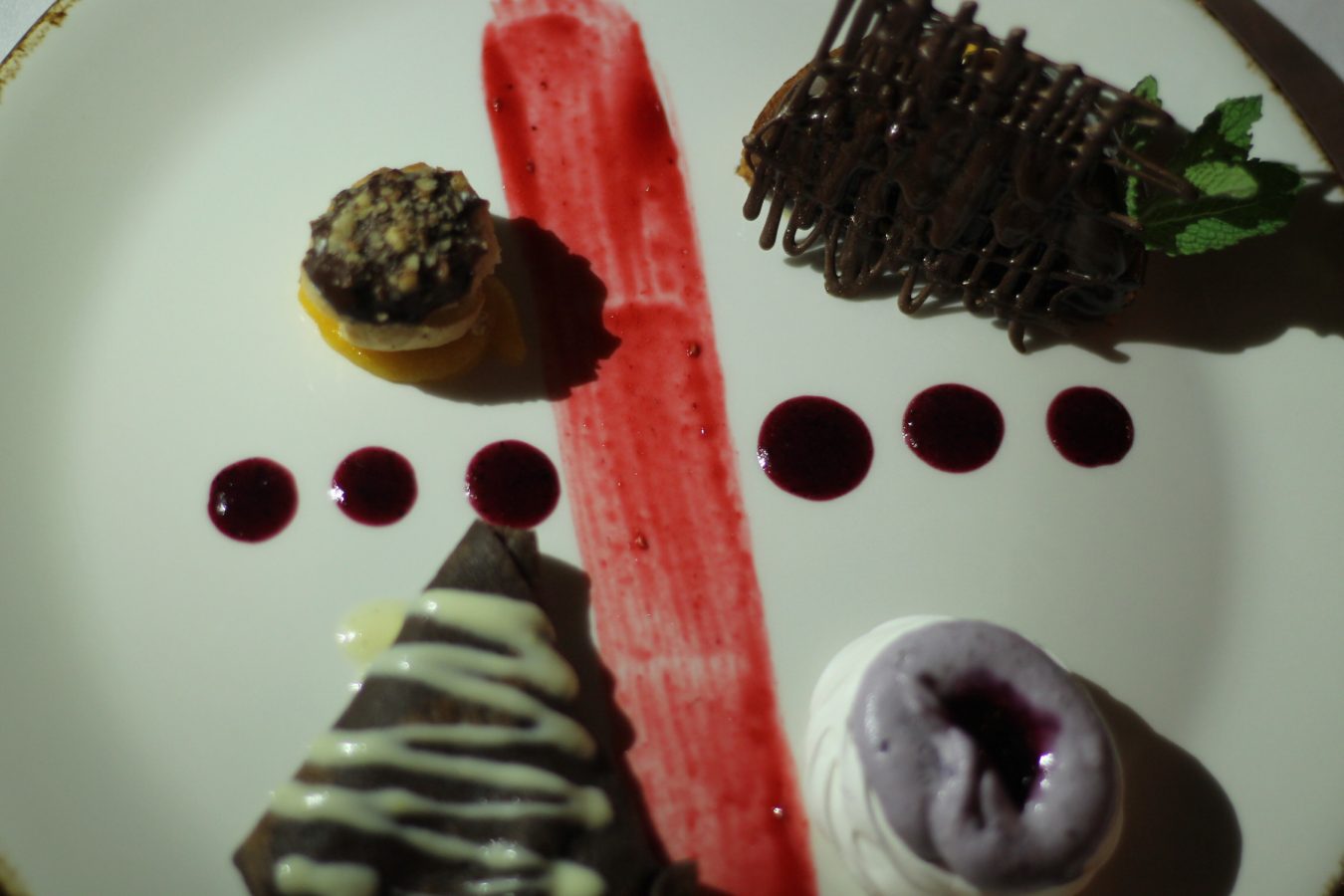 Ending the night on a sweet note I savored a couple bites of various sweets at Seven Stars Resort and Spa. Melodious steel pan music and a bonfire accented the night. Whereas the menu featured Grace Bay Pavlova (crunch meringue, blueberry mascarpone cream) The Dark Eclipse (vanilla cream dark chocolate sabayon, chocolate glaze), Sevens treasures (chocolate cream, pecan madeleine, banana cream, profiterole) and a crispy chocolate crepe (wild berry compote, chocolate ganache and vanilla cream). Paired with the Aerena wine from the BeSpoke Collection.
My closing night at the Grace Bay Club couldnt be more spectacular. I enjoyed a hearty dinner by Michelin-Starred Chef Atul Kochhar. A grand finale showcasing Bollywoods exquisiteness of fun bright colors and cuisine at the Grace Bay Club. Before dinner started, I quenched my thirst with a cocktail made with Grace Bay Clubs Homemade Spiced Rum. I tasted hints of warming notes like clove, nutmeg and cinnamon made with splash of rum and prosecco.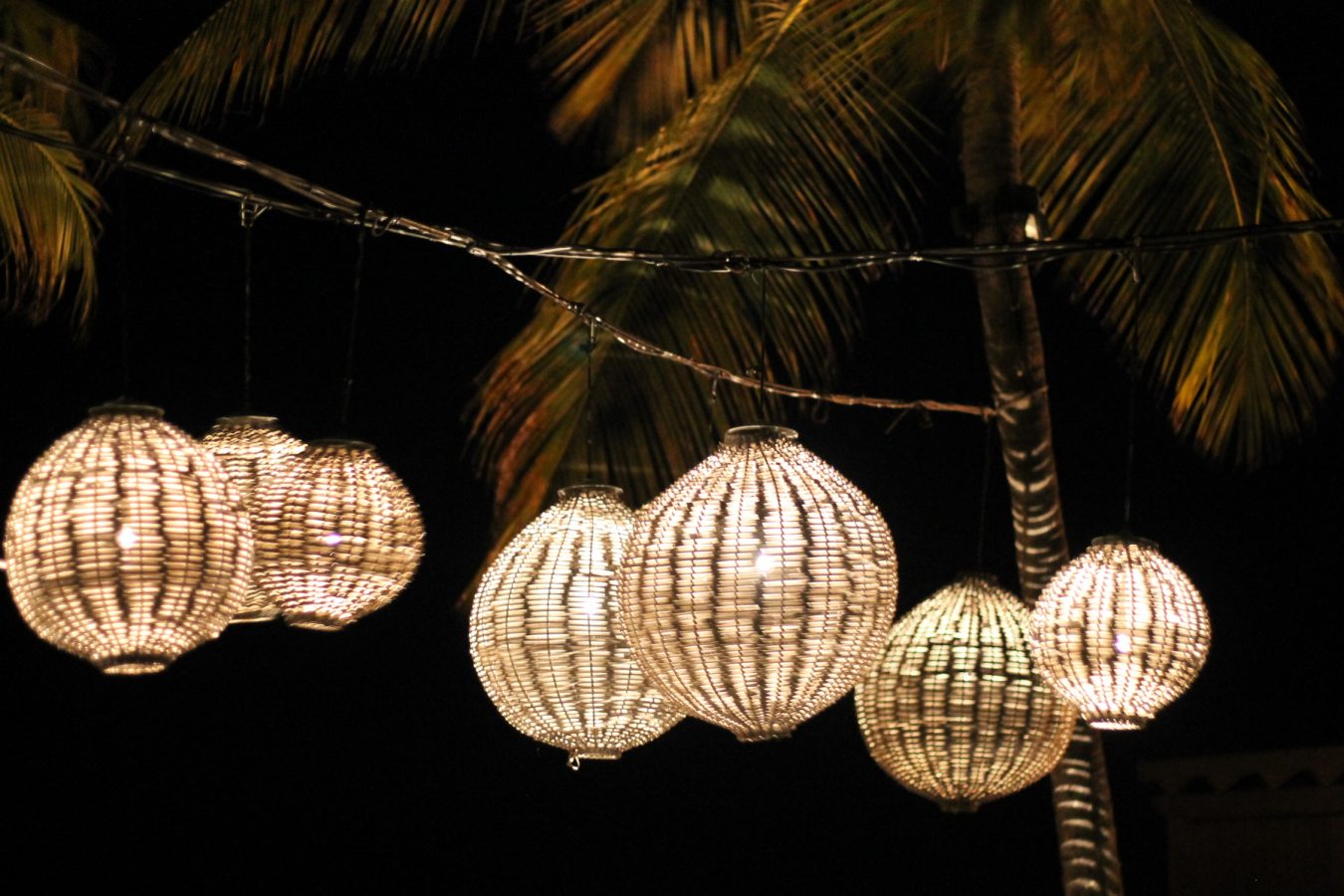 The Bollywood themed night started with a chicken tikka pie sweetened with a mixed berry chutney. Similar to previous nights dinners Chef Kochhar incorporated his preferred flavors like Indian and British cooking techniques into local dishes. Dissimilar to the other the Dinner with the Stars portion sizes were not tastings but rather full-sized meals.
Mains
Dinner with the Stars mains included a Pan Seared Red Snapper and Spiced Roasted Lamp Rump. Of course, I preferred the Snapper. I can never get tired of a well prepared of flaky white fish. Especially if it is prepared with Indian spices and served with coconut rice. While the Snapper was my hit for the night, I have to note the Rump was also divine. Saag aloo accompanied the juicy meat. Chef Kochhar sweetly finished the night with an Indian dessert called Rose Bhapa Doi. A fruit treat made with passion fruit and raspberry textures.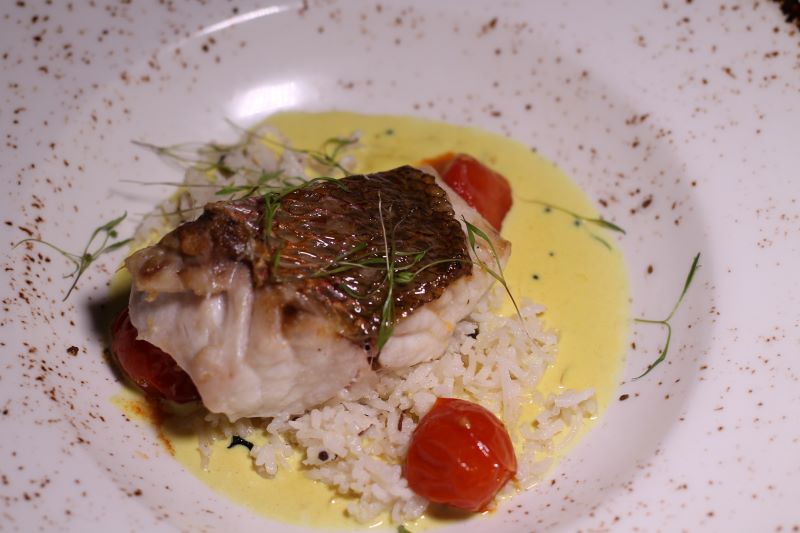 I toasted with a glass of Blackbird Arise from the Bespoke Collection to the food filling, heartwarming and culture enriching experience.
More from Caribbean Food and Wine Festival.
Two events I could not attend but are available to book are the Food and Wine Pairing and Sunday Brunch.
The Food and Wine Pairing is described as intimate food and wine pairing seminars highlighting meat, seafood and cheese with tasting rooms showcasing guest chefs and wine makers with the support from the local aspiring talent Lil Chef mentor program.
Sunday Brunch event was led by James Beard Award Winning Chef and Restaurateur Micheal Schwartz.
Book the Caribbean Food and Wine Festival.
As stated in a Forbes article written by Chelsea Davis Co- Chairman Nikheel Advani states The Caribbean Food & Wine Festival offers the truly unique opportunity to experience chefs and winemakers from a wide-range of culinary backgrounds in an intimate setting, and to support the local community through a celebration of Caribbean cuisine. Once a year, taste-makers and lovers come unite to relish Turks & Caicos food scene for a special, authentic celebration of Caribbean cuisine.
For more information visit Grace bay Club:
Caribbean Food and Wine Festival:www.caribbeanfoodandwinefestivaltci.com
The post Caribbean Food and Wine Festival Ninth Annual Event appeared first on Honest Cooking.