These amazing and fluffy blueberry protein pancakes are a cinch to make and so delicious! They're gluten-free, high protein and the perfect breakfast treat.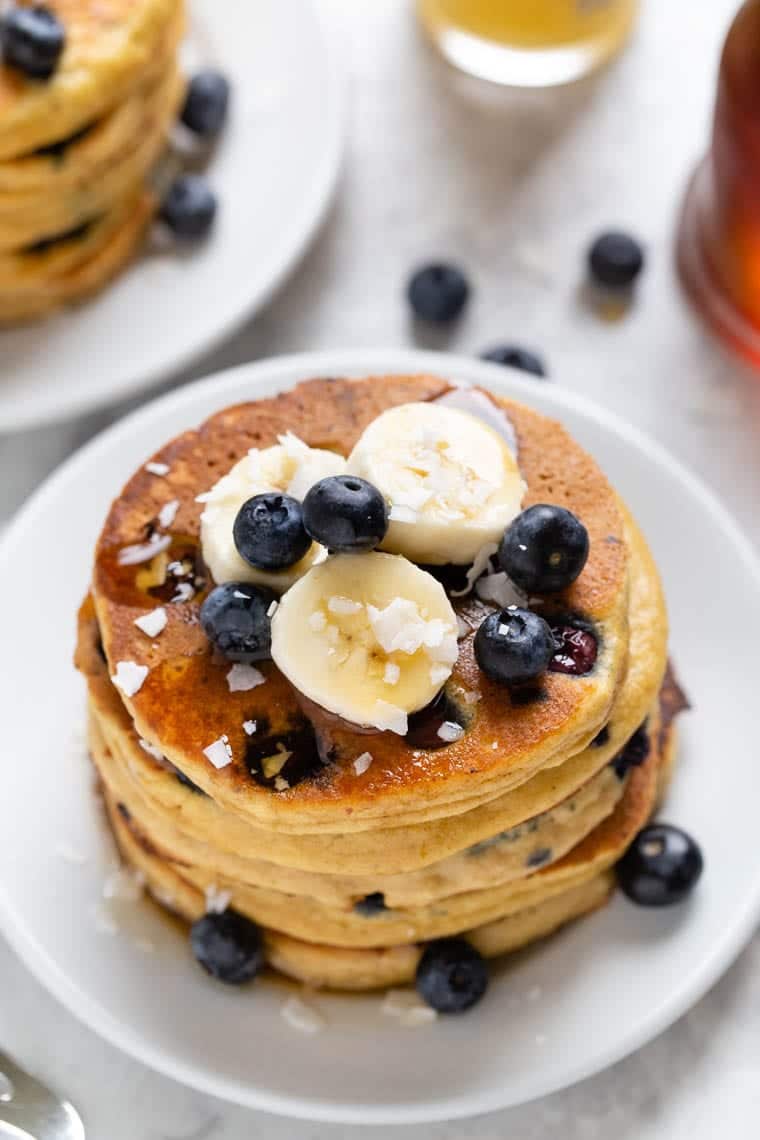 There's nothing that makes me happier than a fluffy stack of blueberry pancakes! They've long been my favorite breakfast food and I've shared countless gluten-free pancake recipes on the site before. But I've never shared a recipe like this.
Today I'm going to show you how to make gluten-free and dairy-free blueberry protein pancakes using healthy, whole food ingredients. No mixes, only 7 ingredients, and absolutely delicious. They're also light, fluffy, and a cinch to make!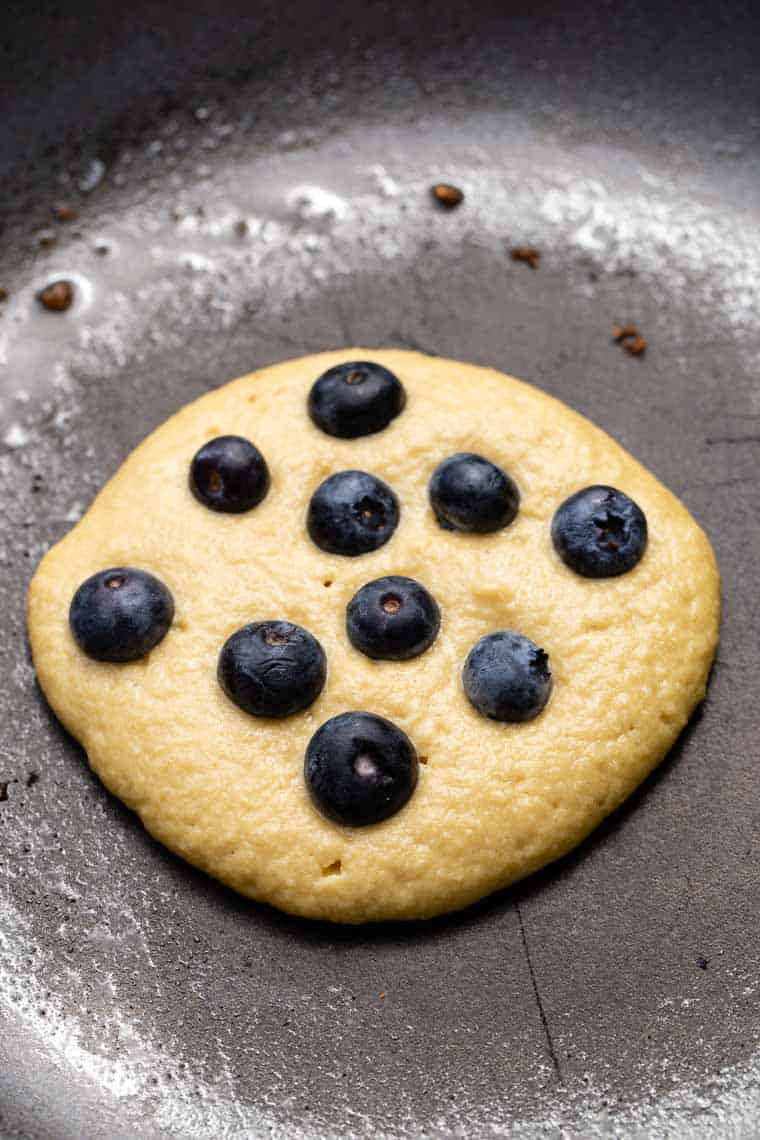 Ingredients for Blueberry Protein Pancakes
Did I mention these pancakes are just 7 ingredients?! Most of my gluten-free pancake recipes use a combination of flours in order to get that fluffy texture, but not these ones! We're using just two flours and a few other ingredients and they honestly have the most amazing texture ever!
Here's what you'll need:
Almond flour: I love using almond flour in recipes because it's healthy and it's got an amazing texture. The benefit of using almond flour in this recipe is that it's also high-protein!
Protein powder: you can use whatever kind of protein powder you want! Here's the one that I like, but you could do another flavor, another type or whatever you want.
Baking powder: the best way to make your pancakes light and fluffy!
Cinnamon: I love to add a sprinkle of cinnamon into my pancakes, but this is optional!
Eggs: the eggs are another reason why these pancakes are fluffy. But they also are high in protein, so they're giving the pancakes a little protein boost as well.
Almond milk: I use unsweetened original, but you can use any type of milk that you want!
Blueberries: we need blueberries to make blueberry protein pancakes of course, but you can also swap the blueberries with any other fruit or add-in.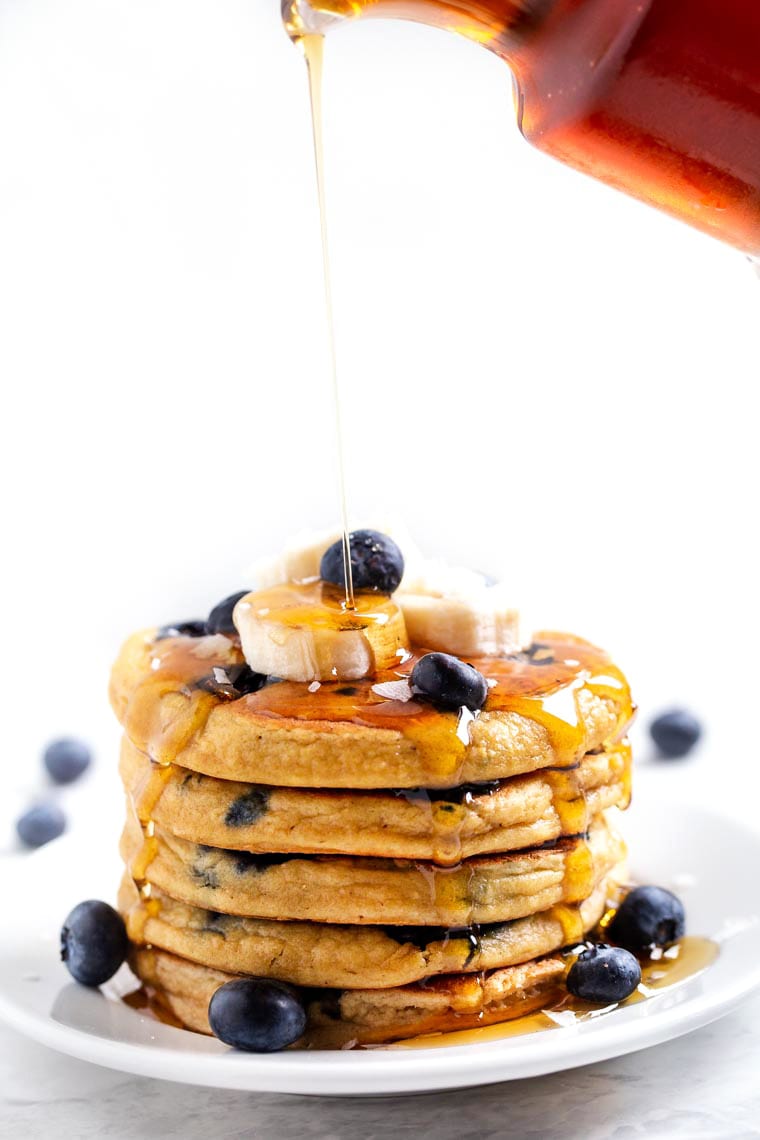 How to Make Gluten-Free Protein Pancakes
One of the things I love about pancakes is how easy they are to make! Here's how simple it is to make protein pancakes at home.
STEP 1
Mix your dry ingredients together into a bowl, including the flour, protein powder, baking powder, and cinnamon.
STEP 2
In a separate bowl or measuring glass, beat together the eggs and almond milk.
STEP 3
Pour the egg and milk mixture into the dry ingredients and stir it all together until you have a smooth pancake batter. Fold in your blueberries.
STEP 4
Cook your pancakes on medium-low for 2 3 minutes per side. Wait until you see small bubbles forming on the top and then you're ready to flip.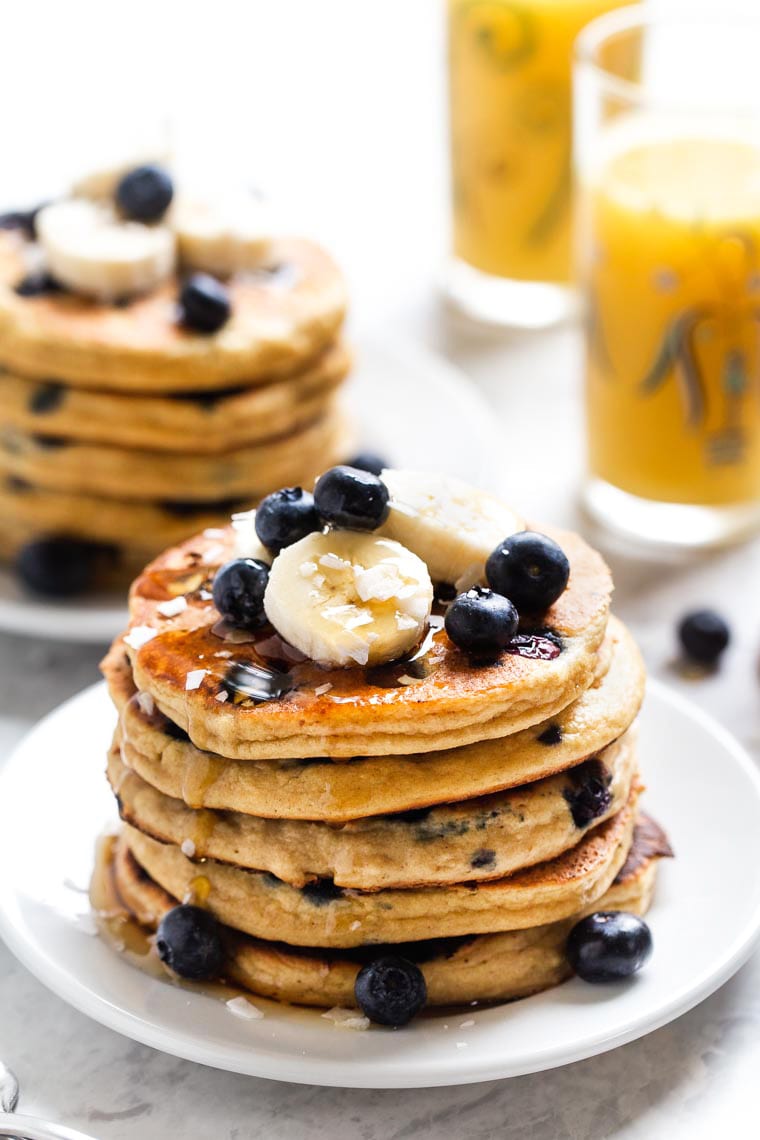 Make Your Own Protein Pancake Mix
There are lots of protein pancake mixes on the market, but I think when possible, you should always make things at home. Which is why I love the base of these blueberry protein pancakes! It's something you can absolutely turn into a DIY mix.
Here's what I would do:
Double or triple all the dry ingredients
Store the dry ingredients in your cupboard
To make a small batch (4 pancakes):
Scoop 2/3 cup dry ingredients
Add 1 egg
3.5 tablespoons almond milk
1/3 cup blueberries
To make a large batch (12 pancakes):
Scoop 2 cups dry ingredient
Add 3 eggs
2/3 cups almond milk
1 cup blueberries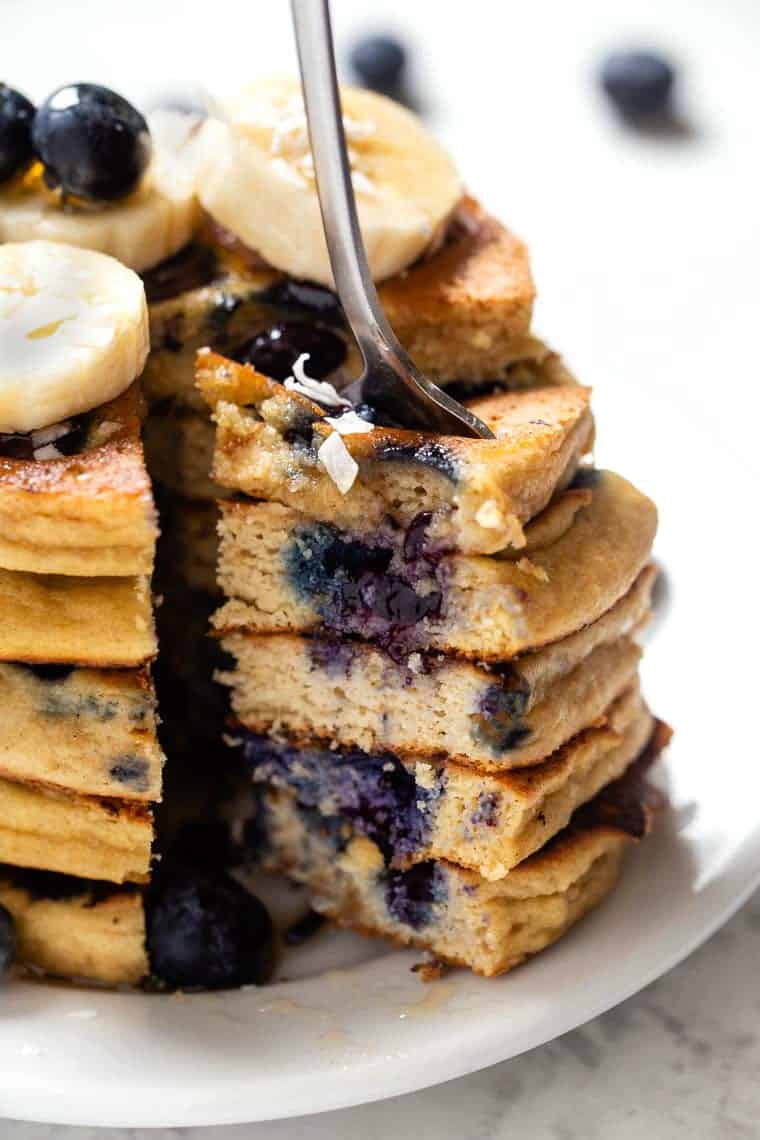 Your Questions Answered
What is the best protein pancake mix?
In my opinion, it's always better to make your pancakes from scratch rather than buying a mix. Lots of mixes have things you might not really want in your pancakes lots of starches, added sugar, flavorings, etc. But if you make your own These blueberry protein pancakes are still high in protein 2 pancakes have 10g! but they're made with a simple ingredient list and can be turned into your own mix!
Are protein pancakes healthy?
Overall, I would say yes, protein pancakes can be healthy as long as the ingredient list is good. These pancakes are definitely healthy, but they aren't something that you want to be eating every single day. It's important to change up your breakfast routine, keep your diet varied and make sure you're getting in fresh fruits and veggies in addition to protein.
How many calories are in protein pancakes?
Calorie counts for protein pancakes depends on the recipe, the size of the pancake, as well as the protein powder you use. In general, these blueberry protein pancakes have 100 125 calories per pancake.
Can protein pancakes help you lose weight?
As part of a balanced diet, you can use protein pancakes to help lose weight. The benefit of eating a high protein breakfast is that it keeps you full for longer, so you're less likely to snack in between meals.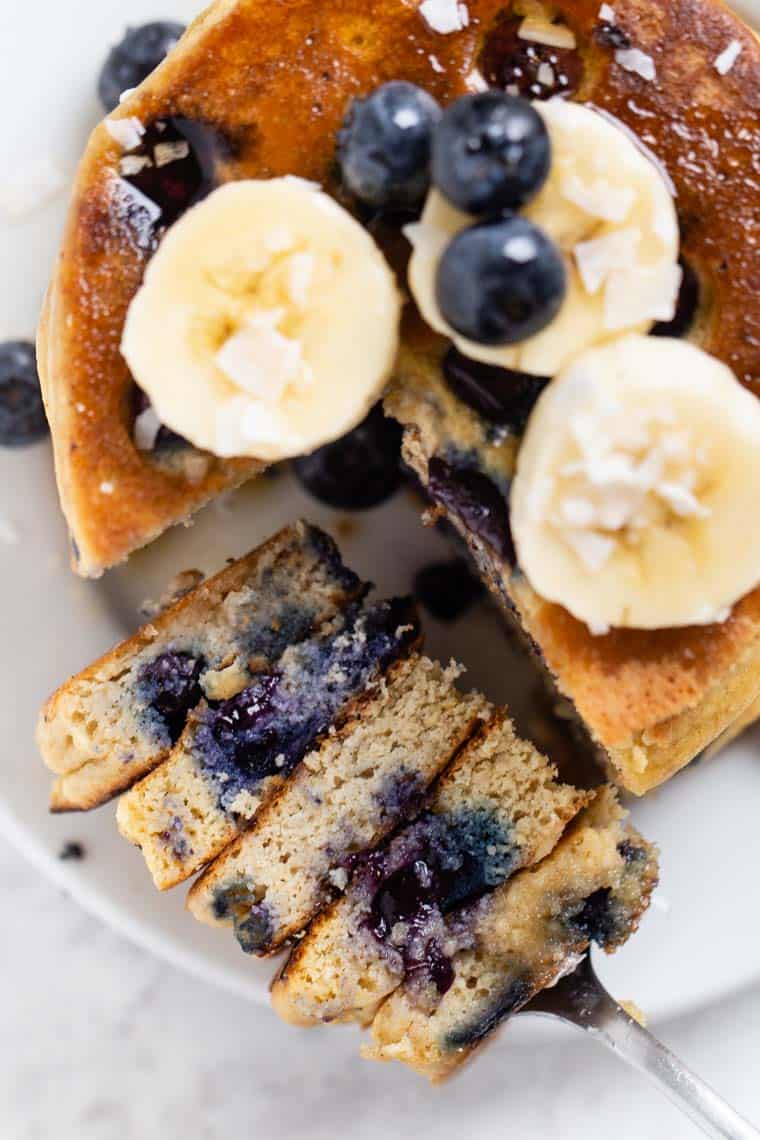 How to Serve Blueberry Protein Pancakes
Last but not least, let's talk about the best ways to serve your protein pancakes! Pancakes on their own are great, but you can add a bit more nutrition by using some healthy toppings. Here are my favorite healthy pancake toppings:
Dollop of coconut yogurt or coconut cream (healthy fat)
A drizzle of nut butter (healthy fat and protein)
Fresh berries (fiber, natural sweetness, and antioxidants)
Fresh banana (fiber, potassium, and natural sweetness)
And if you're feeling extra you can do a drizzle of pure maple syrup! Either way, I hope you enjoy these amazing protein pancakes and I can't wait to see them become part of your healthy morning routine.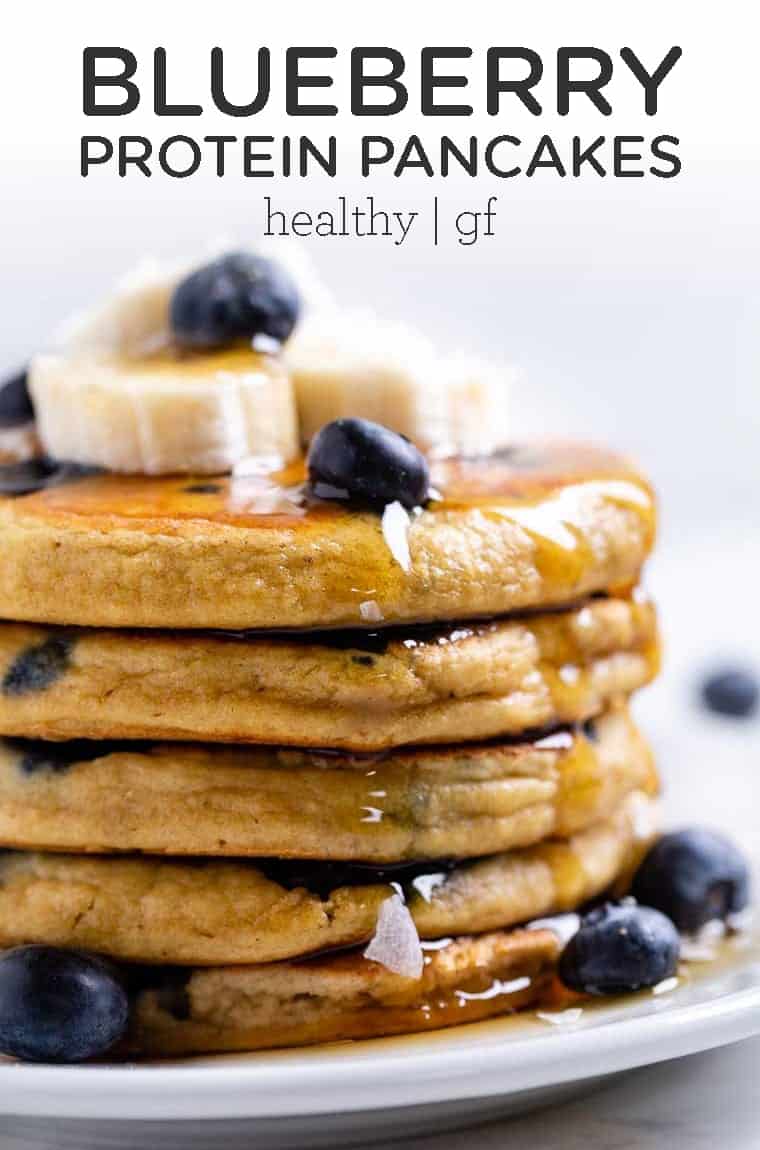 More Gluten-Free Pancake Recipes to try:
The Best Blueberry Protein Pancakes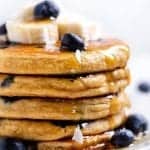 These amazing and fluffy blueberry protein pancakes are a cinch to make and so delicious! They're gluten-free, high protein and the perfect breakfast treat.
1 1/2 cups almond flour
1/2 cup protein powder
1 1/2 tsp baking powder
1/2 tsp cinnamon
3 eggs
cup almond milk
1/2 1 cup blueberries
Whisk together the dry ingredients and set aside.
In a separate bowl, beat together the eggs and almond milk. Add a splash of vanilla if you want a teeny boost of flavor.
Pour the egg and milk mixture into the flour mixture and stir to combine. Fold in the blueberries.
Heat a skillet over medium low and spray it with cooking spray (or use oil). Drop about a 1/4 cup of batter onto the skillet and cook for 2 3 minutes per side. Repeat with the rest of your batter.
Serve your pancakes warm with a dollop of vegan yogurt and pure maple syrup.
The post Best Blueberry Protein Pancakes appeared first on Simply Quinoa.