An Apple Slab Pie is an easier, unique and less intimidating kind of pie to bake!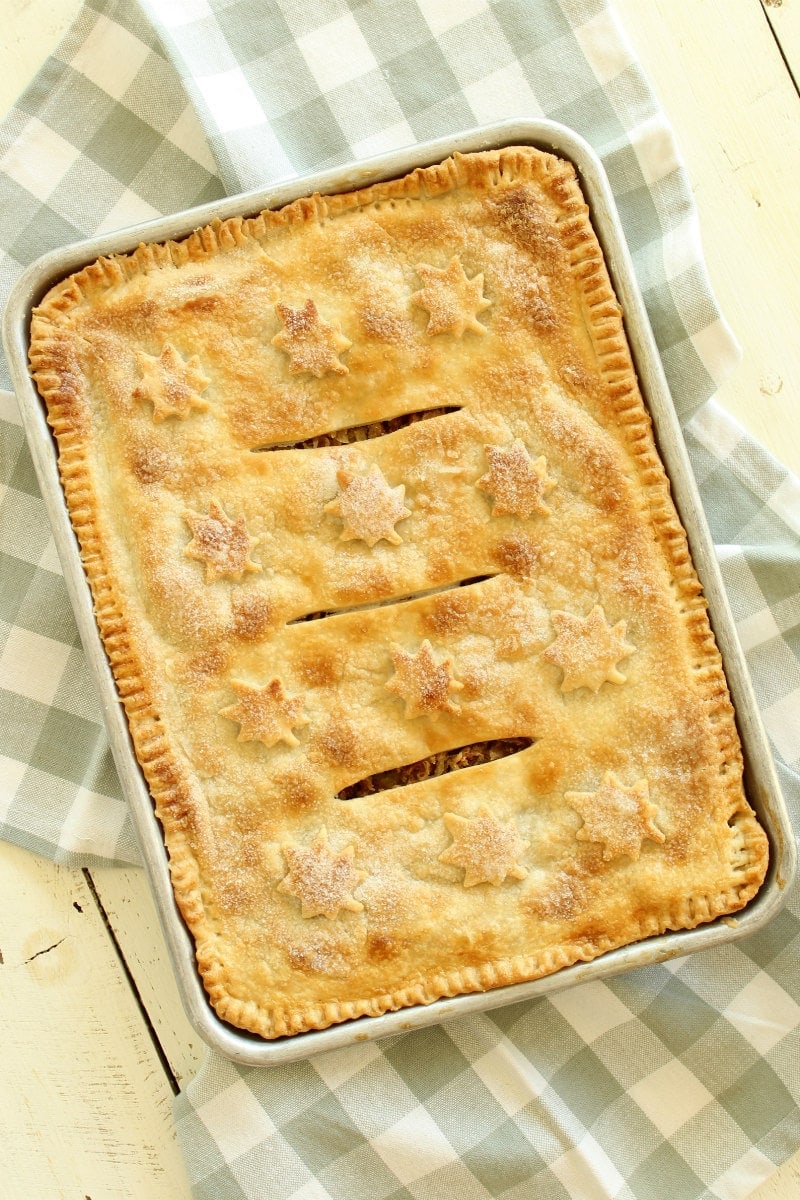 Have you ever baked a slab pie? This one was a first for me. I love that its non-traditional, and its grab and go. You can slice a slab pie, and people can pick up pieces and eat it out-of-hand. Its nice and sturdy that way. There are so many varieties of apple pie out there that you can bake, and this apple slab pie is definitely one to try. Its not your usual apple pie. Read on to find out why!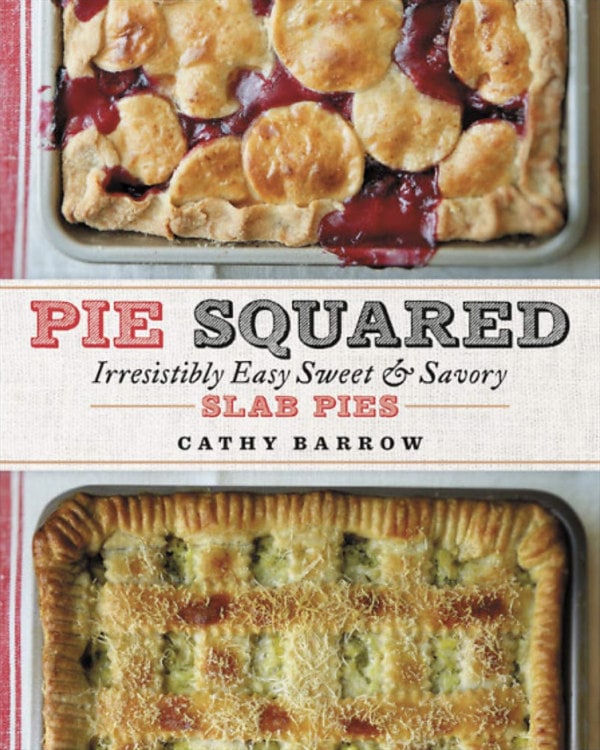 Pie Squared:
There are Amazon affiliate links included within this post.
This recipe comes from a book by Cathy Barrow: Pie Squared- Irresistibly Easy Sweet & Savory Slab Pies. The book contains more than 60 sweet and savory pie recipes that are all made in a sheet pan, plus 20 crust and topping recipes. There are step-by-step techniques included for rolling and decorating. Barrow shows you that making slab pies can be easier and less-intimidating than putting together a traditional round pie.
Im so happy to have added this cookbook to my collection as its very different than the typical pie recipe book. How fun to make a slab pie where you can pick up slices to eat right out of your hand! Here are some recipes that have caught my eye and are on my list to bake: Cheddar Cheese Crust, Hash Brown Crust, Puff Pastry, Nacho Slab Pie, Southern-Style Tomato Slab Pie, After-Thanksgiving Turkey Slab Pie, Carbonara Zoodle Slab Pie, Blueberry Streusel Slab Pie, Frosted Strawberry Slab Pie, Chocolate Pecan Slab Pie, Banana Pudding Slab Pie and Good Morning Cheese Danish Slab Pie. There are some really creative combinations for slab pies in the book, and I want to try them all!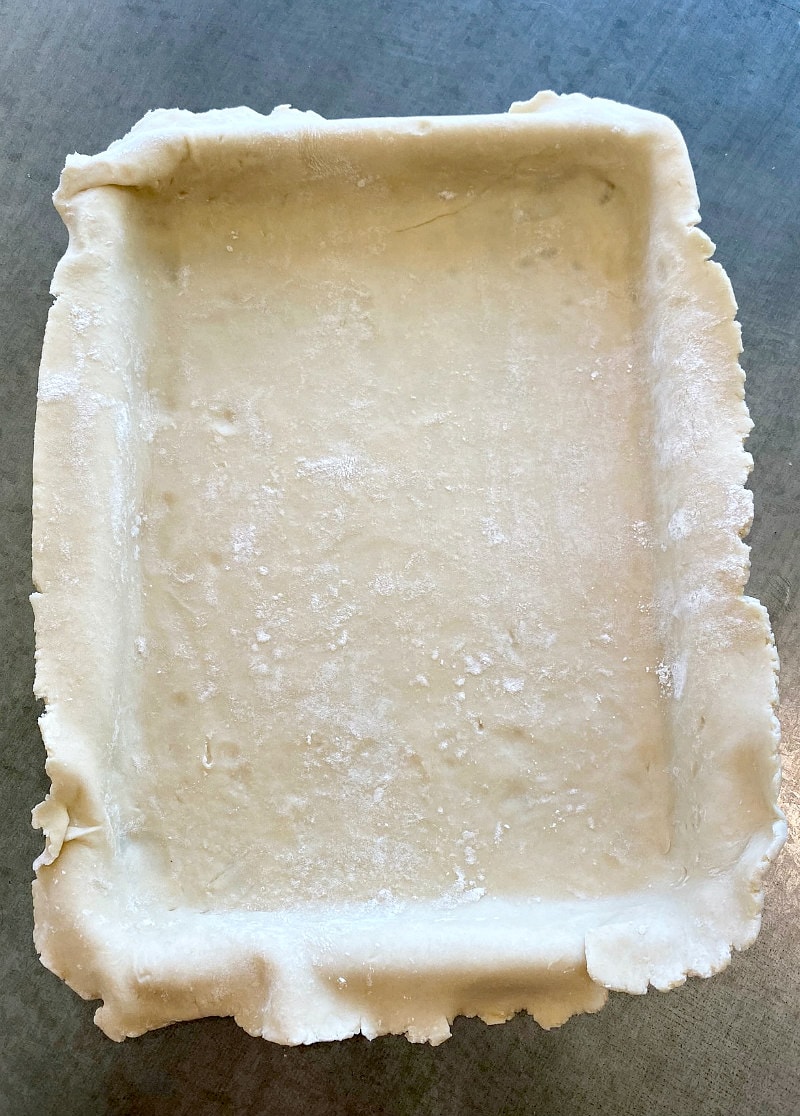 What kind of pan is needed to make a slab pie?
A slab pie pan is also known as a quarter sheet pan. Its 913-inches, and it has a rim thats 1-inch tall. Theyre available on Amazon, and I suggest you buy one if you want to bake slab pies. Youll find that youll use it for other things too- like baking salmon or chicken, roasting vegetables, small cookie batches, etc. I have three quarter sheet pans in my kitchen, and I use them all the time!
The crust:
The crust recipe included for this pie is all-butter. Its made as crust recipes usually are dry ingredients cut with the butter and combined with ice water. The dough is split into two pieces and patted into rectangles instead of discs, and then its refrigerated until well chilled. When its time to roll the crust, youll be rolling it into large rectangles instead of circles. Helpful equipment can be found on Amazon. My favorite rolling pin is this one: a wooden, French-style rolling pin. And I recently purchased this silicone pastry mat for rolling, and I love it it has measurements on it, and that makes it so much easier to keep track of the size of the rolled pie crust.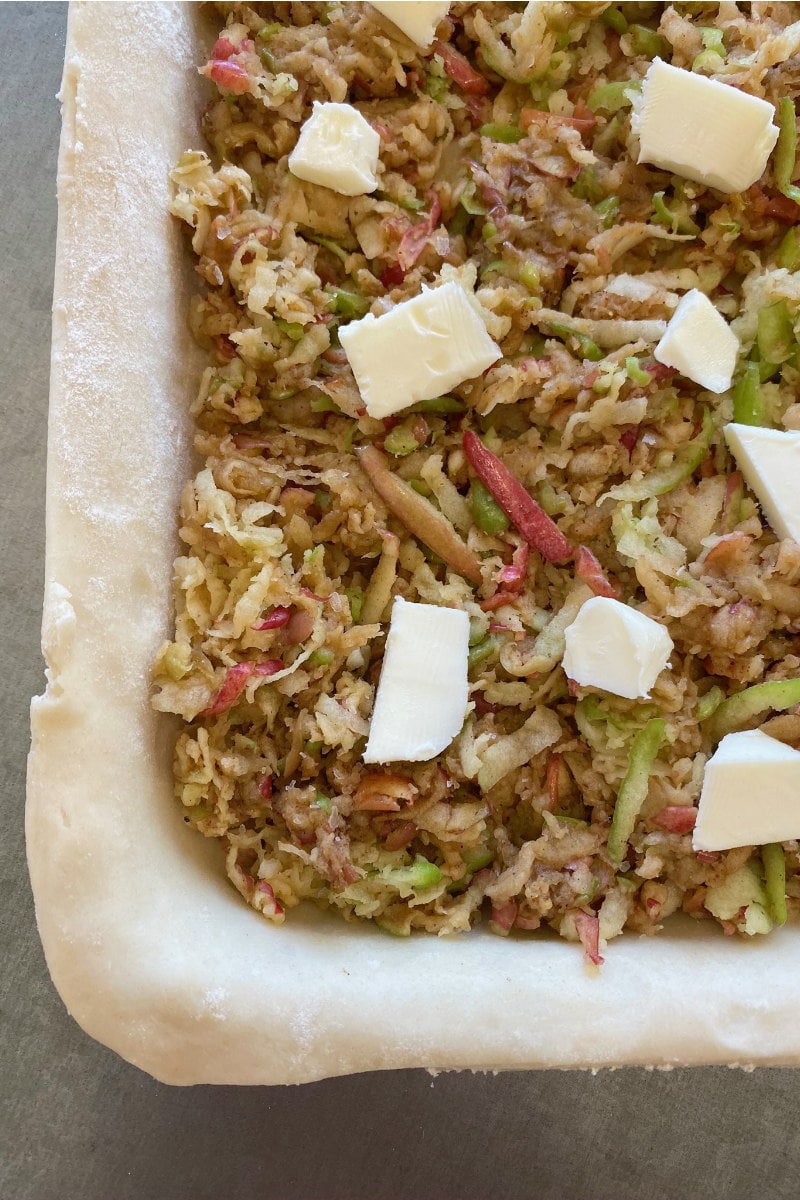 A non-traditional apple pie:
Heres the part where I tell you about the interesting way this apple slab pie is made. If you take a peek at the photo above, you may be wondering where the apples are. Theyre there! In this recipe, youll be grating the apples into a towel, skin and all. I used three varieties of apples to vary the texture and flavor of my pie. Once the apples are all grated, youll squeeze the towel to squeeze out the apple juice. I suggest you squeeze it into a glass and grab a straw because it will be the most amazing fresh squeezed apple juice youve ever tasted!! Squeezing out the juice helps you avoid having a soggy bottom pie. The grated apples are mixed with sugar, flour, lemon juice and spices. Butter is dotted on top of the apple mixture.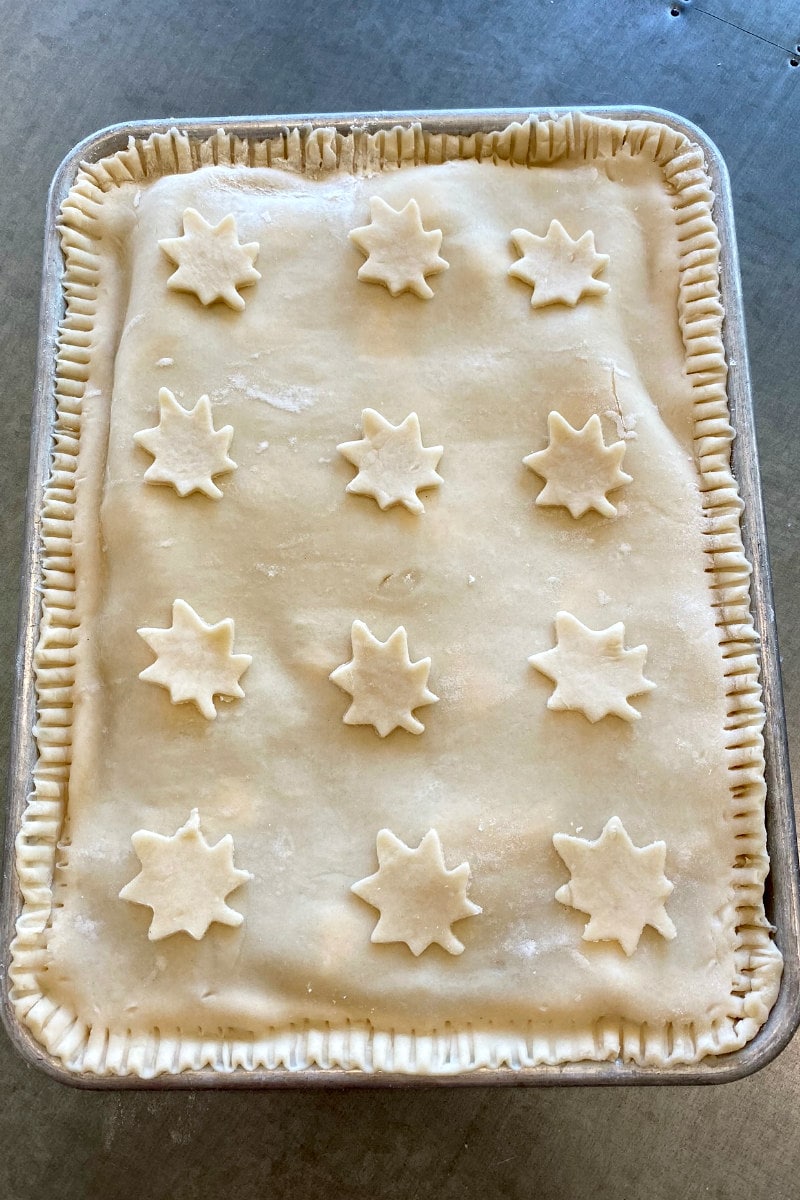 The second piece of pie dough is rolled out and placed on top. The photo above doesnt show it, but youll need to cut a couple of vents in the top of the pie too.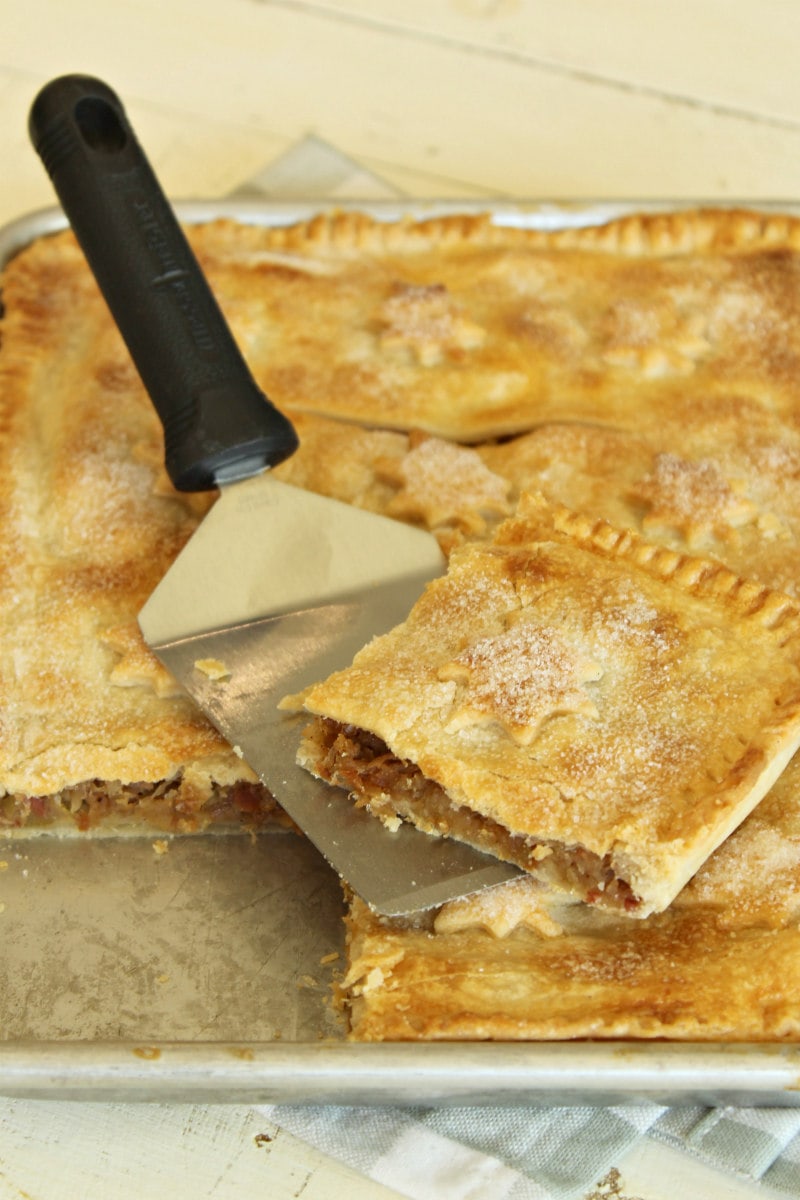 The results:
Once baked and cooled, the apple slab pie is cut and served. You can see how sturdy the little slices are- perfect for picking up and eating with your hands. My husband added ice cream to his and ate it on a plate with a fork. So you can serve and eat it either way!
Since the apples are grated, this pie feels more like slices of apple bars than apple pie. After all, the apples arent piled into the filling as they are in a traditional apple pie. That being said, I really loved it that way! Weve all had apple pie a million times, but this is a new way to try it. Id make these again. They were a big hit with my taste testers. In Barrows book, she also includes a recipe for a slab pie using sliced apples, and Id like to try that one too!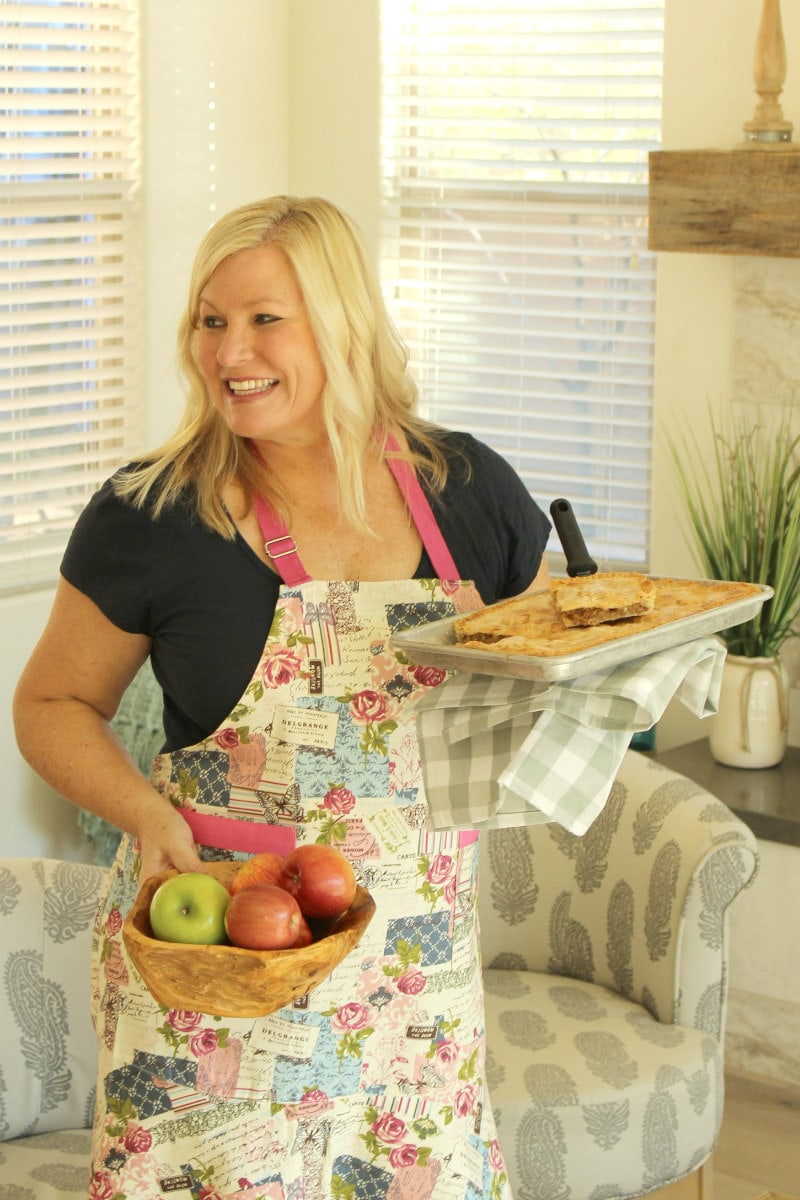 I was pretty impressed with this apple slab pie, so Ill be baking more slab pie recipes for sure. Let me know if you try this recipe! Enjoy!
Here are a few more pie recipes you might like to try:
Apple Slab Pie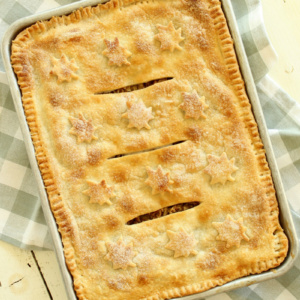 Perfect fall apple pie recipe!
ALL BUTTER CRUST:
One quarter sheet pan ( (913-inch with a 1-inch tall rim))
2 1/2 cups + 2 tablespoons all purpose flour
16 tablespoons unsalted butter, (cubed and frozen for 20 minutes)
1/4 teaspoon kosher salt
1/2 cup ice water
APPLE FILLING:
3 to 4 pounds (6 -7 large) apples ((see Recipe Notes below))
1/3 cup packed light brown sugar
2 tablespoons all purpose flour
1 tablespoon freshly squeezed lemon juice
1/2 teaspoon ground cinnamon
1/2 teaspoon ground ginger
1/2 teaspoon ground nutmeg
1/4 teaspoon kosher salt
2 tablespoons cold unsalted butter, (cut into pieces)
1 tablespoon heavy cream or whole milk
2 tablespoons sparkling or granulated sugar
PREPARE THE CRUST:
In a food processor, pulse the flour, butter and salt until the butter is in small pieces coated with flour, about 15 times. Add the ice water all at once and process until the mixture almost forms a ball. Form the dough into a 64-inch rectangle using plastic wrap and a bench scraper to firmly press the dough into a cohesive form. Wrap tightly and refrigerate for a minimum of 4 hours.

Remove the dough from the refrigerator and allow it to warm slightly (not too much!) Divide the dough into two pieces, one slightly larger than the other. Roll out the larger piece to 1115-inches and place it into the quarter sheet pan, pressing it into the corners of the pan and allowing the excess to drape over the sides. Refrigerate. Roll out the second piece of dough to 1014-inches, place it on a lightly floured sheet of parchment, and refrigerate.

Preheat the oven to 400 degrees F. If you have one, place a baking stone or an inverted larger baking sheet on the center rack to heat. If you don't have one, don't worry about it.
PREPARE THE FILLING:
Line a large bowl with a very clean thin cotton kitchen towel or a double layer of cheesecloth. Place a box grater in the bowl and grate the apples, including the peel, right down to the core, right into the towel. Dispose of the cores. Twist the towel for a powerful squeeze, extracting the juice. This helps avoid a wet-bottomed pie. Capture all of the delicious apple juice in a glass and drink up after all of that hard work. That freshly squeezed apple juice will taste AMAZING, so don't throw it out!

Empty the squeezed dry, grated apples out of the towel into the bowl. Add the brown sugar, flour, lemon juice, cinnamon, ginger, nutmeg and salt. Stir well (or mix with clean hands).

Take the bottom crust out of the refrigerator. Pile the filling into the center and gently spread out the apples to fit the pan. Scatter the button over the top of the filling. With scissors, trim the crust to about 1/2 inch over the edge of the pan. Tuck the bottom crust edge up and over the top crust, and fork crimp. Chill for 20 minutes.

Brush the surface of the pie with the cream and dust liberally with the sugar. Slash one or two vents and slide the pan into the hot oven (on top of the hot stone or baking sheet, if using). Bake for 40 to 45 minutes, until the filling is bubbling and the crust is deeply browned. If the crust gets too dark, tent the pie with foil.

Cool for 10 minutes or more before slicing and serving. This can be a handheld dessert, or top with vanilla, cinnamon or caramel ice cream.
Buy a mixture of apple varieties: Granny Smith, Pink Lady, Gala, Fuji.
MAKE AHEAD TIP: Freeze the unbaked pie, wrapped tightly in plastic and then in foil, for up to 1 month. Bake straight from the freezer.
The post Apple Slab Pie appeared first on Recipe Girl.