Are you a busy mom searching for easy recipes to serve your family? This list of over 100+ recipes can help!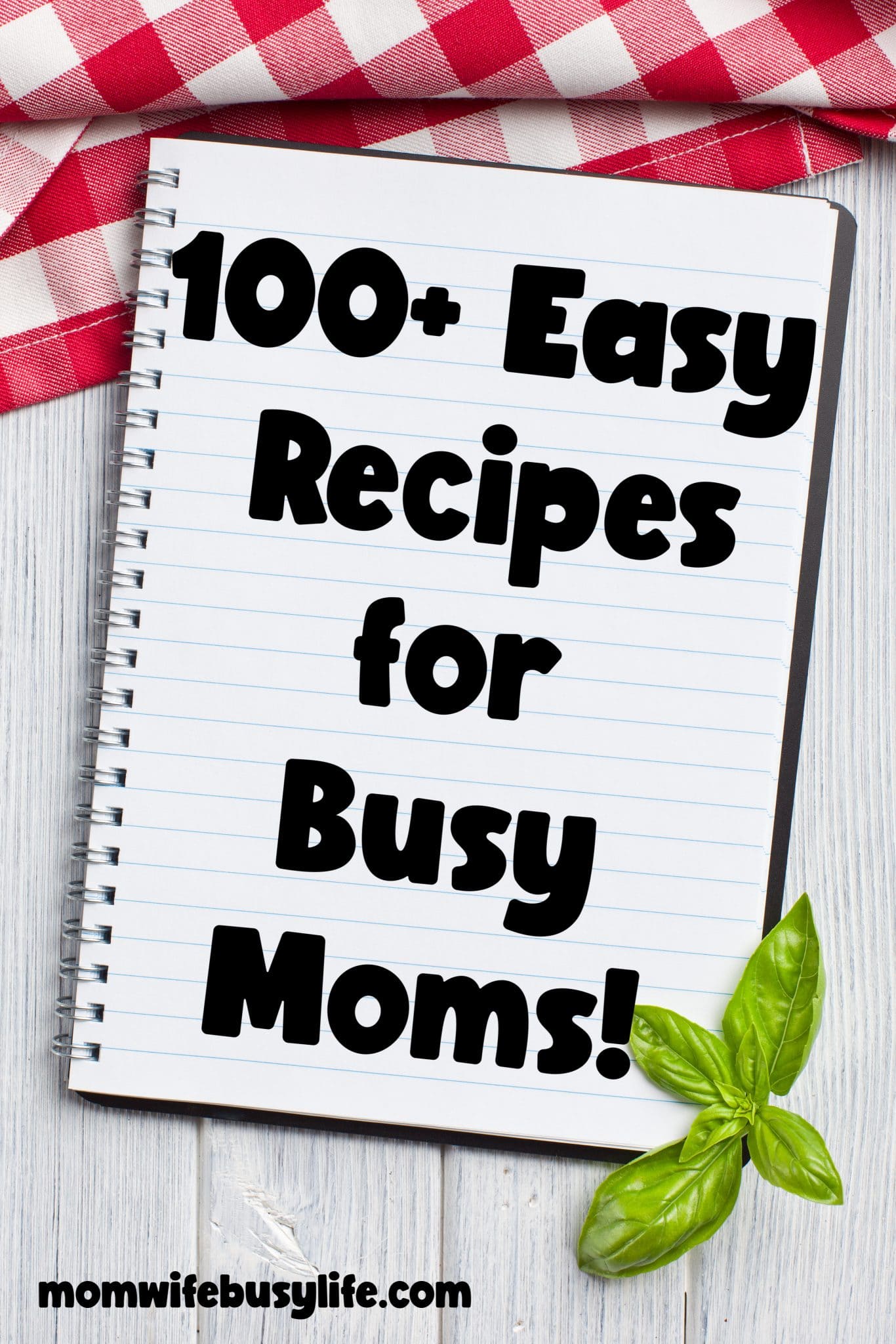 I'm super excited to share that after five years of writing and creating here at Mom. Wife. Busy Life, I have written and shared over 100 recipes for busy moms like you!
One of the biggest struggles as a busy mom is getting food on the table during busy times. In between school drop off and pick up, sports events and other extracurricular activities, errands, appointments, and more, I understand that struggle. As a mom of three kids – ages 11, 8, and 3, I know the feeling of trying to do it all and still try to feed your family a nice meal through it all.
When you count up the amount of times we feed our kids, it adds up BIG! There's breakfast, snacks, lunch, snacks, dinner time, and maybe one more snack before bed. It can seem like a never ending task to come up with meal ideas that make everyone happy.
My goal here is to share our recipes from this website all in one place to make your meal planning easier. I divide the sections up into the following: Dinner, Side Dishes and Appetizers, Breakfast, Lunch, Desserts, Snacks and Food Art, Holidays, Smoothies, Beverages, and finally I share a few links to more meal ideas.
I hope you find something useful and helpful from this list. Come back to let us know which recipes you try and enjoy as a family!
Dinner Recipes:
Spicy Grilled Chicken and Sausage Gumbo
Bacon Macaroni and Cheese Muffins
BBQ Bacon Cheeseburgers + BBQ Chicken
Side Dishes and Appetizers:
Sheet Pan Garlic Herb Potatoes
Spinach Artichoke Parmesan Dip
Bacon Wrapped Stuffed Jalapenos
Sausage and Cream Cheese Stuffed Jalapenos
Tomato and Avocado Garlic Bread Bites
Breakfast Recipes:
Sausage and Cream Cheese Pinwheels
Lunch Recipes:
Chicken Salad Croissant Sandwich
Desserts:
Frozen Chocolate Chip Banana Bites
Peanut Butter Chocolate Banana Bites
Fruit and Nut Frozen Yogurt Bites
Peanut Butter Chocolate Chip Granola Bars
No Bake Mini Chocolate Pudding Pie
Strawberry and Blueberry Pudding Cups
Low Carb Peanut Butter Chocolate Chip Cheesecake
Snacks and Food Art:
"Fishing For Goldfish" Lunchbox Idea
Holiday Recipes:
Christmas Angel Nutter Butter Cookies
Christmas Chocolate Peanut Butter Cookies
Valentine's Day Marshmallow Pops
Chocolate Covered Strawberries
Red, White, and Blue Jello Cups
Smoothies Recipes:
Chocolate Peanut Butter Banana Smoothie
Blueberry Lemon and Lime Smoothie
Beverage Recipes:
Strawberry Lemon Ice Cubes for Infused Water
More Ideas:
50+ Dinner Ideas for Busy Moms
20 Valentine's Day Treats for Kids
Summer Backyard BBQ Entertaining Tips
How to Try New Foods as a Family
The post 100+ Easy Recipes for Busy Moms appeared first on Mom. Wife. Busy Life..