Eliminate Chaos. Live Better.
As a custom closet business, we are forever finding ways to help clients eliminate chaos and live better in their homes. Practicing isolation during COVID-19 brings these ideas to the very front of our minds.
Our Spring Cleaning Series challenges you to approachable tasks you can complete in an hour. Along the way, we're sharing some of our favorite projects to inspire you. We hope getting organized with us brings you greater feelings of contentment and ease. If you're new to the series, rewind for Step One: Clear Your Closet Floor.
Step Two: Pick a Drawer
This week, clean out a drawer each day. If that sounds daunting, choose just one drawer—but make it the messiest one in the house! For instant gratification, start with a drawer you use often: closet drawers, bathroom drawers or high-traffic drawers in the kitchen or office are great places to start.
Empty the Drawer
Place a trash can within reach and remove everything from the drawer. If your drawer contains drawer dividers or removable organizer trays, take those out, too. Wipe down the inside and outside with a damp rag and a pleasant-smelling cleaning spray.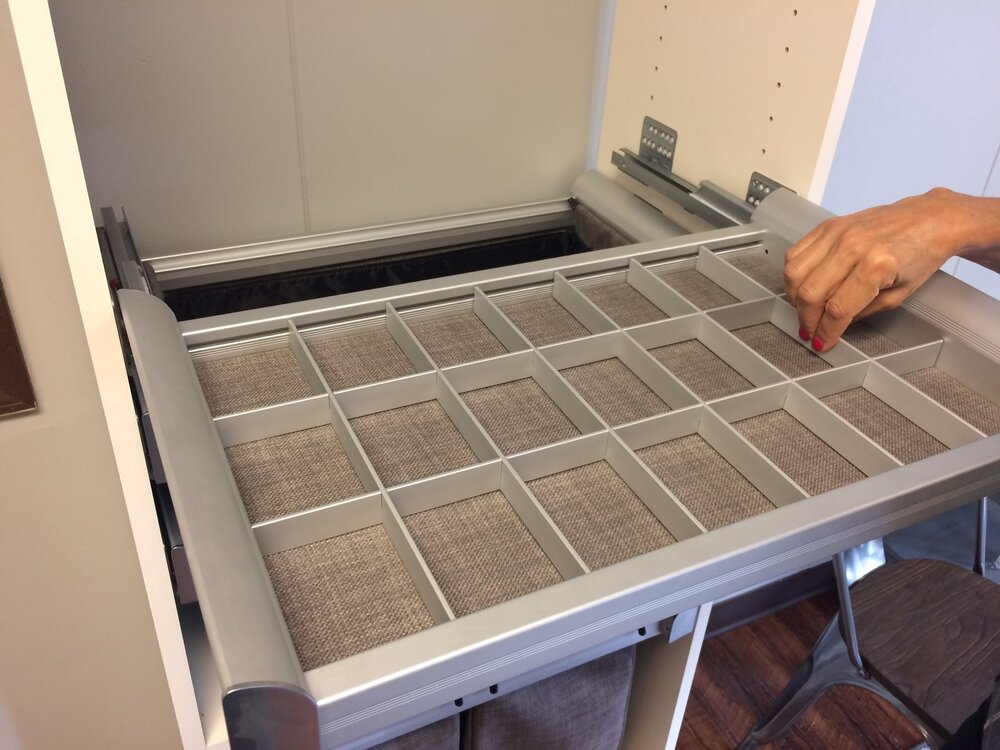 Sort the Drawer Contents
As the drawer surfaces dry, set aside only what belongs in this specific drawer. Here's what to do with the rest:
Throw out bits of trash.

Put giveaway items in their designated spot.

Place items you're not sure about in your breakup basket.

Find a home for everything you're keeping.
---
PRO TIP: If you're working the 30-Day Minimalism Game right now, drawers are an excellent source of items!
---
Organize the Drawer
Place essential items back in the drawer using a system that looks good and feels right to you. Depending on what you have to store, a little structure can help with this task. To fine-tune your closet system, experiment with infrastructure like closet drawer organizers and acrylic shelf dividers.
An efficient folding method is also important for staying organized. I use packet-style folding because it looks beautiful and makes it easy to see what you have. This allows you to quickly choose just the right item. Here are a few of the drawers in my life:
Closet Drawers
T-Shirts & Gym Shorts
Socks & Bras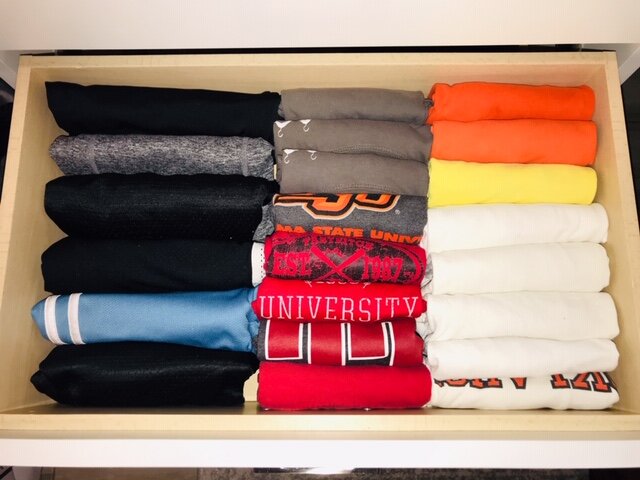 Kitchen Drawers
Kitchen drawers are a strategic place to focus your organizing time. Select your most-used drawers to get doses of instant calm throughout the day.
Tea Towels
Fold your tea towels in thirds, then in half, and in half again. This an efficient way to keep shallow drawers organized.
Jewelry Drawers
While we're talking about drawer organization, I want to address one of our clients' biggest challenges: jewelry drawers! Jewelry can be tedious to organize and challenging to keep tidy—here's an entire post on jewelry storage! Closets of Tulsa has a number of convenient storage accessories to help with this task. I love this removable jewelry tray from our line of TAG Hardware products:
Here's a velvet lined drawer option. This jewelry organizer keeps everything in place and makes your treasures stand out.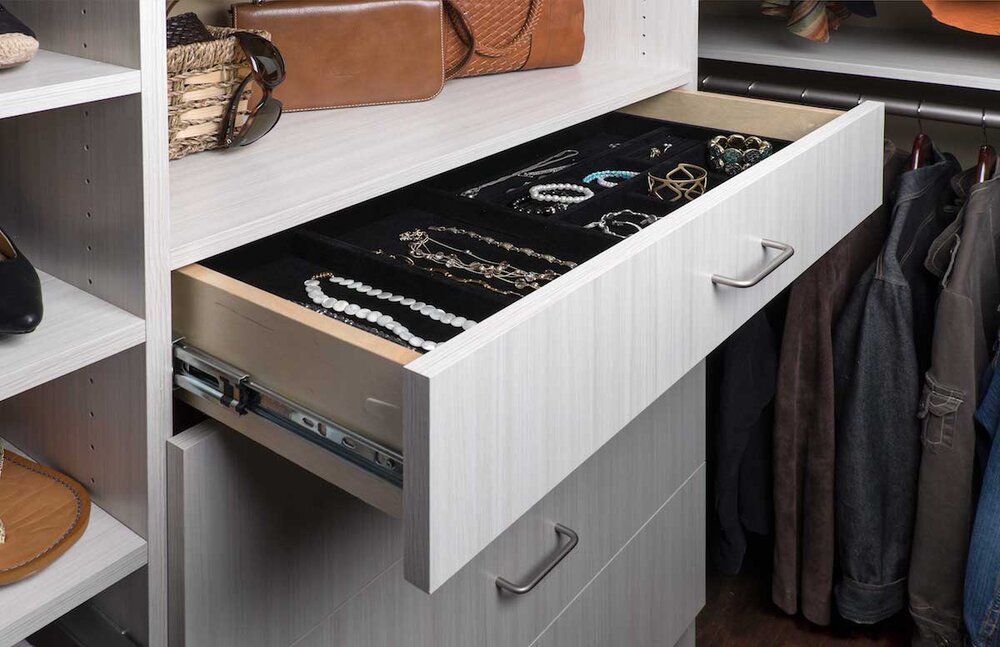 Acrylic jewelry trays are another chic way to add flexible structure to your drawers. Use them with or without velvet lining.
Here's a beautiful acrylic organizer we installed for a Tulsa client. We LOVE this feature!
Storing too much jewelry in one drawer can make it difficult to stay organized. A custom jewelry slat wall or set of retractable jewelry hooks (aka our awesome belt rack!) are great space-saving tools. Try rotating items around the hooks as you wear them to discover what you're wearing and what you can let go of.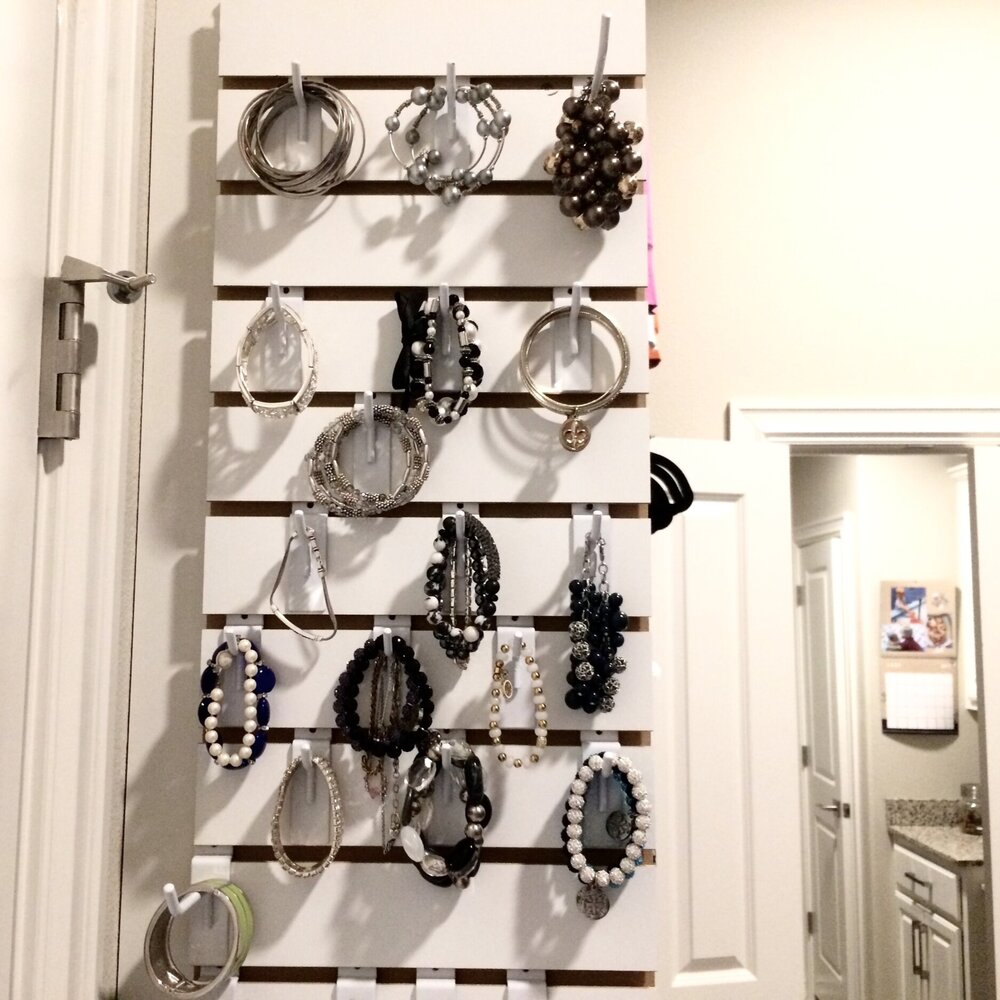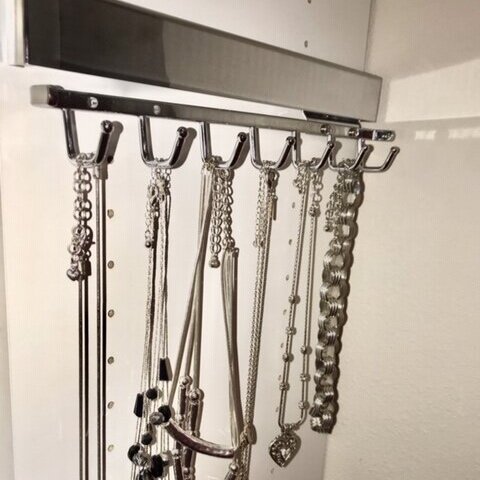 Feeling Stuck with Your Closet Storage?
Closets of Tulsa can help. We are OPEN and operating with an abundance of caution in response to COVID-19. Get one-on-one attention and honest feedback from Tulsa's closet experts.
Get Details
---