Probably many people share the same feeling as me, the longer you work from home, the unhappier you feel about my working environment. My little home desk now is filled with notes, cup, phone, pen and charging cords. Honestly, I am not a very messy person but it is really hard for me to clean up my desk after all those the working, kids and family stuff. To make myself a bit less miserable, I spent a bit time and look for some tips on the desk organizing and find some quite innovative designs.
I bought some of them like the monitor mounting lamp and and charging station. And some are really cool but not suitable for me right now but I still want to share with you, if you have the same problems as me with your messy desk.
We are a participant in the Amazon Services LLC Associates Program, an affiliate advertising program designed to provide a means for us to earn fees by linking to Amazon.com and affiliated sites.
Wood Computer Monitor Stand with Storage [buy on amazon]
Isino monitor stand is a space saving desktop organizer shelf with large storage capacity storage.3 LEVELS STORAGE SHELF allows for phone,notebook,papers,speakers,books,peripherals,charging station,usb hubs,DVD, calculator,pen,plant organization.Wood riser available for 17-22″ Computer,LCD screen riser,laptops,TV holder ABOVE,and mouse,keyboard,files storage UNDERNEATH for dust proof,avoid data loss.Flexible Independent structure fits for any length of desktop.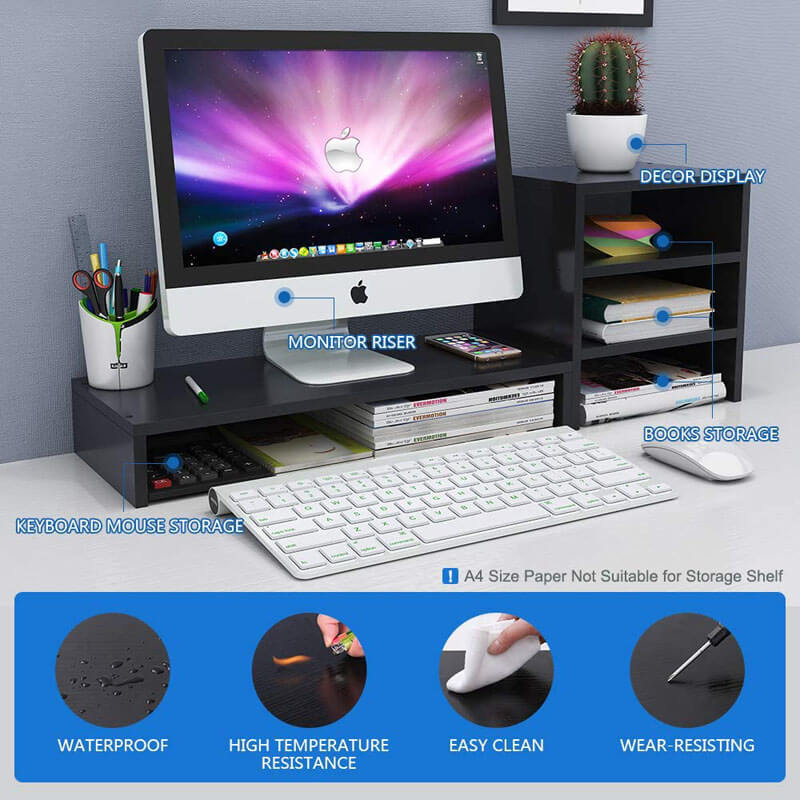 Tribesigns 3 Shelf Monitor Stand Riser [buy on amazon]
Made out of bamboo (not plastic or particle board) features durable and sustainable, nicely carved, no sharp edges protect your safety with a pristine and supreme condition. Extend or shorten the length to your prefer, the minimum and maximum length is about 42"& 50", and the angle of the surface is also adjustable. Cutouts in the back to slip cords through allows the stand flush against the wall. Three spacious compartments underneath and advanced desk space of three , enough place to tuck your daily needs neatly.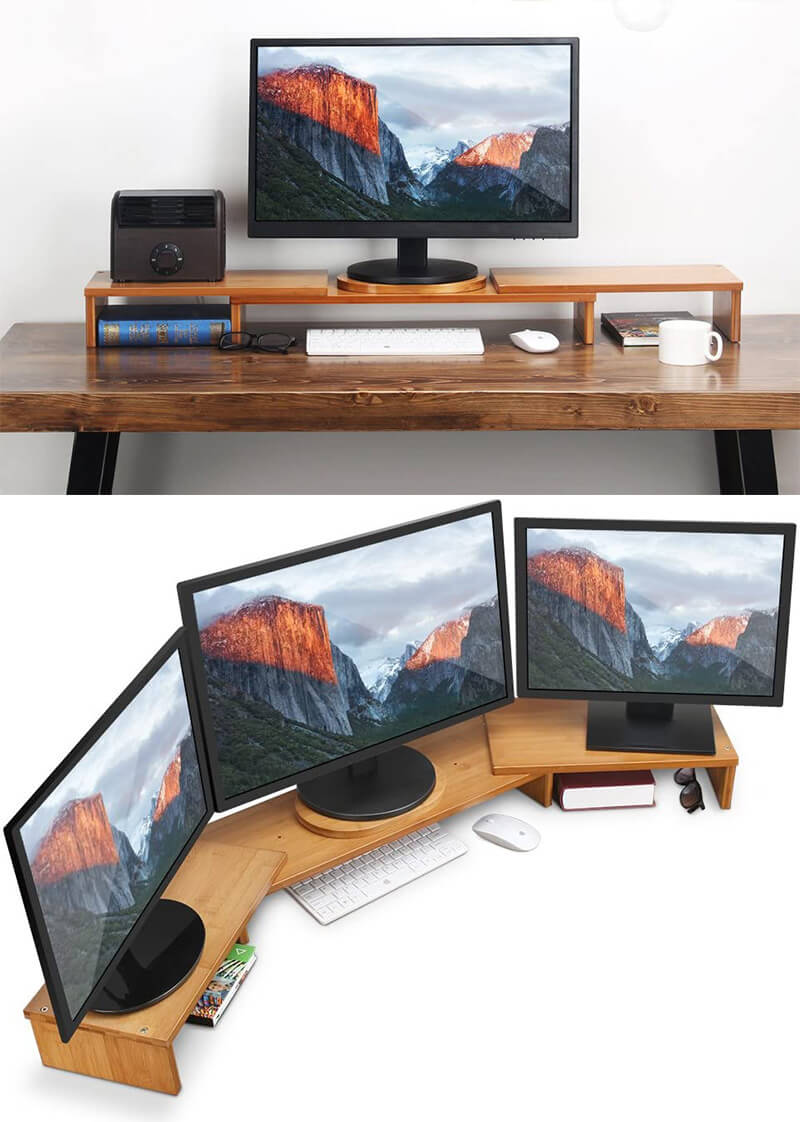 Monitor and Laptop Mount [buy on amazon]
This monitor and laptop mount is applicable to 17-32 inches monitor up to 19.8lbs with VESA Standard interfaces (100x100mm / 75x75mm) such as Dell, Samsung, HP, BenQ, AOC, Acer, LG, ASUS and 10-17 inches laptop/notebook. The screen can freely swivel 360 degree, and easily adjust the monitor and laptop to the most comfortable position,monitor mounting arm offers 145 degree tilt, the maximum extension length up to 52cm/20.5″, reach the height of 43cm/16.9″, Laptop mounting arm offers 45 degree tilt, the maximum height up to 42cm/16.5″.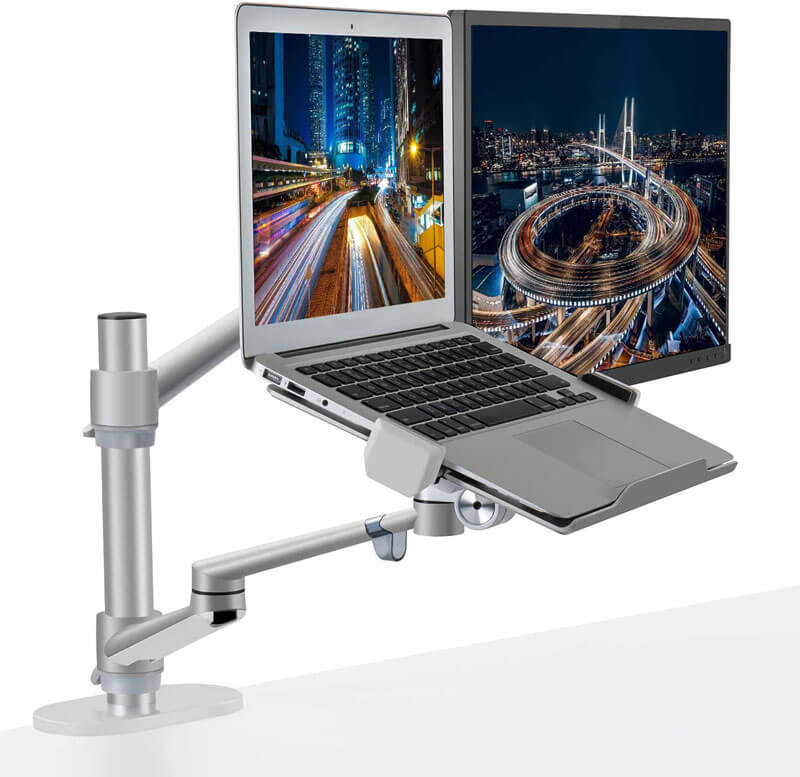 Screen Pen Pencil Holders [buy on amazon]
Made of high quality PP material,color:gray
Sizes:length:110x55x47mm,Short:72x55x55mm,1 set with 3 pcs(2 length+1 short)
Durable – With strong glue,can be attached to the edge of computer screen and office desk,holding pens,pencils,ruler and other office supplies. Non-reusable adhesive is easy to remove, won't damage surfaces
Save Space – These pp holders provide additional workspace for a clutter-free desktop.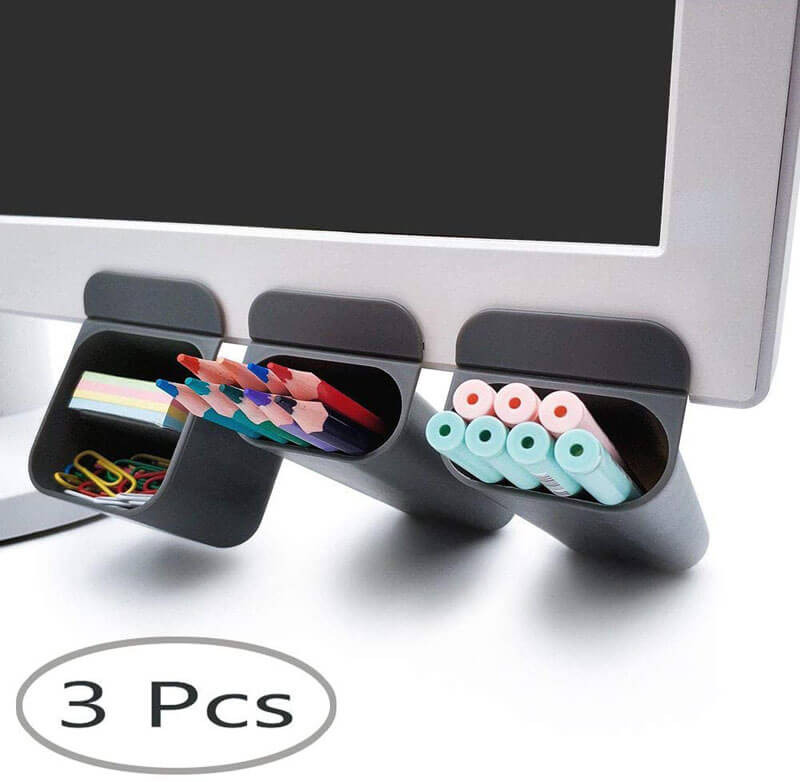 Acrylic Transparent Computer Monitors Side Panel [buy on amazon]
Acrylic Screen display message board Transparent fresh notes plate Concise No more worry missing shall handle the matters concerned.
How to use:
1.Please tear surface protective film before use
2.remove the film from the adhesive
3.apply the memo board onto the computer
Package includes:
2×Acrylic memo board(left and rigth)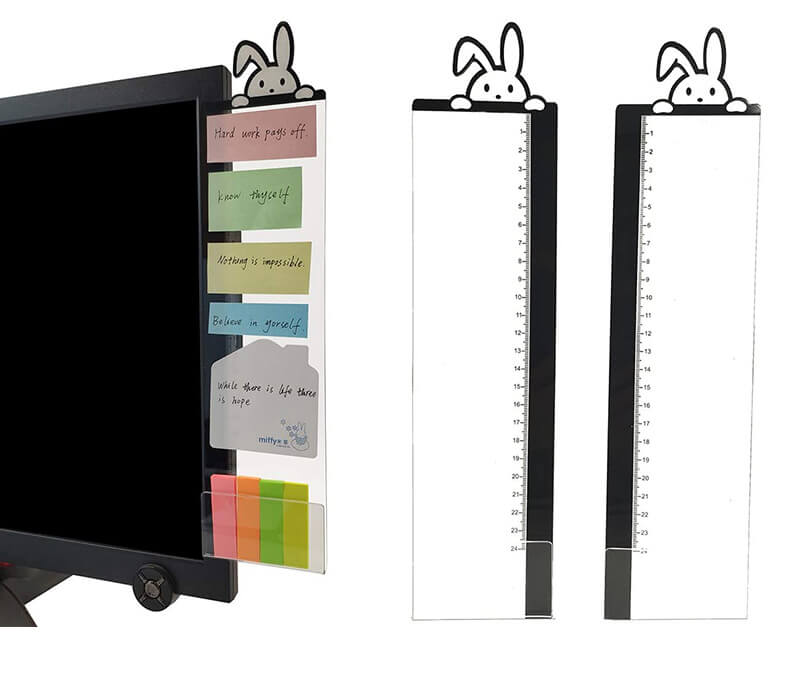 Quntis e-Reading LED Task Lamp with No Glare on Screen [buy on amazon]
Not like other desk lamp takes up too much space, the space saving clamp design make our e-reading lamp simply mount on top of the monitor to light up desk without taking any working space. Quntis Computer Screen Lamp emitting light only focuses on the keyboard and desktop under the computer monitor. Designed to emit a soft and non-flickering of light that's friendly on your eyes, helping you avoid eye fatigue caused by flickering light and reflective glare off the computer screen.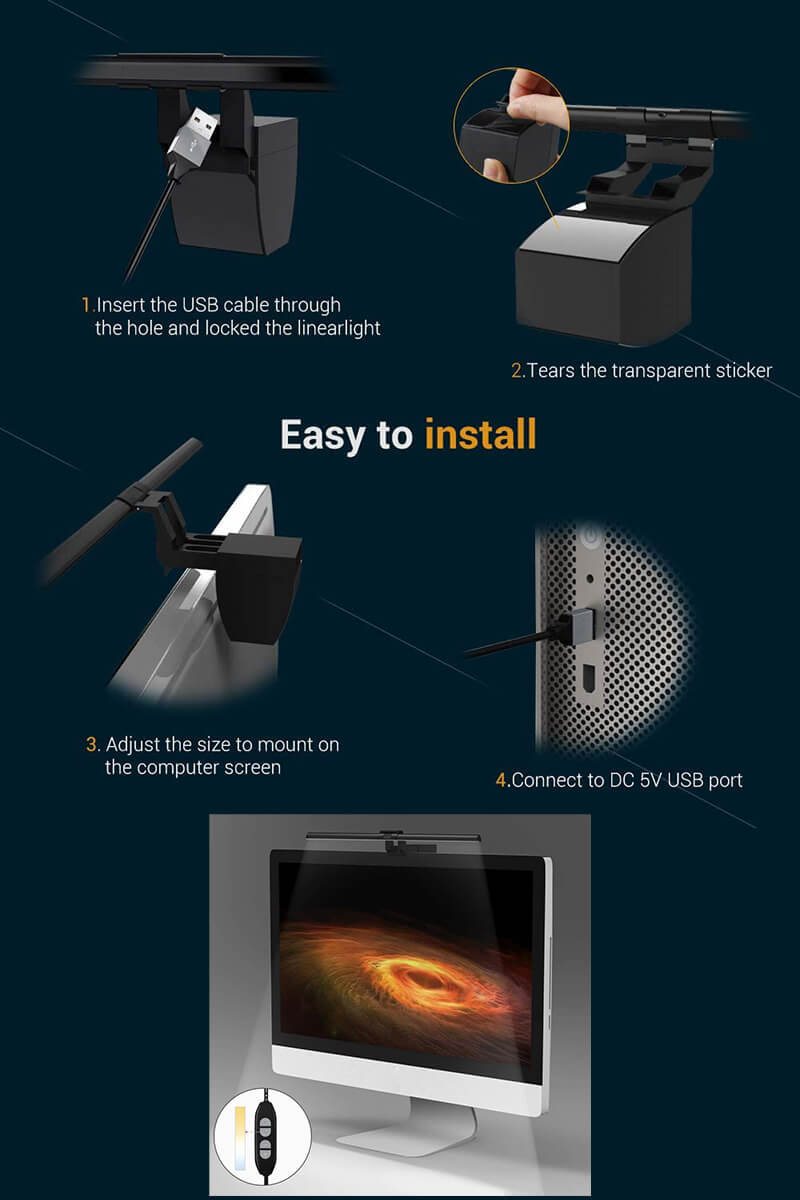 4-Port USB Desk Charger Desktop Charging Station [buy on amazon]
Innovatively mounts on the grommet hole, to make full use of space for desks, tables, counter tops.
4 USB ports charge 4 devices at the same time with combined 6A output. Each port charges a mobile device up to 2.4A as fast as the original charger does. Voltage 100-240v available.
The multi-circuit protection system protects both the product and your device safe. Adopts fire-proof ABS material.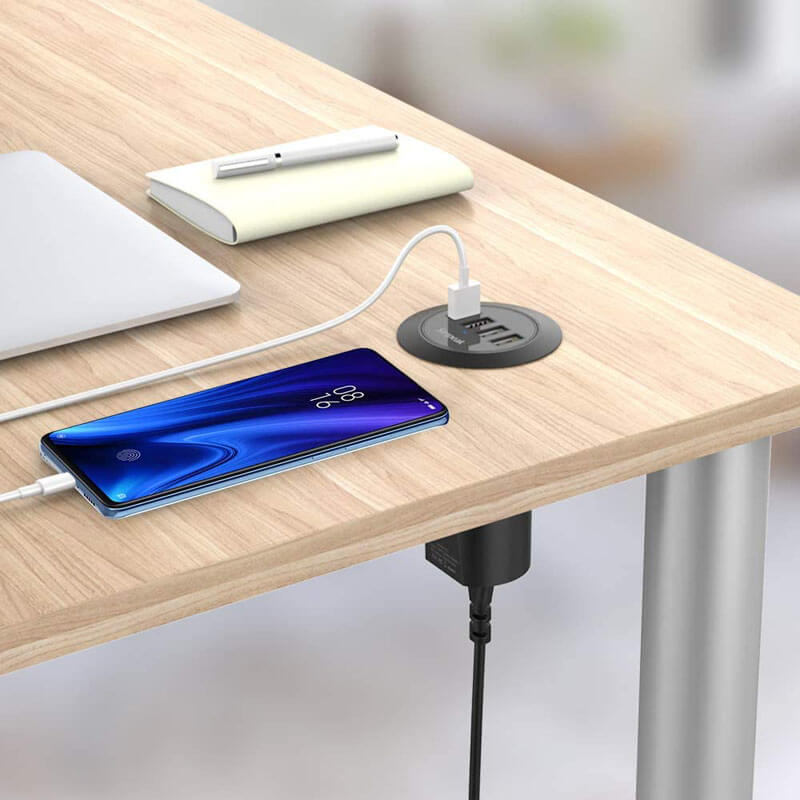 Charging Station for Multiple Devices [buy on amazon]
4 Apple Lightning Cables, 1 Type-C Cable, and 1 Micro-USB cable perfectly sized to keep your space neat and organized!
Six 2.4 amp ports charges cell phones and tablets up to 80% faster than other chargers with less than 2.0 amps; recognizes devices to deliver the exact amp needed; eliminates worry about overcurrent or overvoltage; ETL, FCC, CE and RoHs certifications