By using this site, you agree to our Terms of Use. This post may contain affiliate links. Read our disclosure policy. 
Disclosure: I am an affiliate for Create Room. 
Follow us on Instagram for more fun ideas for kids!
Watch the video below to see this epic DIY LEGO Table in action. Make sure to subscribe to our YouTube channel for more fun videos!
This epic DIY LEGO Table turns a DreamCart into a creative space for endless LEGO play and folds down for easy storage. We love the built-in bins and wide table. 
USE CODE HELLOWONDERFUL50 TO GET $50 OFF THE DREAMCART 
If you've been following me on social media you would have seen a peek of this epic LEGO table I built for my kids using the Create Room DreamCart! 
The DreamCart is a versatile creative/craft table that folds down for easy storage and is functional with built-in bins. It's a baby version of the popular DreamBox (which we have and love too!). You can see it in this space below with my kids and I. 
The DreamCart comes white with 1 or 2 leaf options that fold down and can also attach to your DreamBox. 
I wanted to show the versatility of it plain before I get into details on how I turned it into an amazing LEGO table!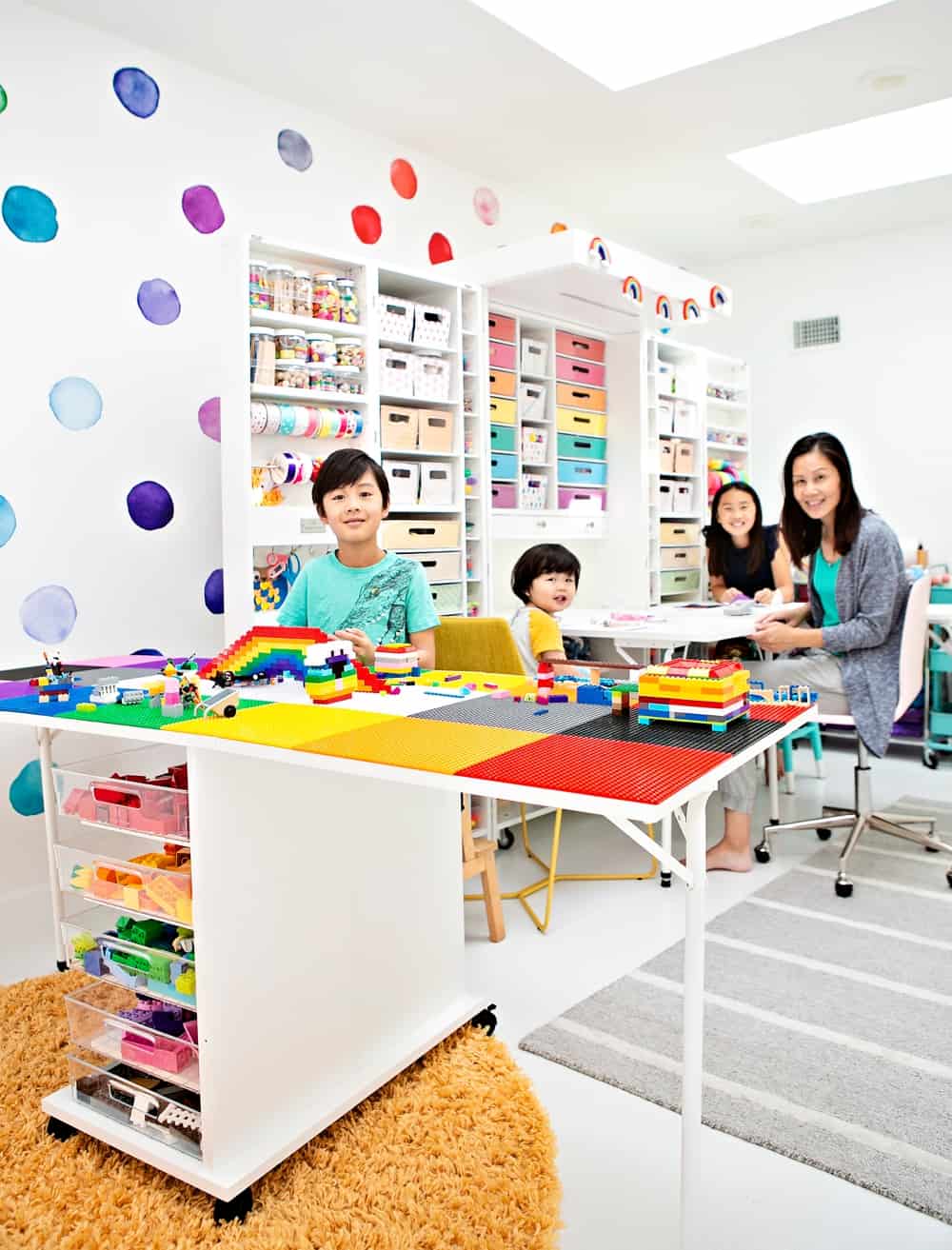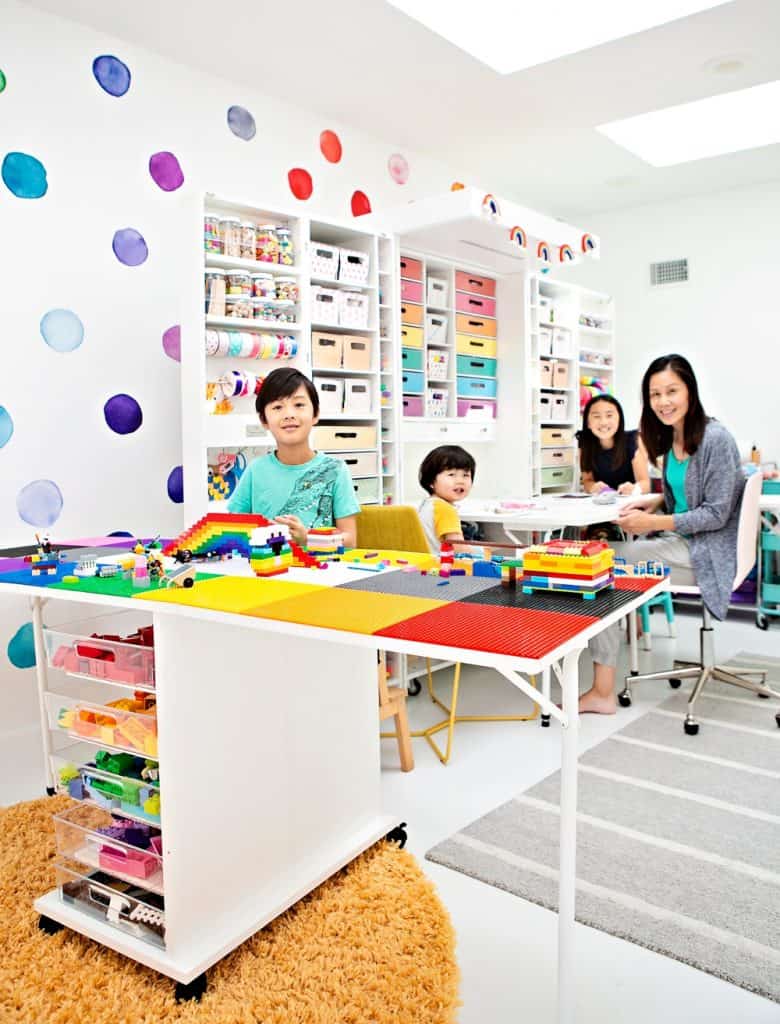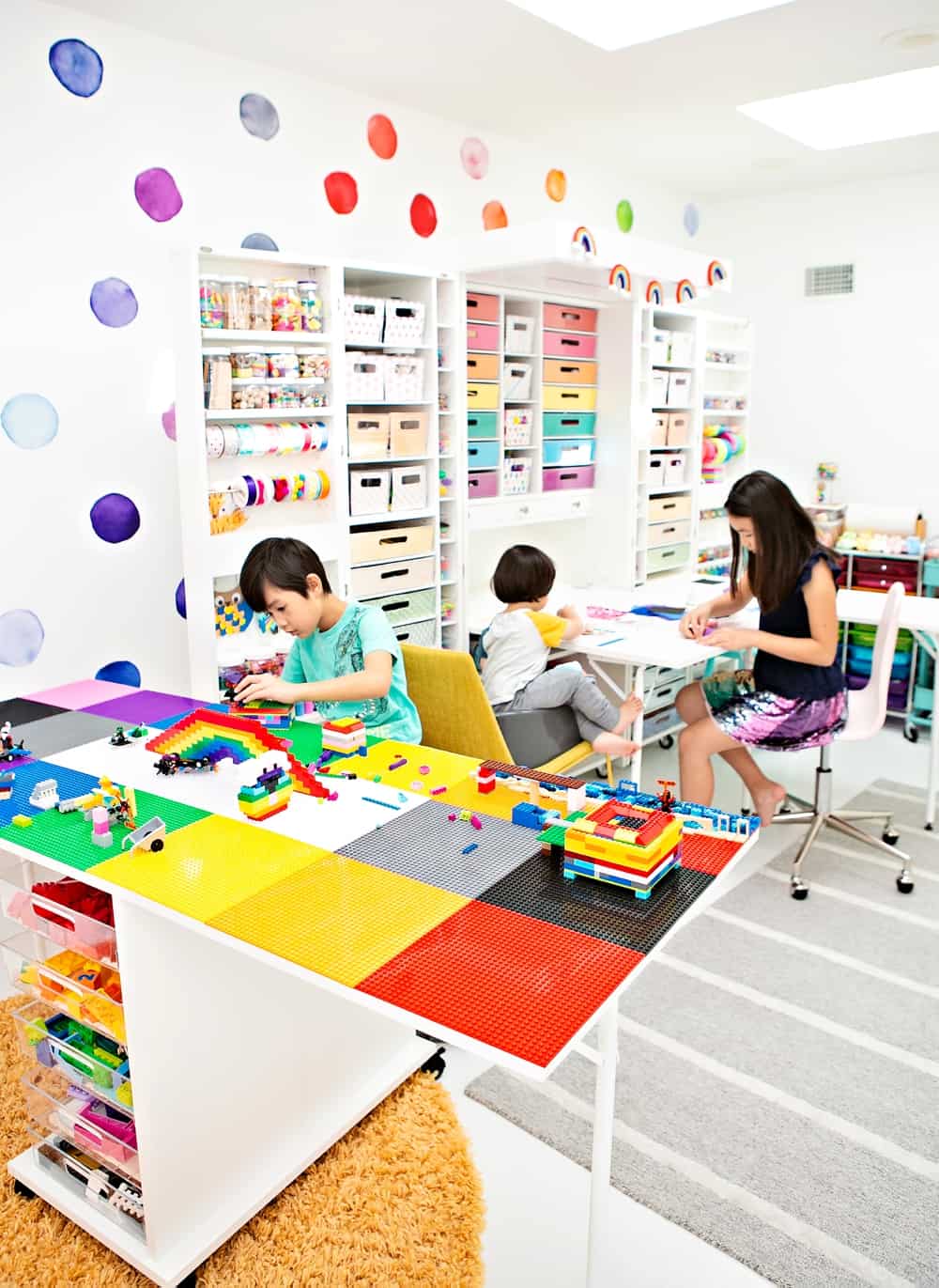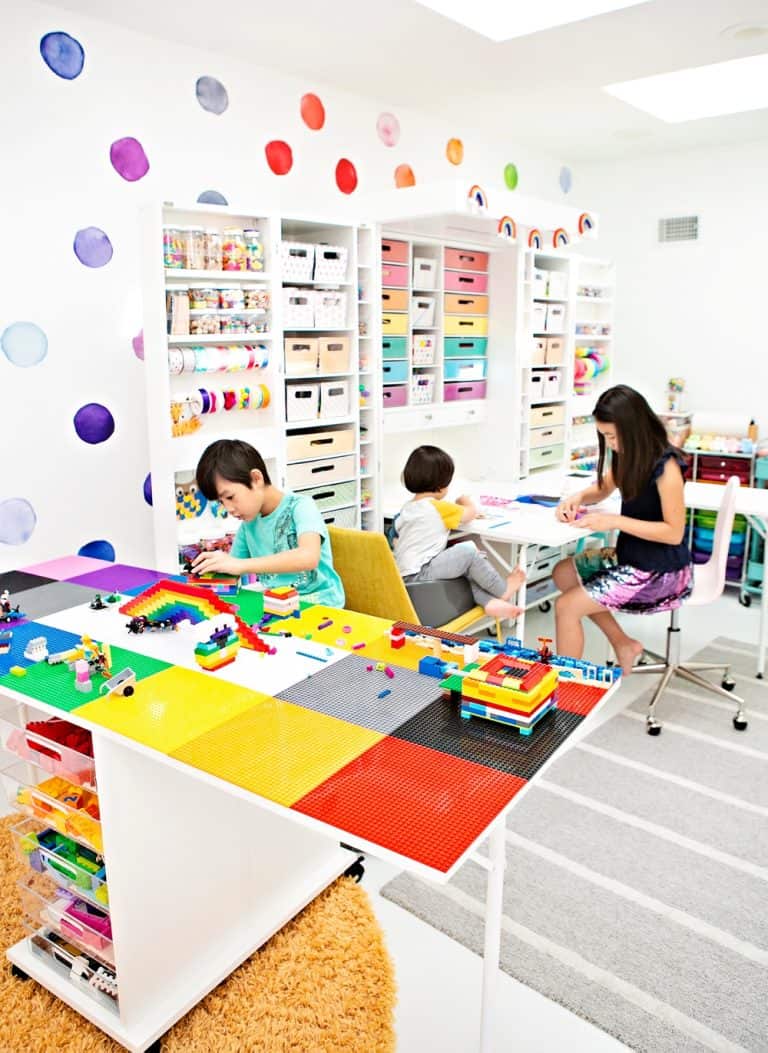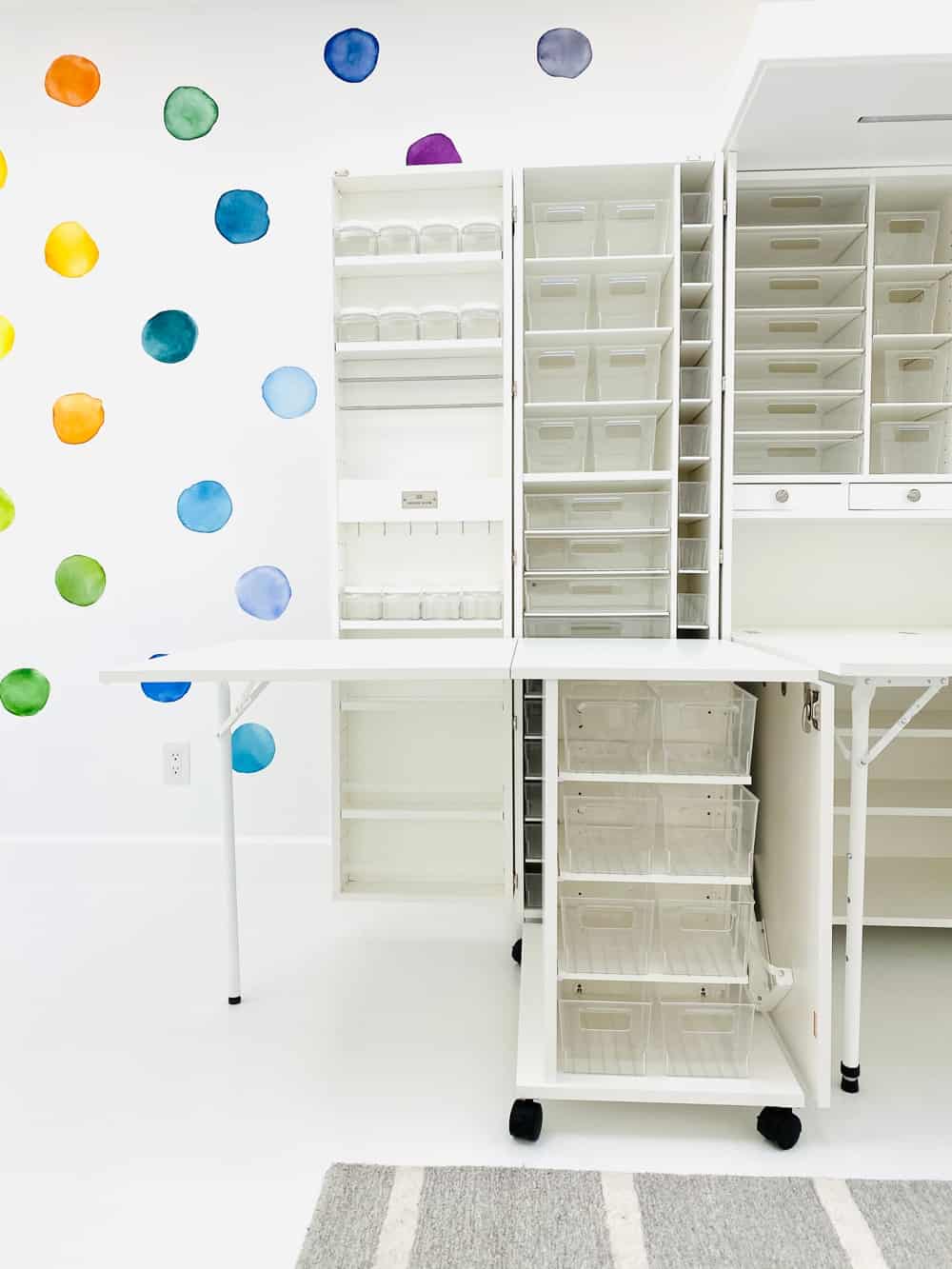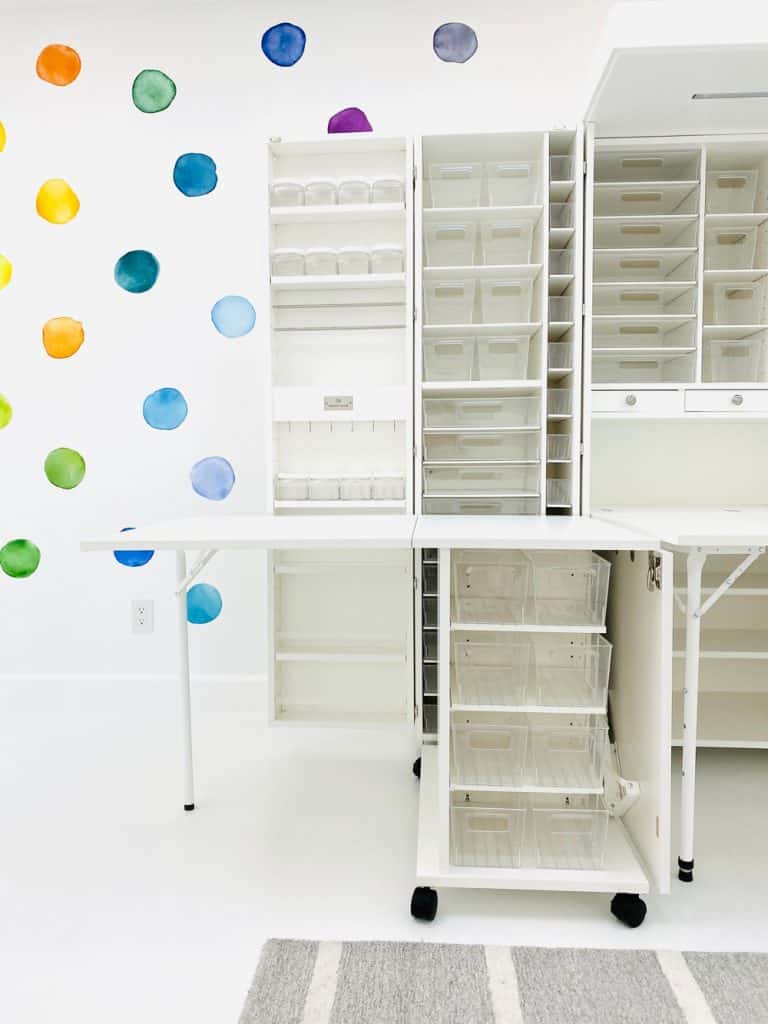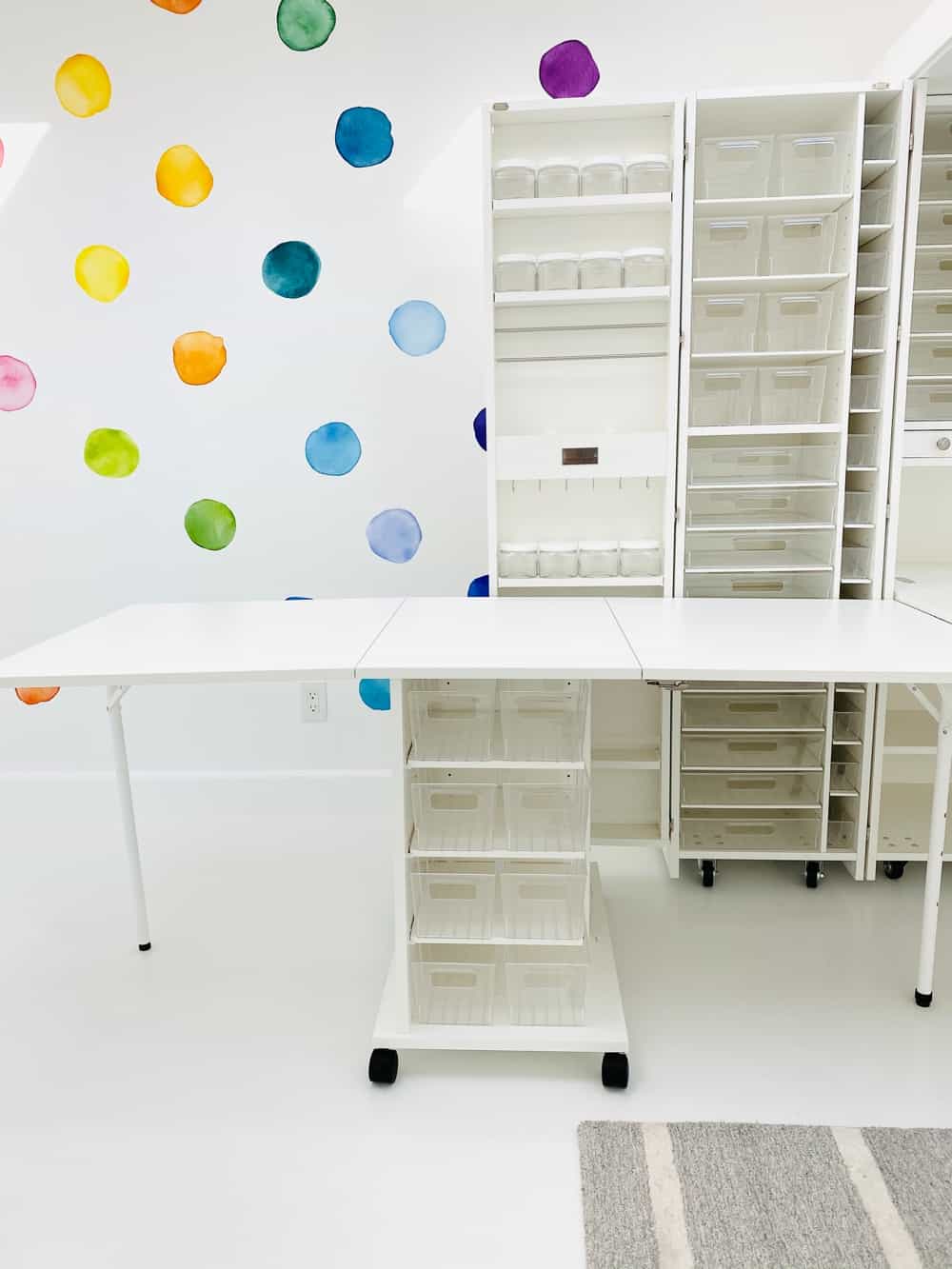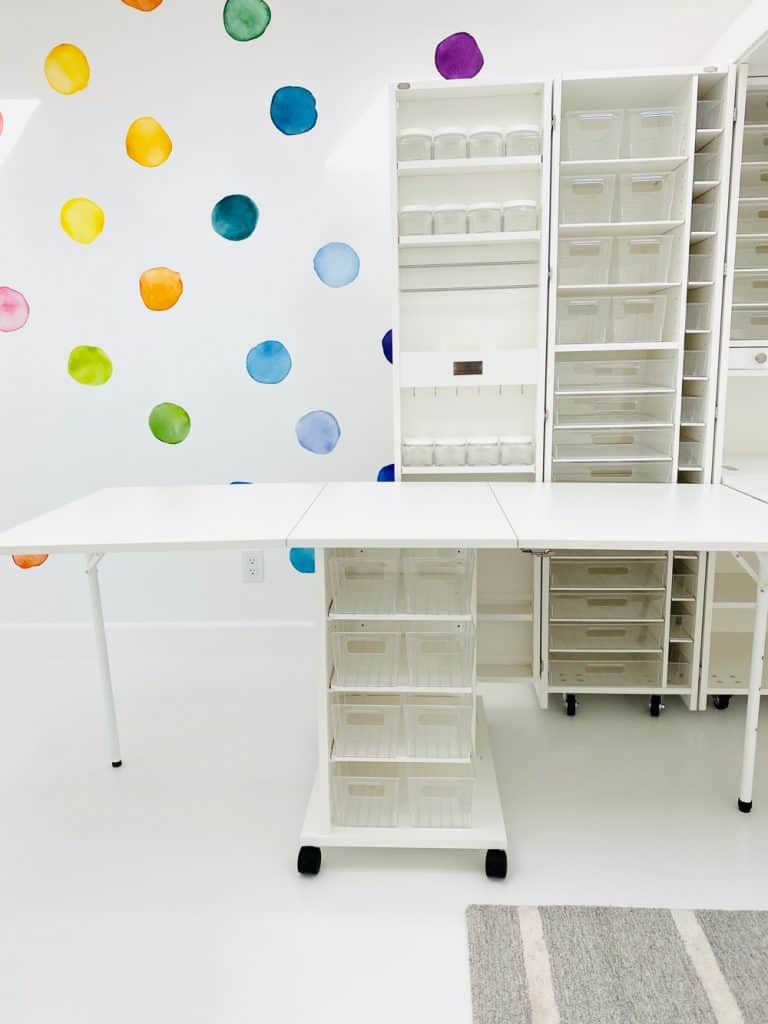 What are the dimensions of the DreamCart?
First, a little bit more about the DreamCart as it comes plain. Below are the exact dimensions from Create Room so you can see the how much space it turns into! What is impressive is when the two leaves are folded down it's just 18.5″ wide but with the leaves open it creates a wide open 69.5″ of space! If you have small spaces at home, this makes a wonderful arts or craft space for kids! Or if you are a hobby maker or have a handmade shop or just starting out, this is a great alternative. If you don't have a dedicated studio, you can easily tuck it in your bedroom or living room/kitchen nook.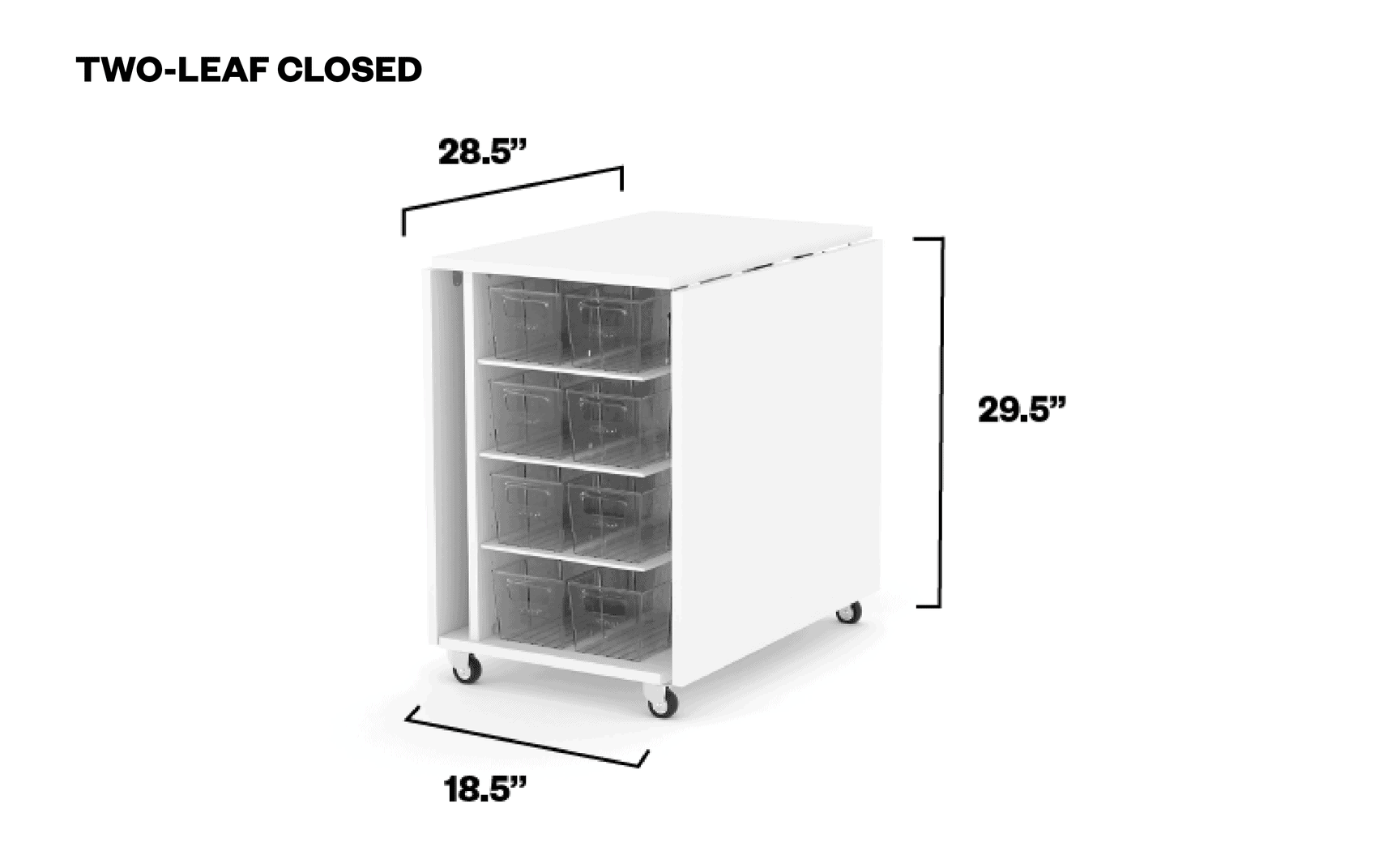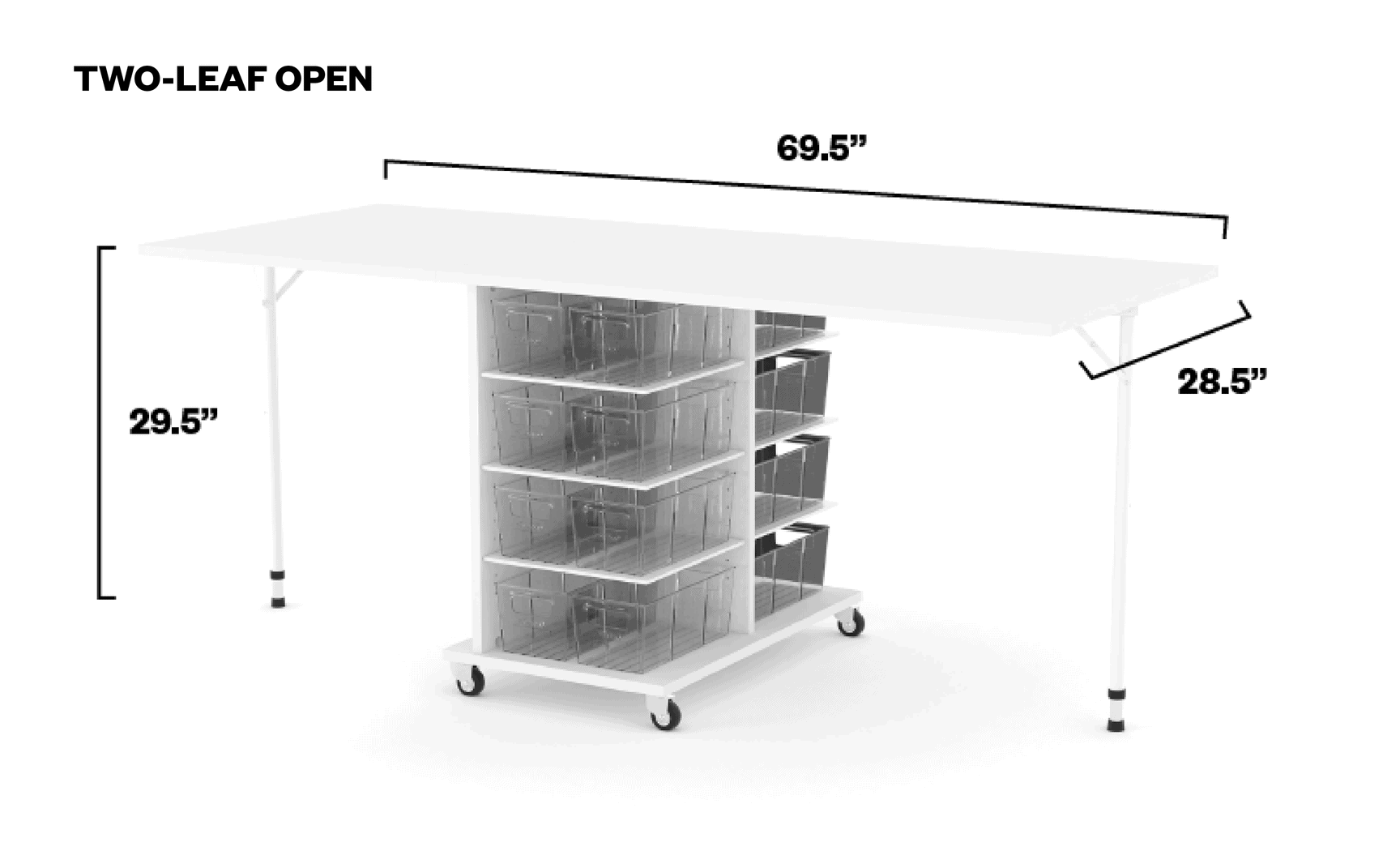 USE CODE HELLOWONDERFUL50 TO GET $50 OFF THE DREAMCART 
Since we DO have a dedicated craft room and the DreamBox already, we didn't have the need for additional craft space. What my kids needed however is a dedicated LEGO command center! LEGO blocks are the one toy my 3 kids (ages 2, 9, 11) play with on a consistent, often daily basis. What drives me crazy is all the tiny LEGO blocks on the floor or kitchen table. 
Why is the DreamCart a great option to turn into a LEGO table? 
I looked into a lot of LEGO table options before making my own and they all had some pros and cons. For example a clean design but lack of storage. Or it would have bins but not enough or the table was nice but too small/too large. The DreamCart fixed all those cons and had everything I wanted: 1) Ability to tuck away and not take up space; 2) But the flexibility of lots of LEGO play with more than one child; 3) plenty of built-in storage; 4) a clean, modern and lightweight design.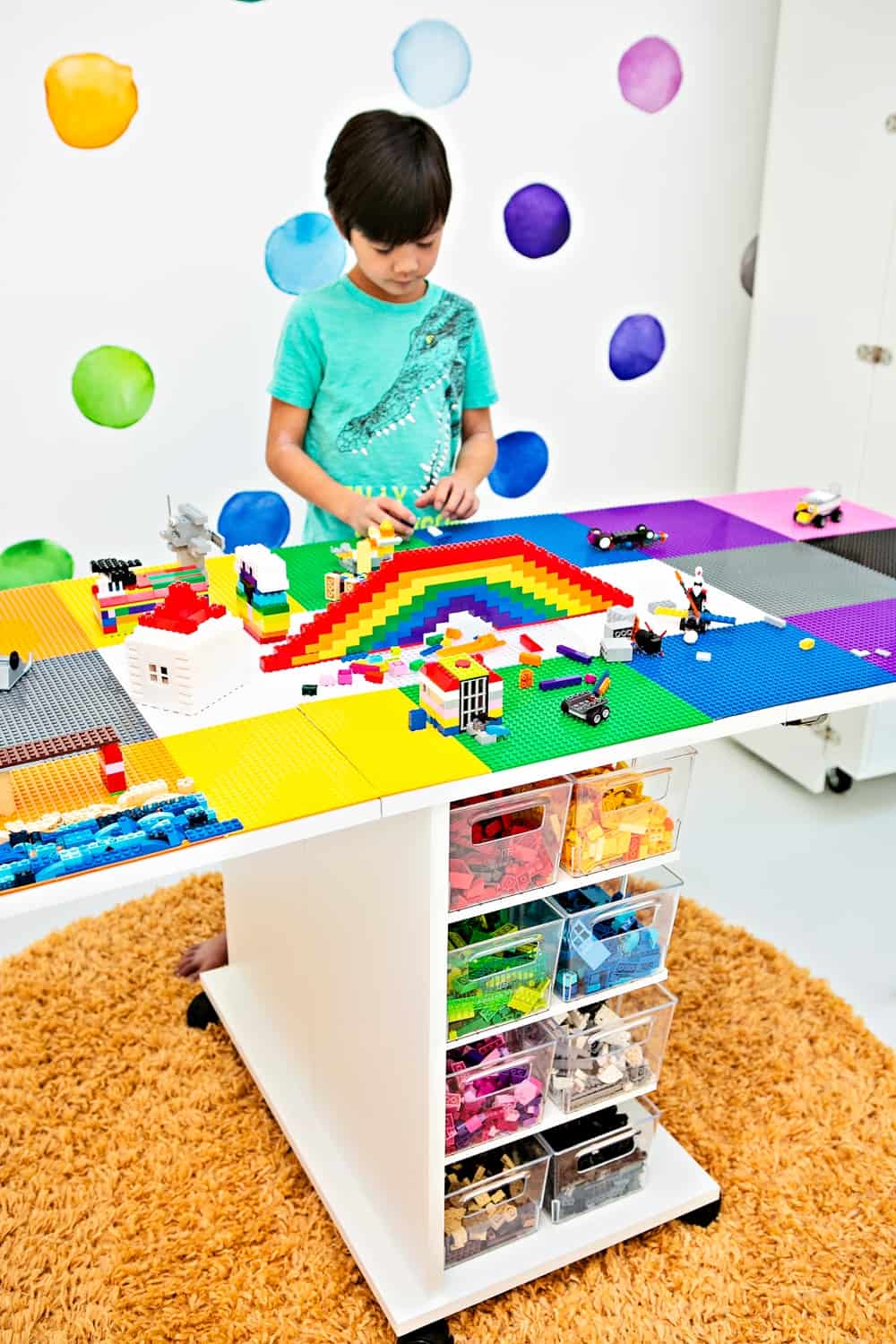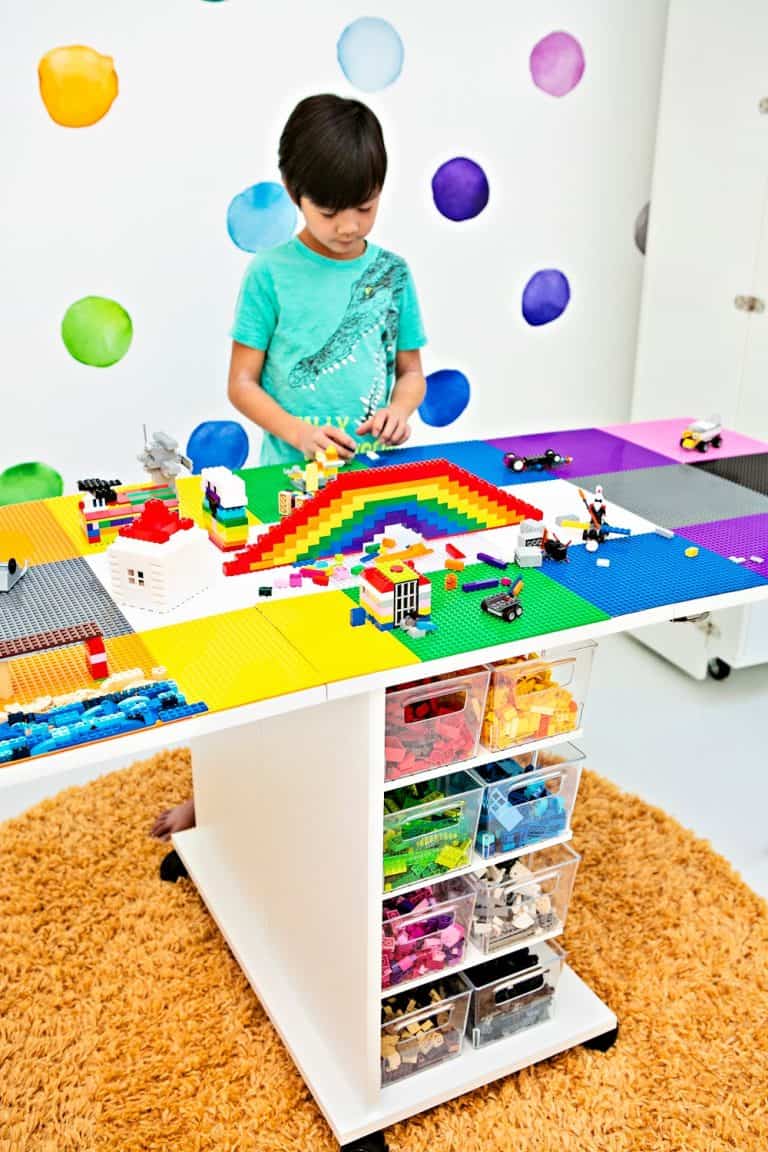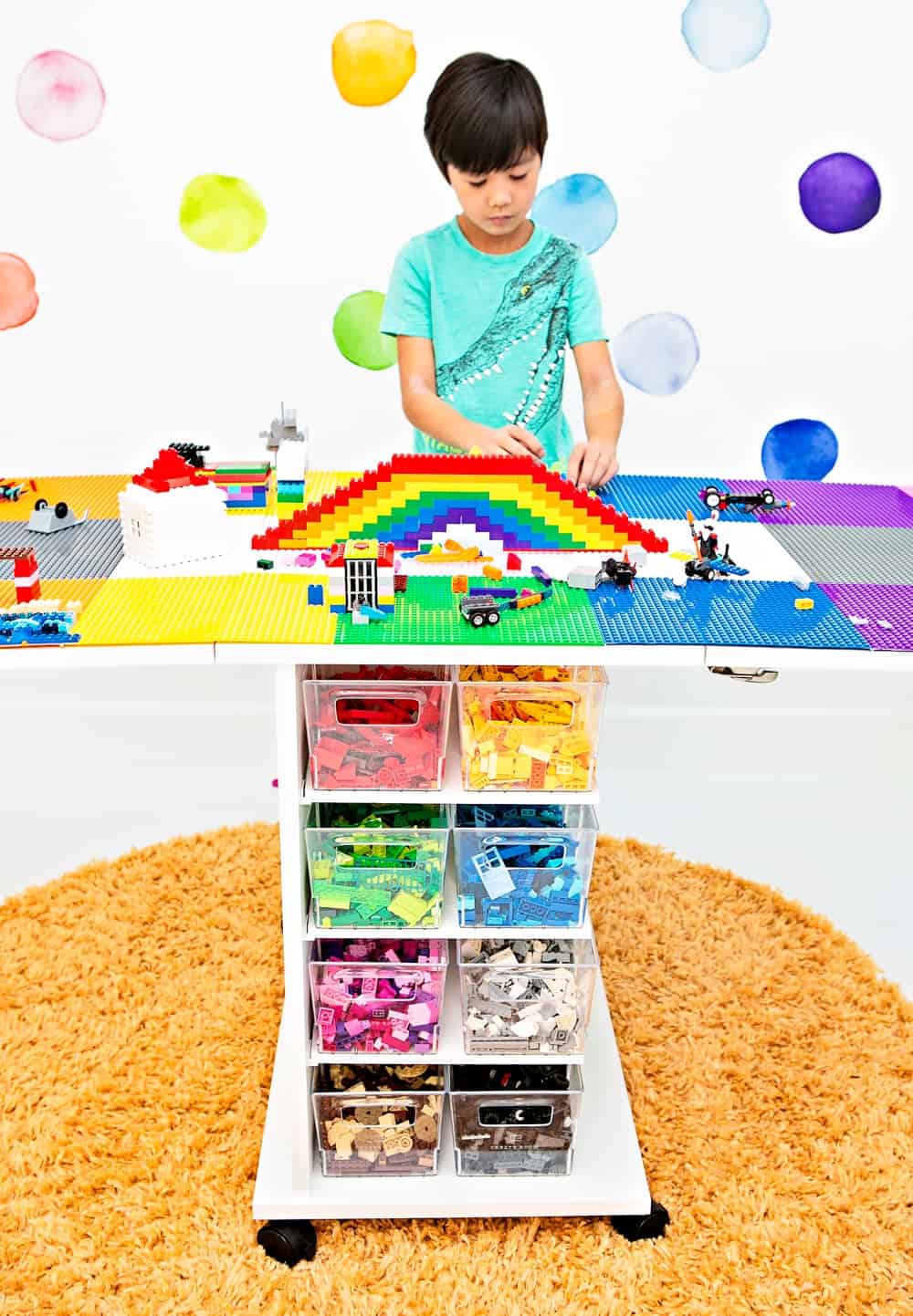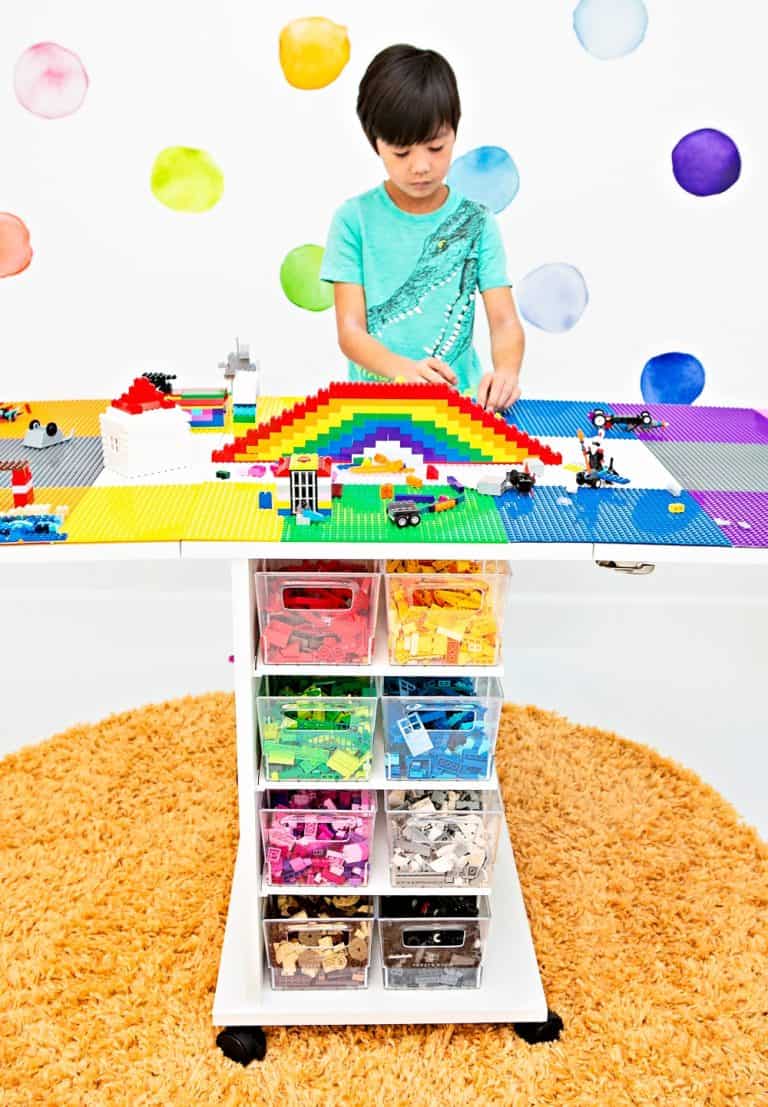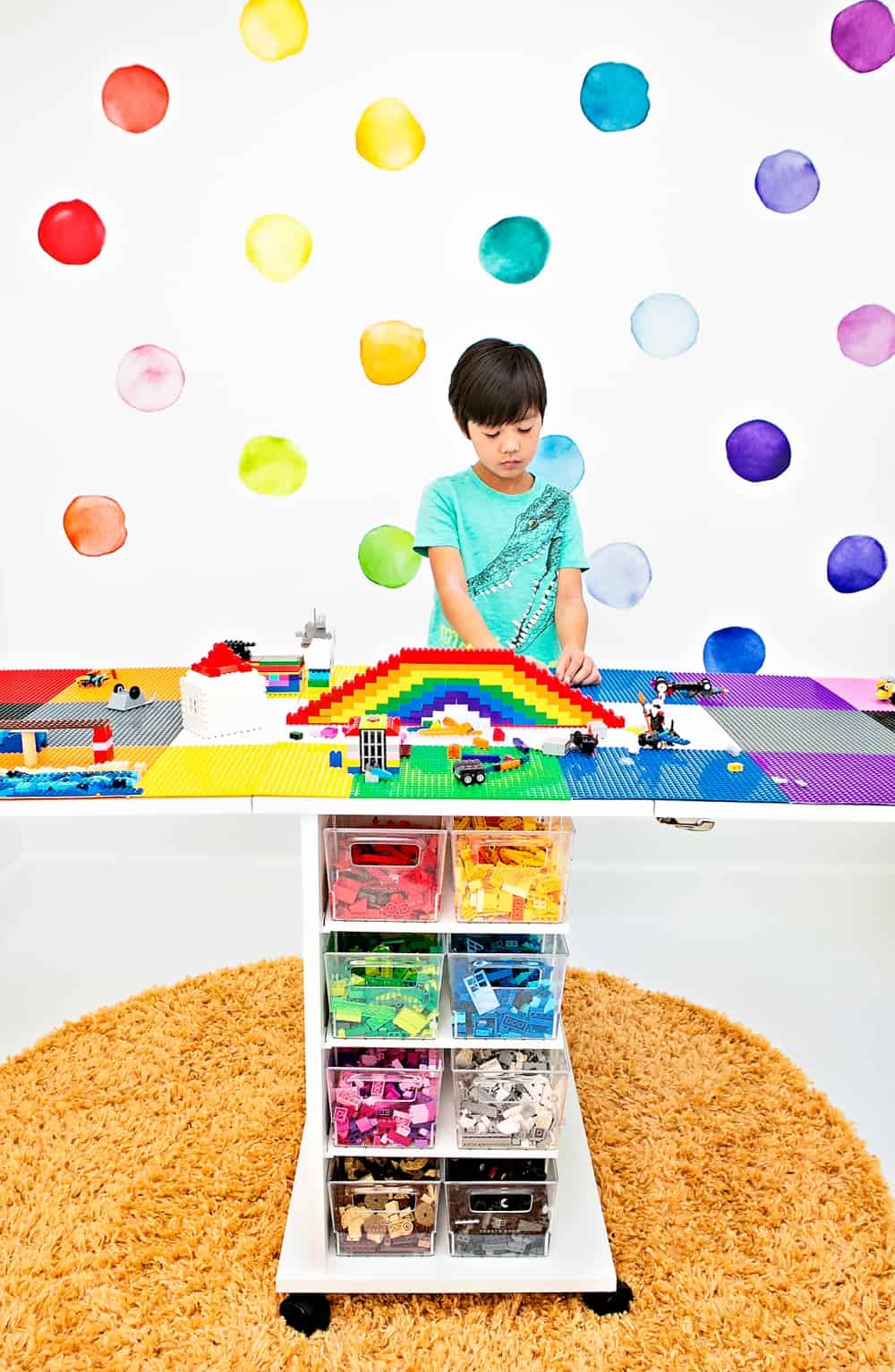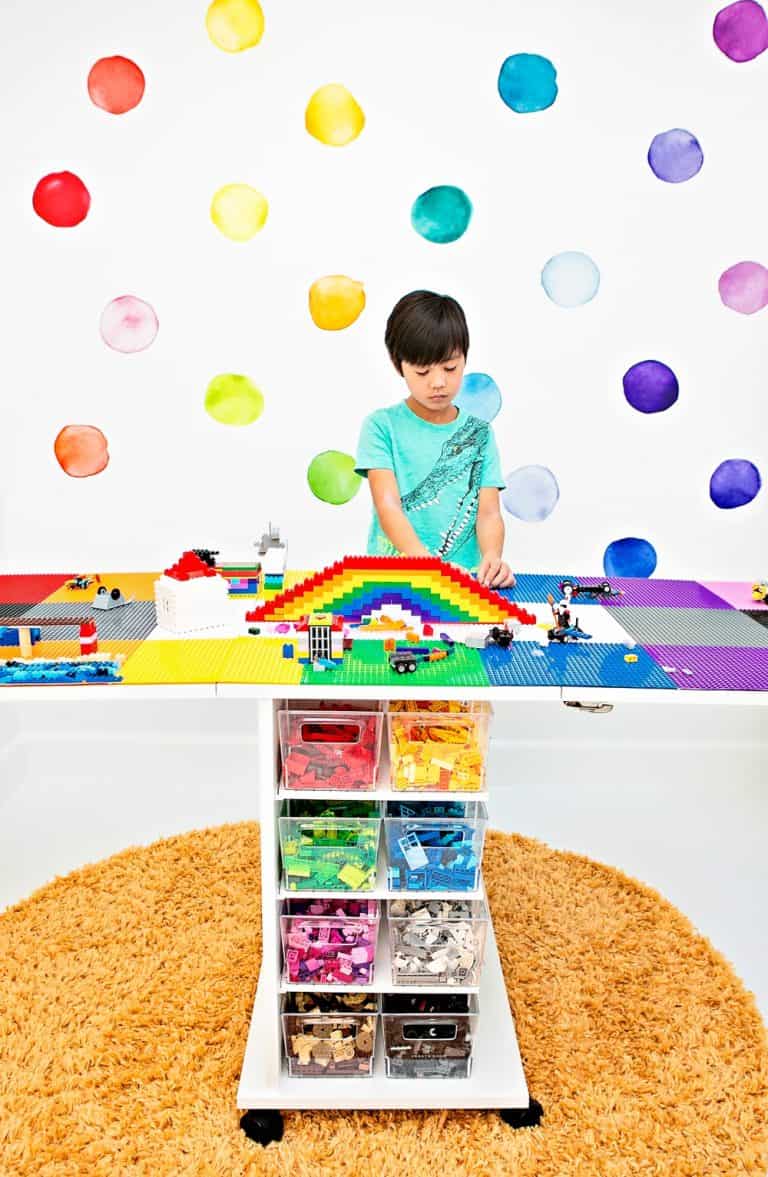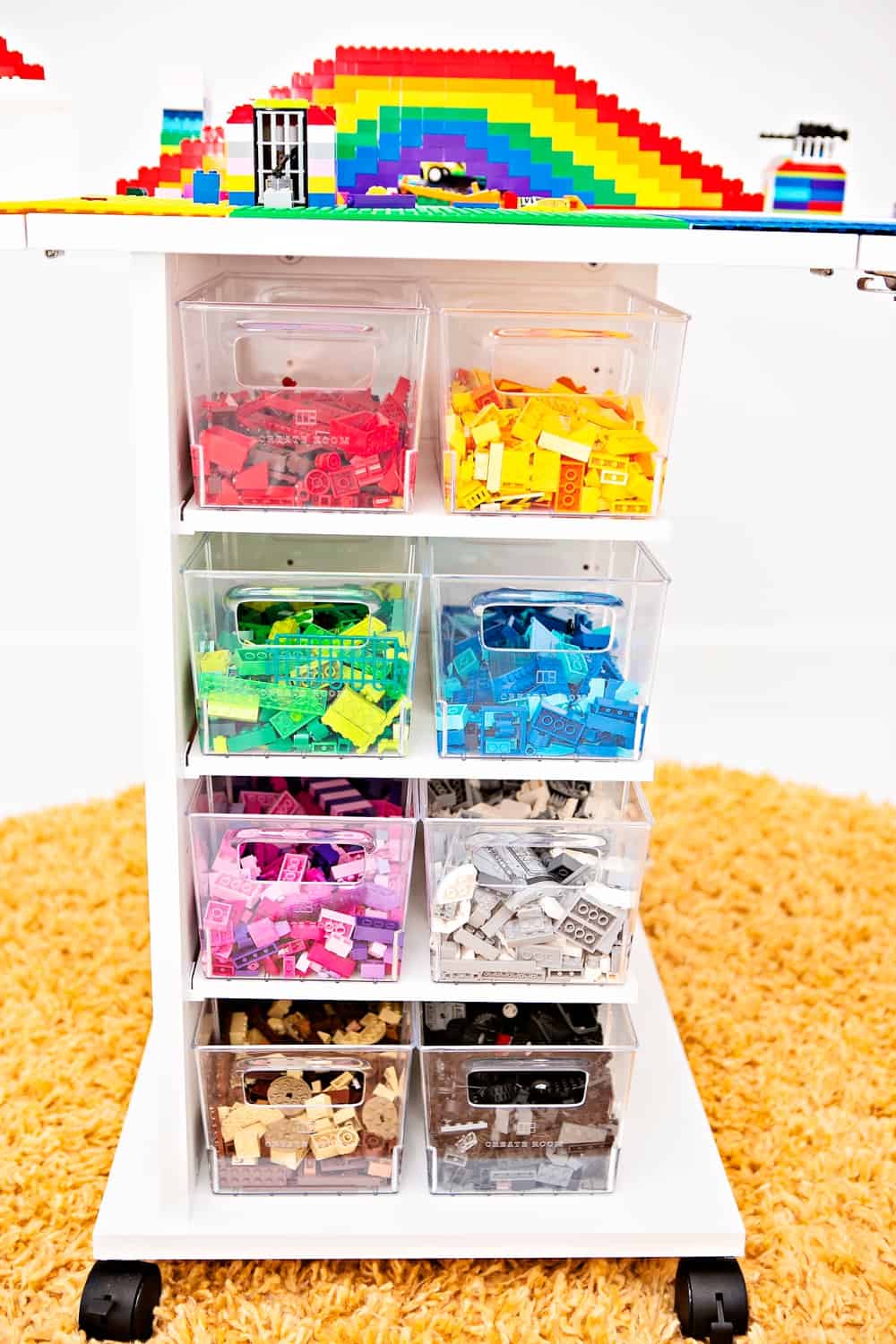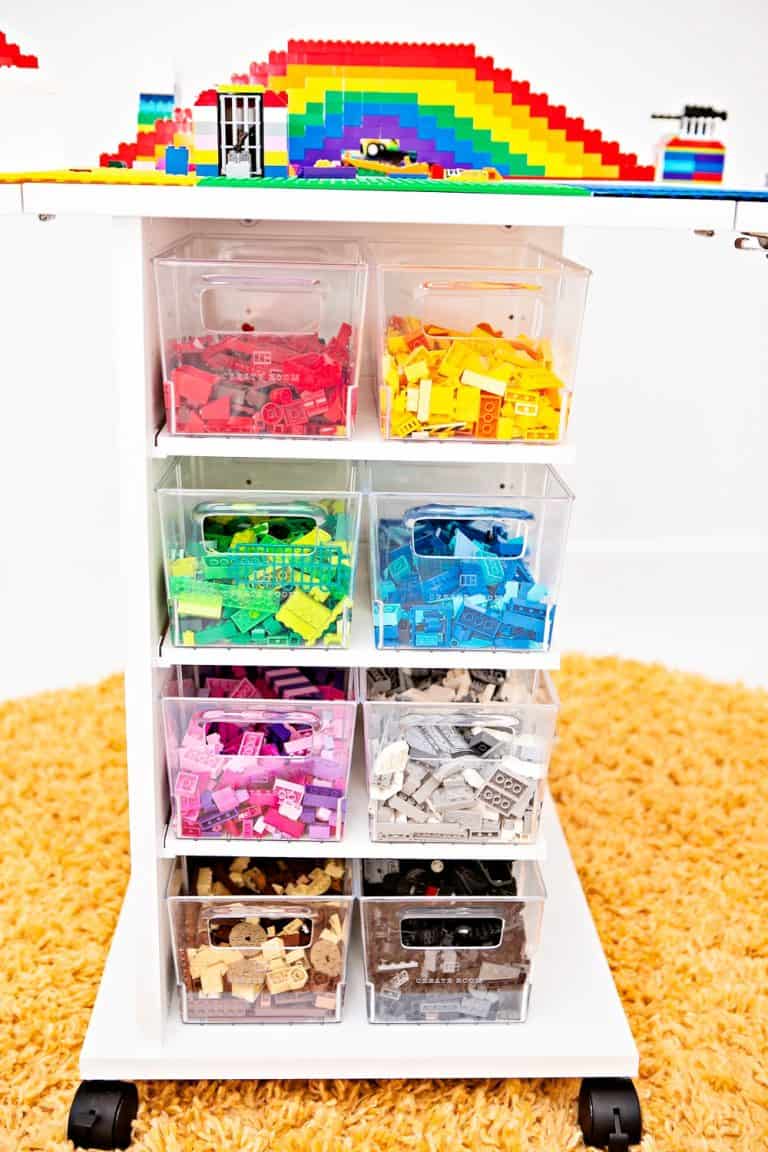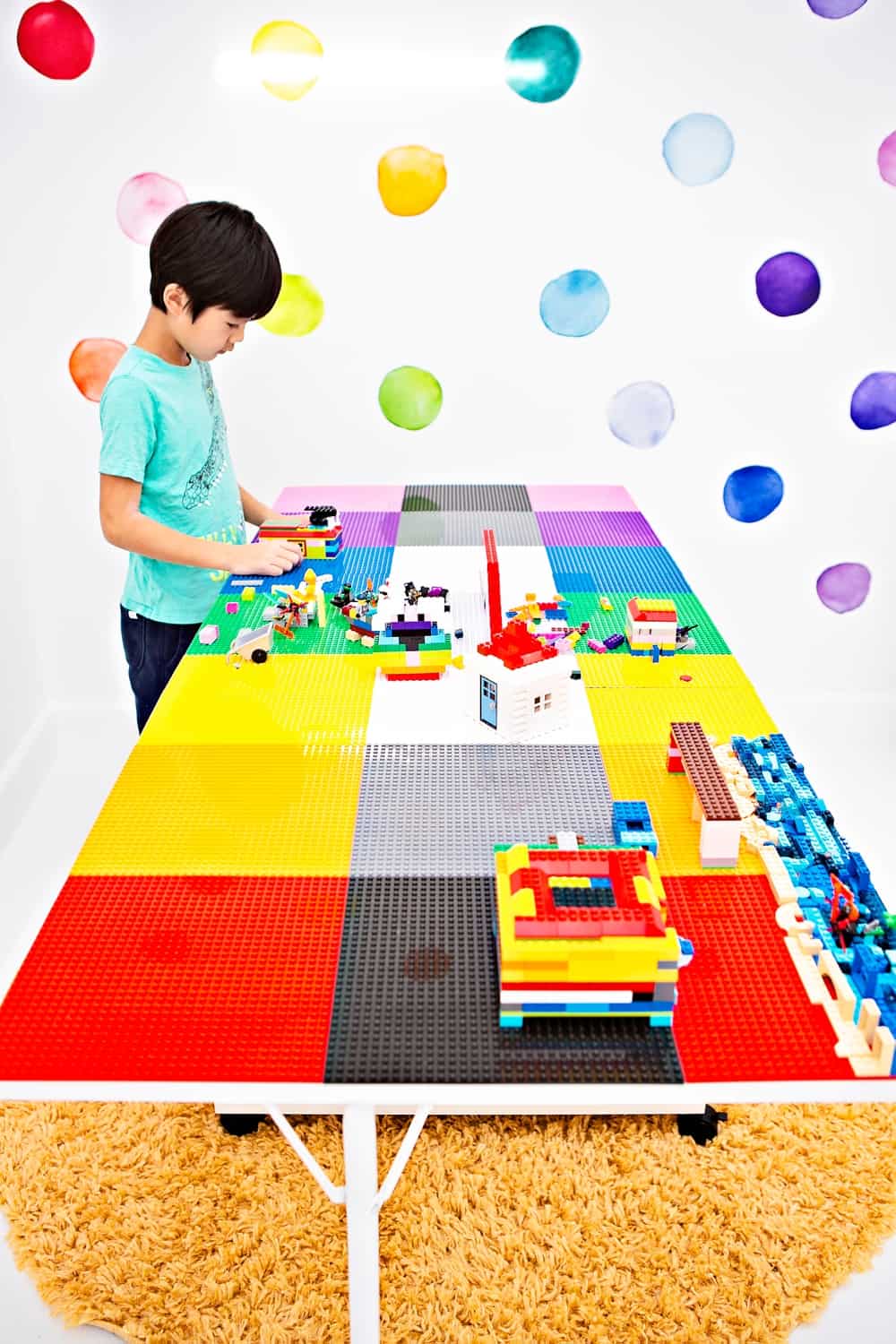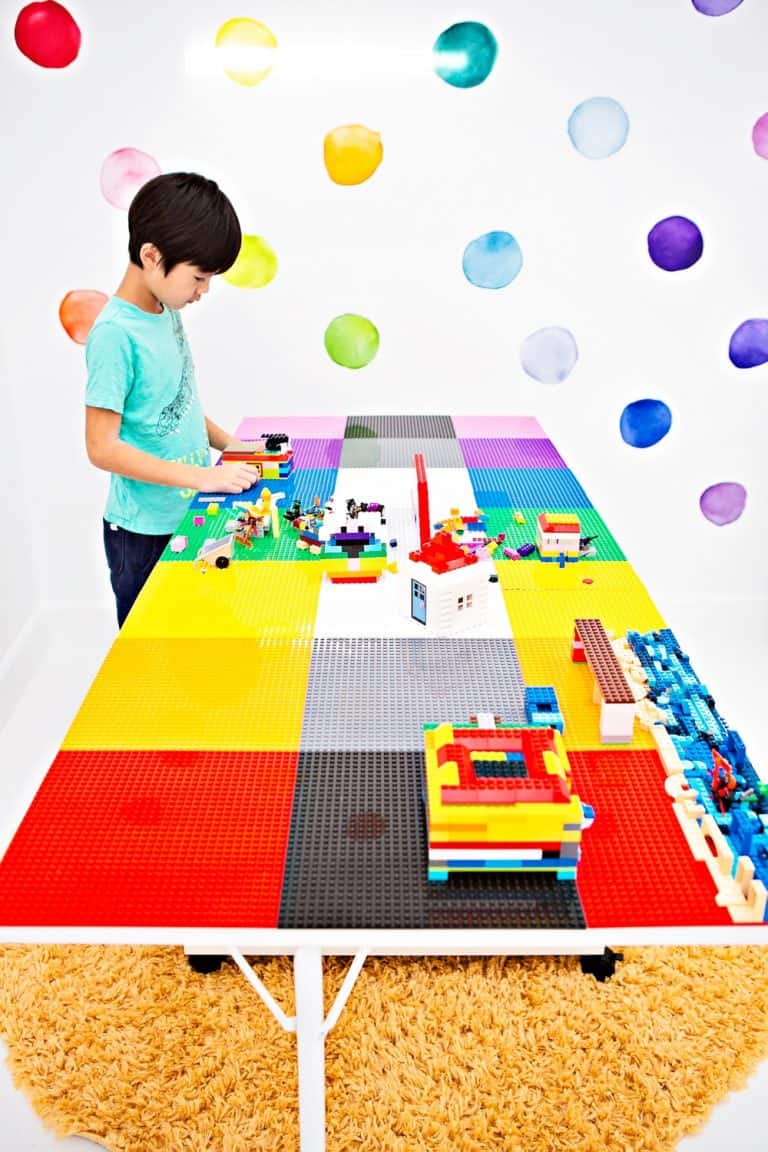 How much storage bins do you get in the DreamCart?
Talking about storage, the DreamCart has storage bins in the front AND back! They are also different sizes, so the front has 9 rectangle like bins the back has 5 wide and shallow more square bins. What's great is that I can store regular sized LEGO's in the rectangular bins and use the wider shallow ones for LEGO DUPLO. This suits my 2 year old and 9 year old's LEGO needs perfectly!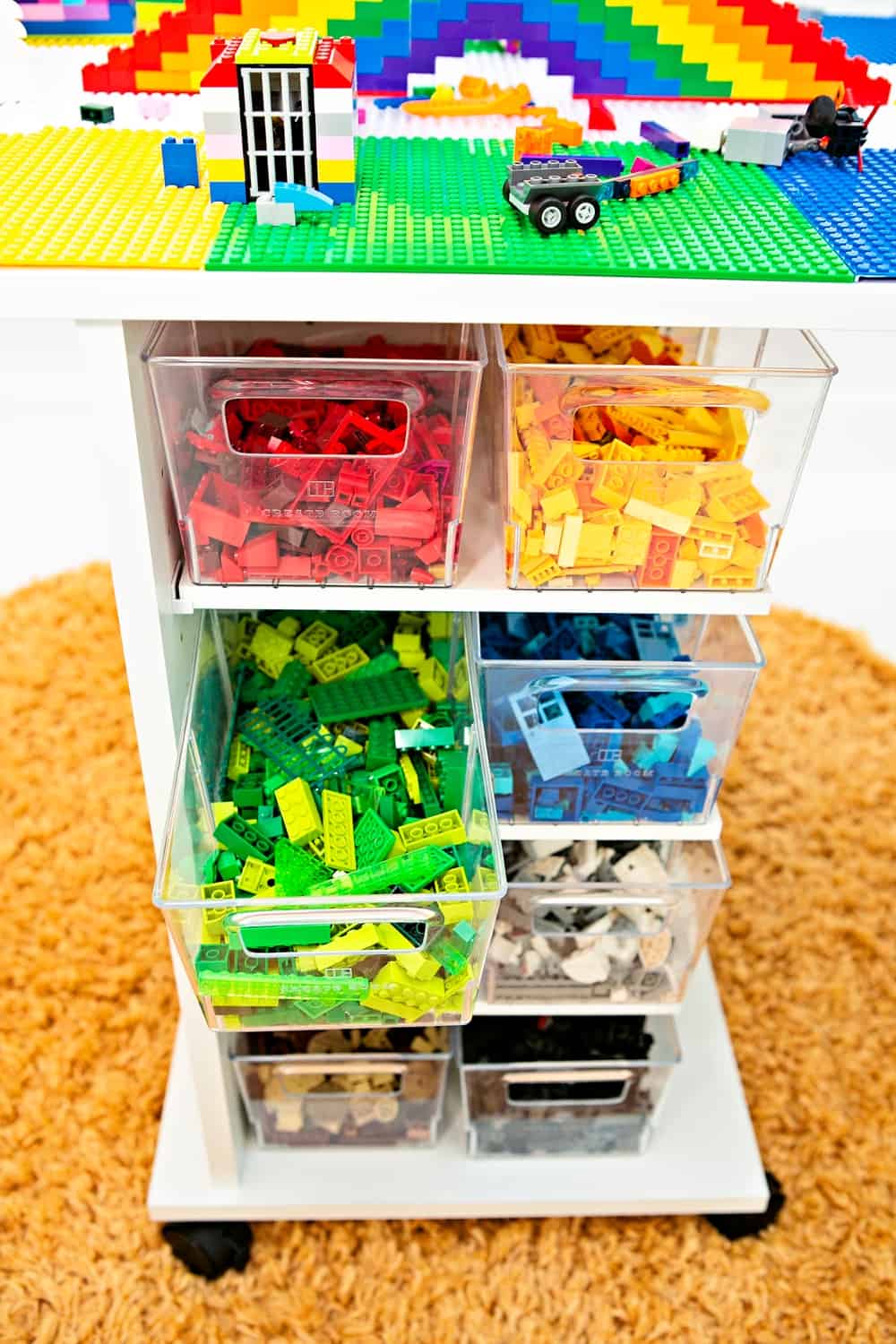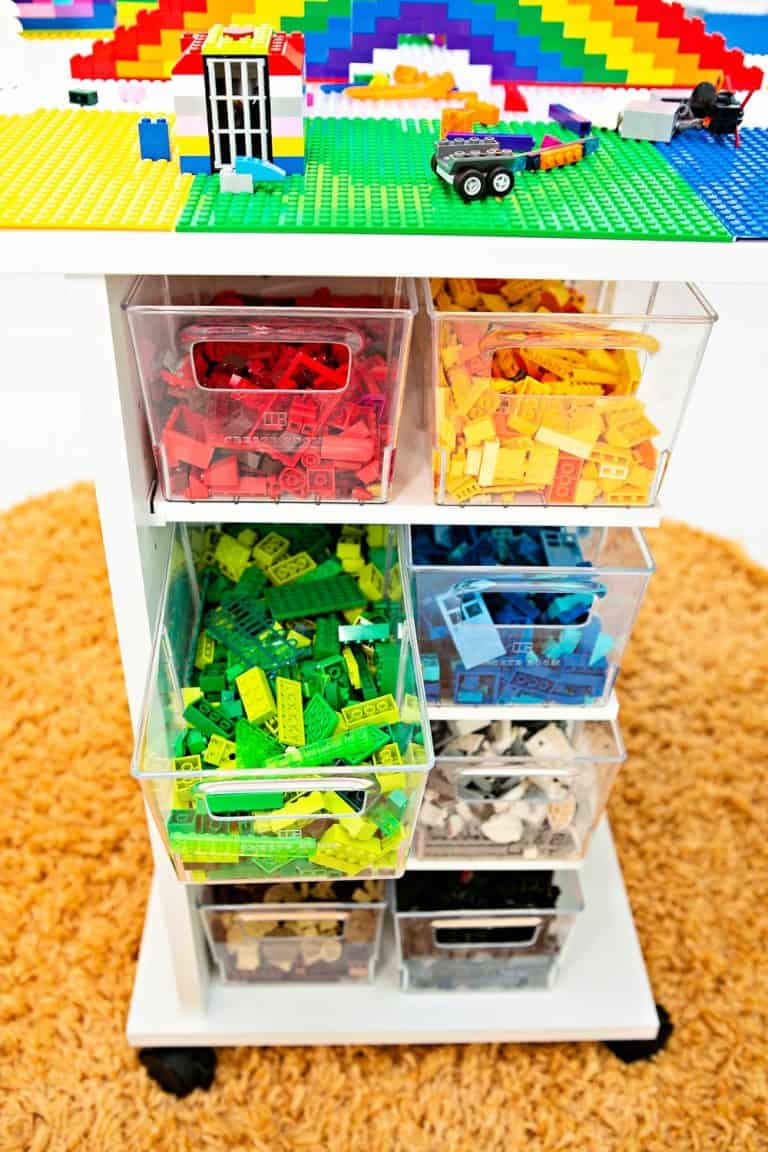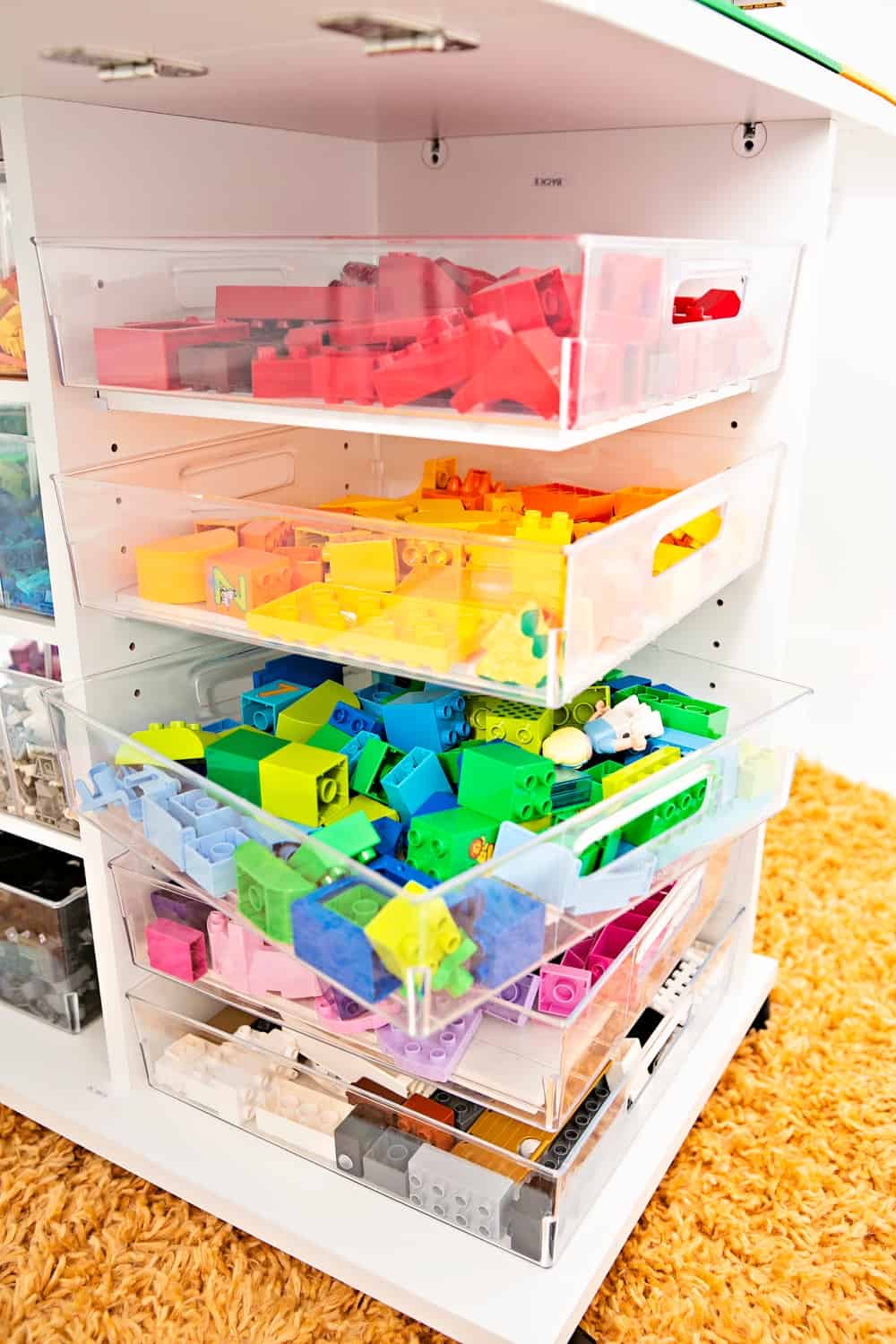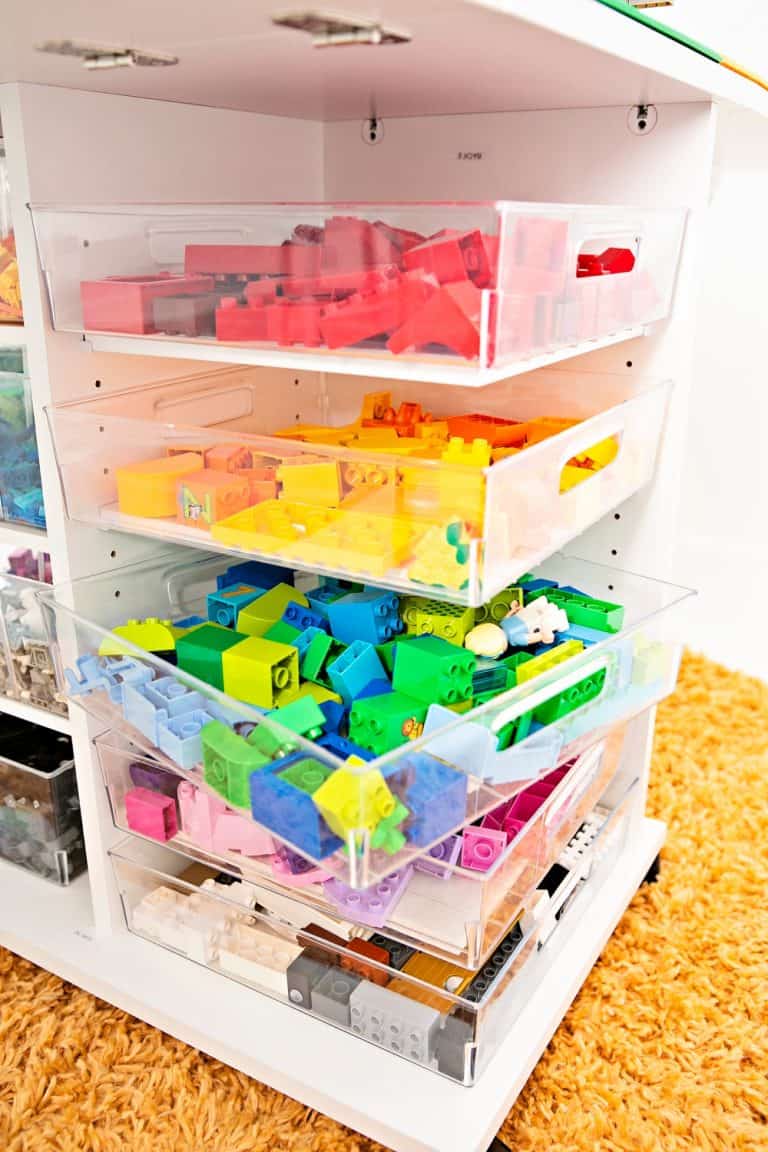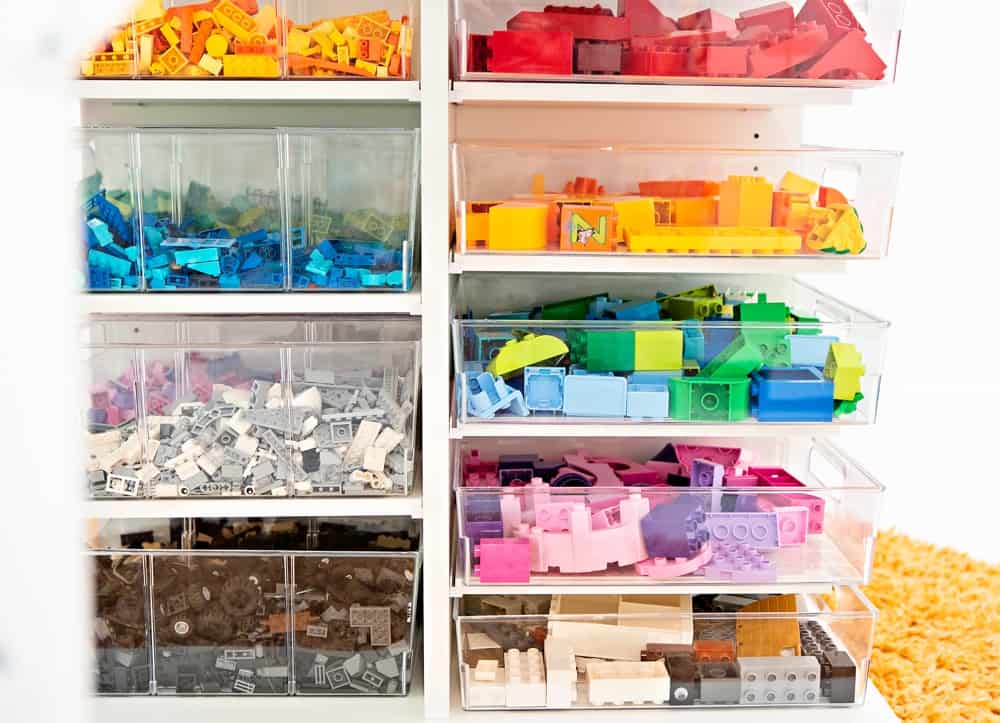 USE CODE HELLOWONDERFUL50 TO GET $50 OFF THE DREAMCART 
How do you turn the DreamCart into a DIY LEGO table?
It's so incredibly simple that I'm kind of embarrassed to really call it a DIY. Anyone can do this I promise you. First, you will need LEGO plates. Two packages of these rainbow ones will do. If you don't want rainbow plates other colors are available. 
Second, most DIY LEGO tables use permanent adhesives but I didn't want to permanently adhere the LEGO plates to the table. First because kids are kids their interests differ and wander and eventually they will get come off the LEGO phase (hopefully not for many more years), but in any case I wanted the DreamCart to be as functional as possible for future uses.
The solution to not using permanent adhesive was using this thick, clear tape that sticks to almost anything but is removable!! We tested it before adhering all plates. The clear tape holds the plates down strong enough to play but with some force, you can take the plates off and remove the table without any sticky residue!
In summary, all you need to make this DIY LEGO table are 1) LEGO plates; 2) Removable Strong Tape.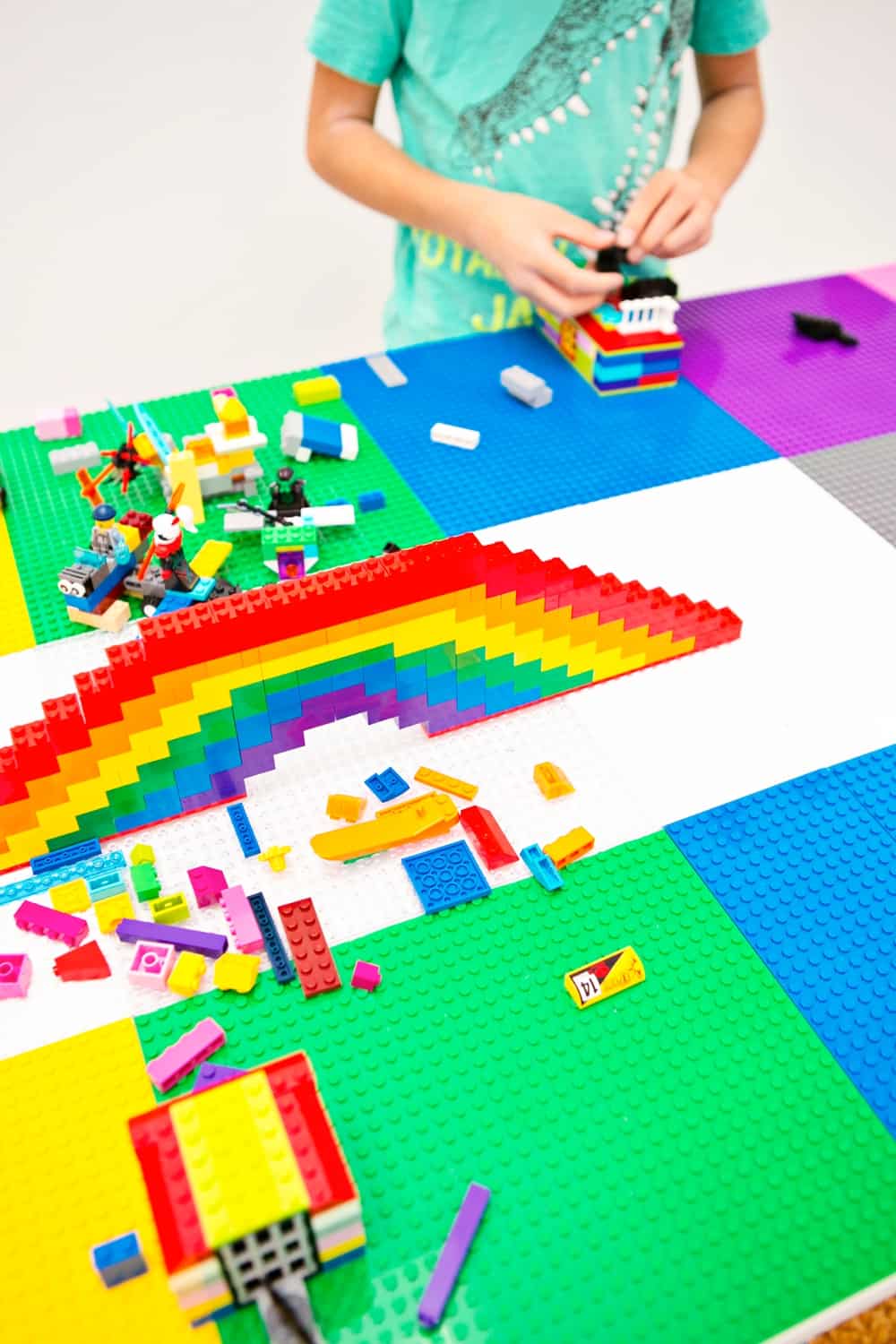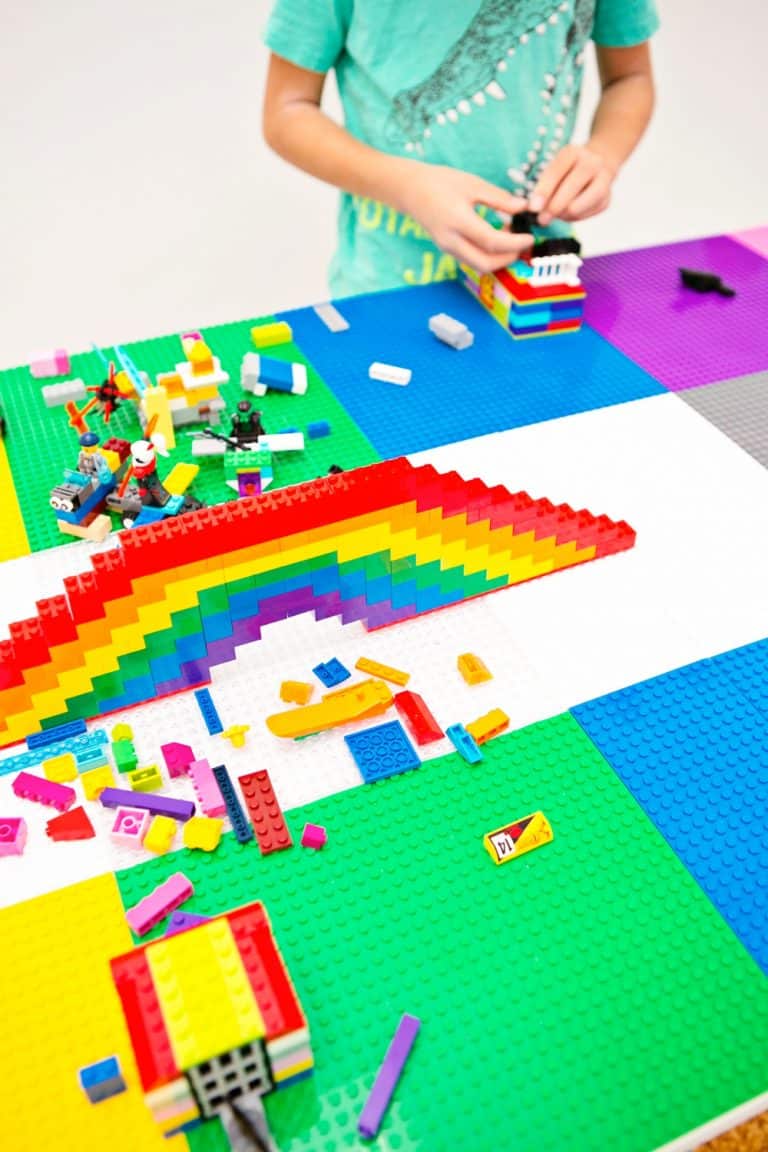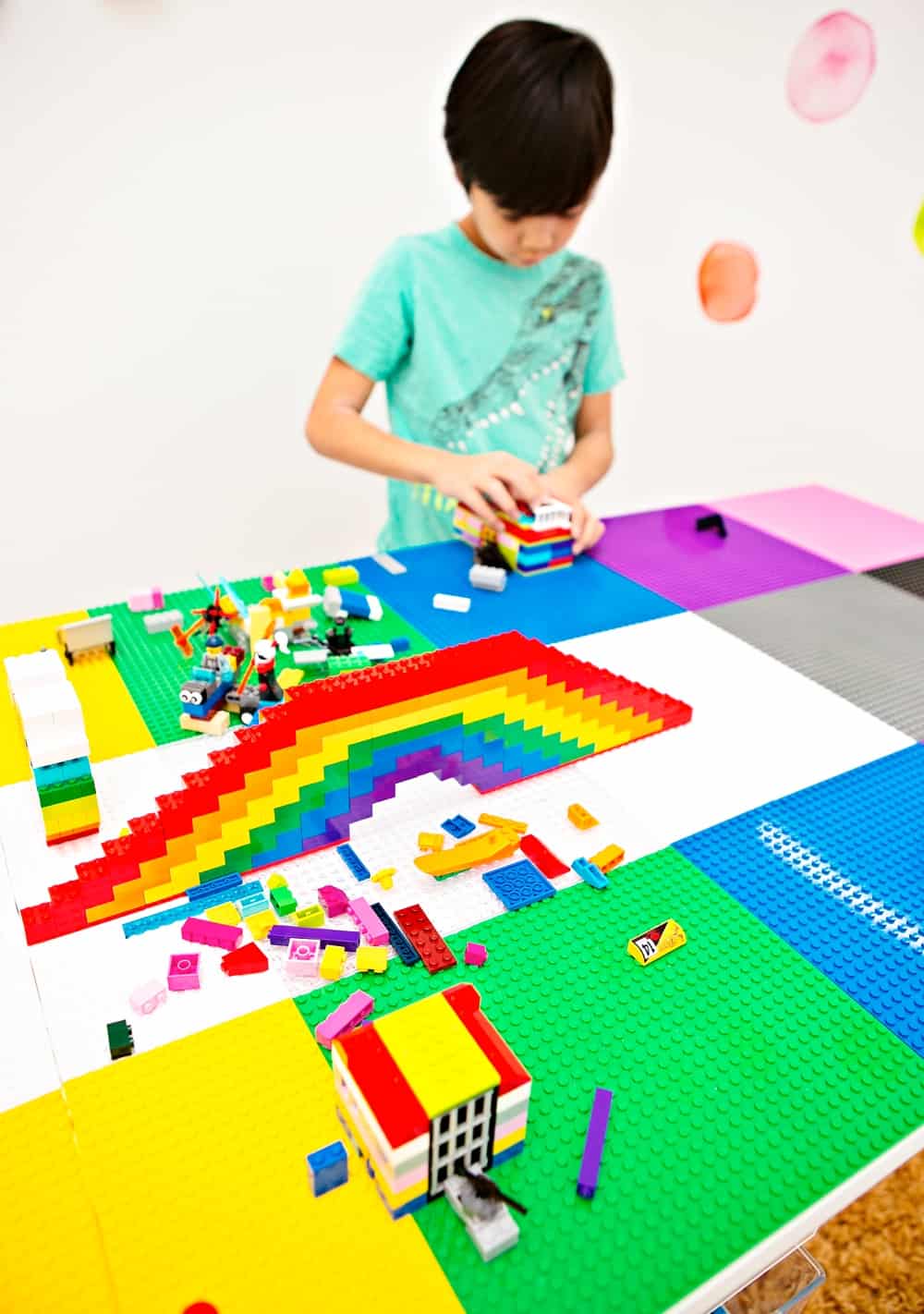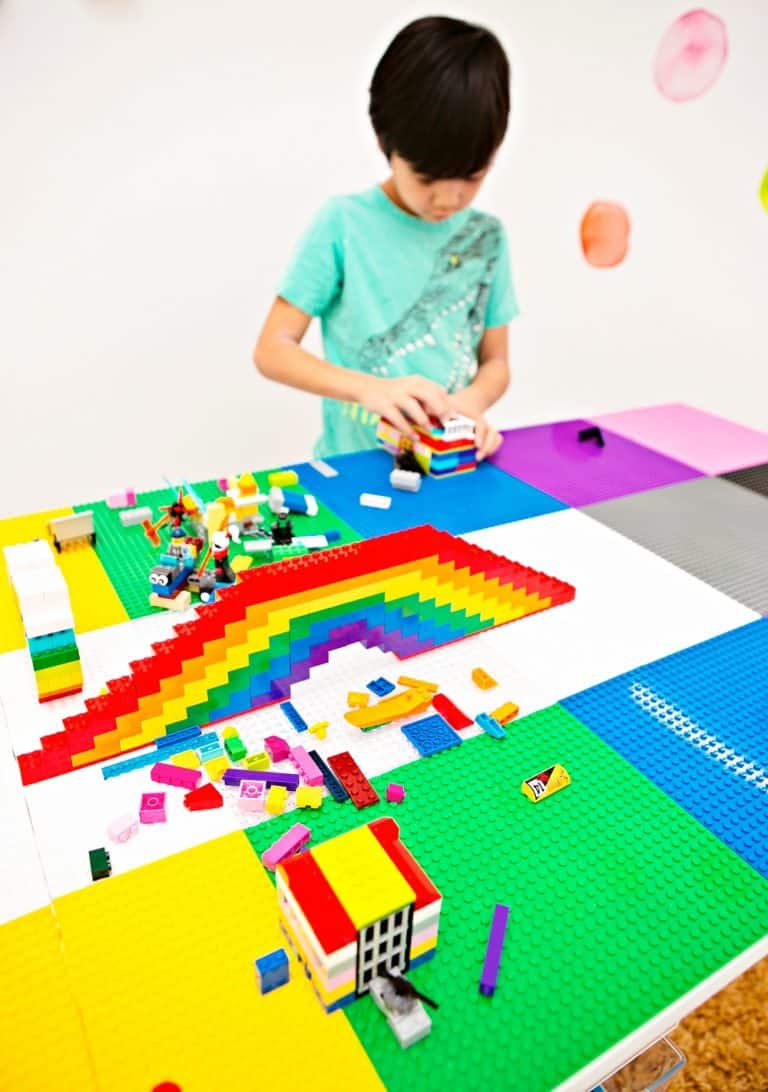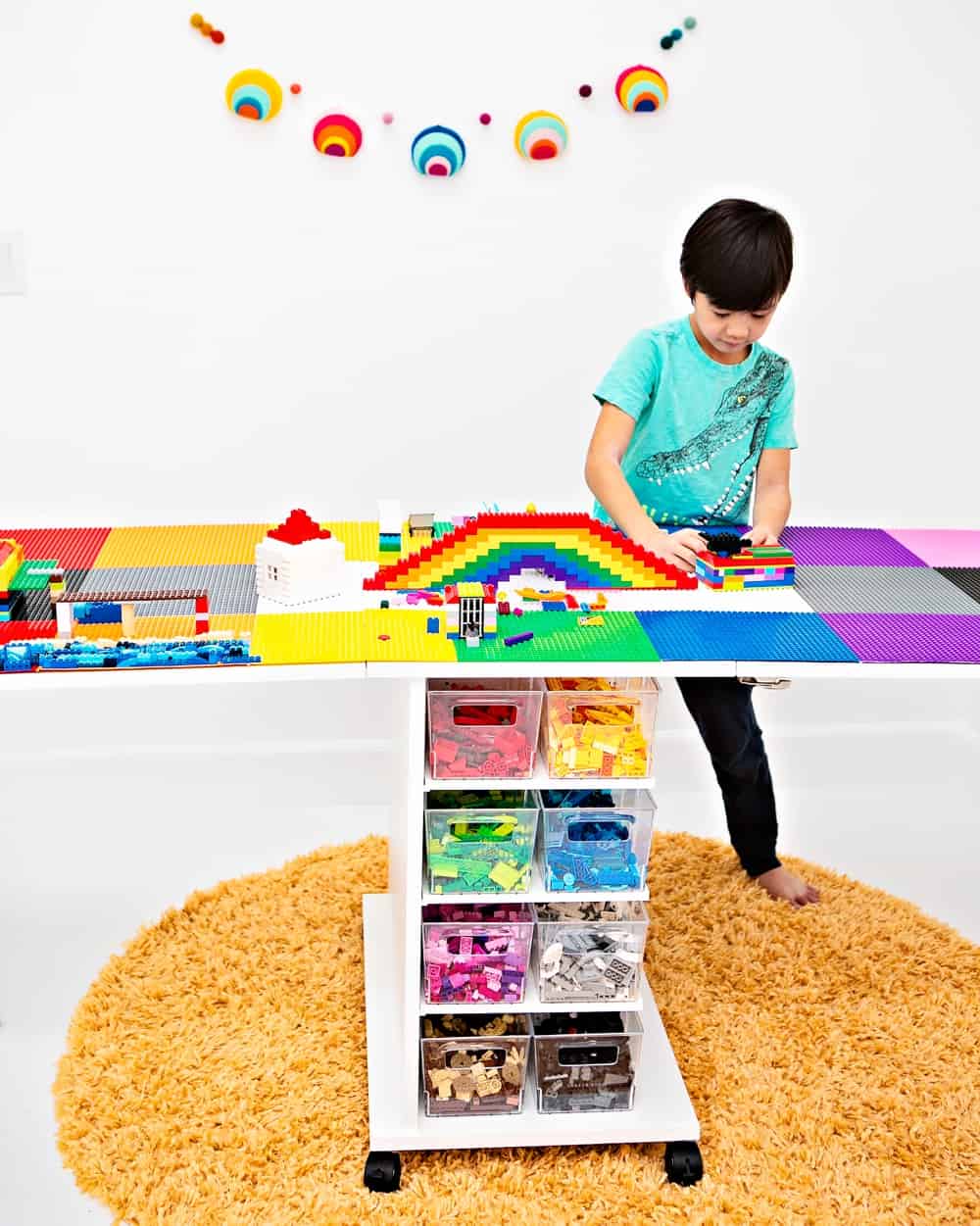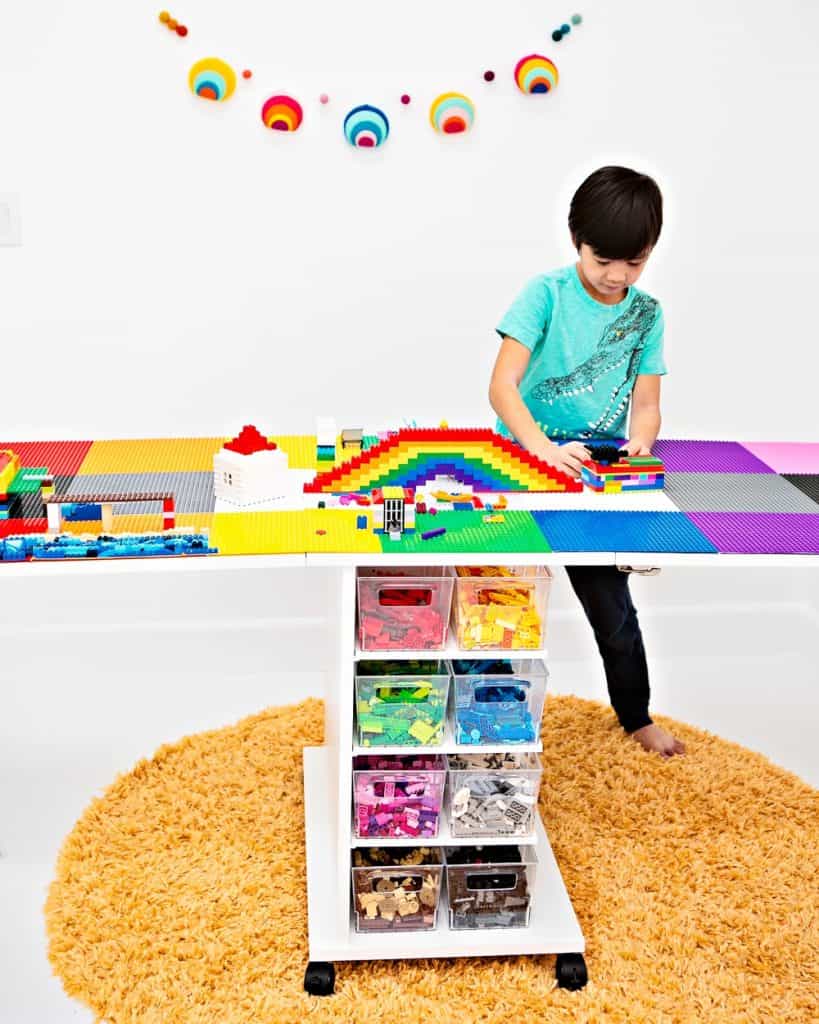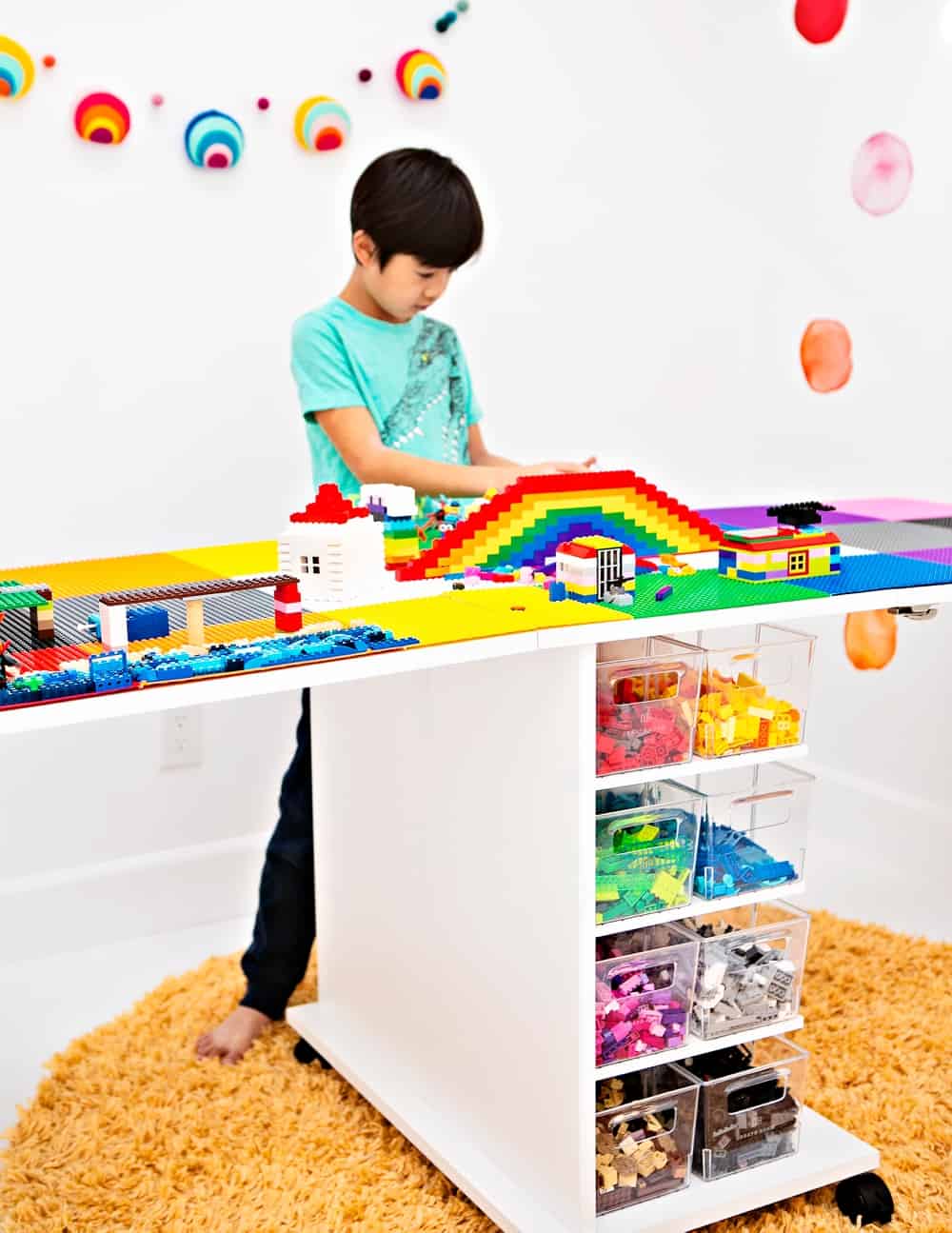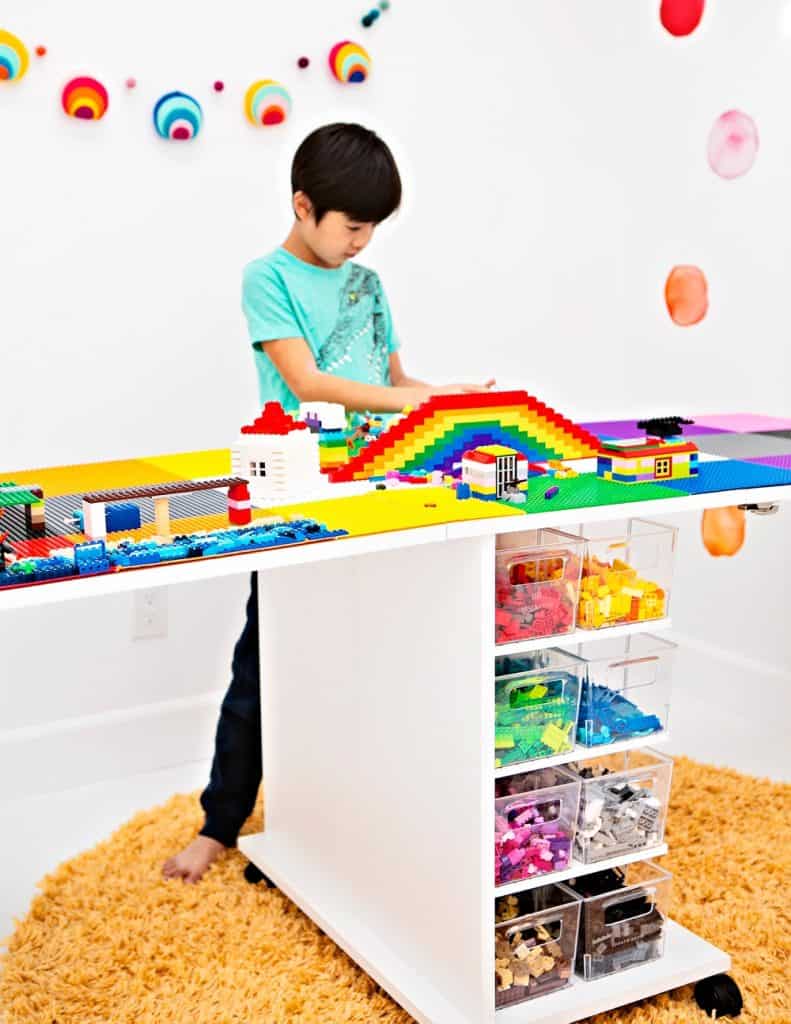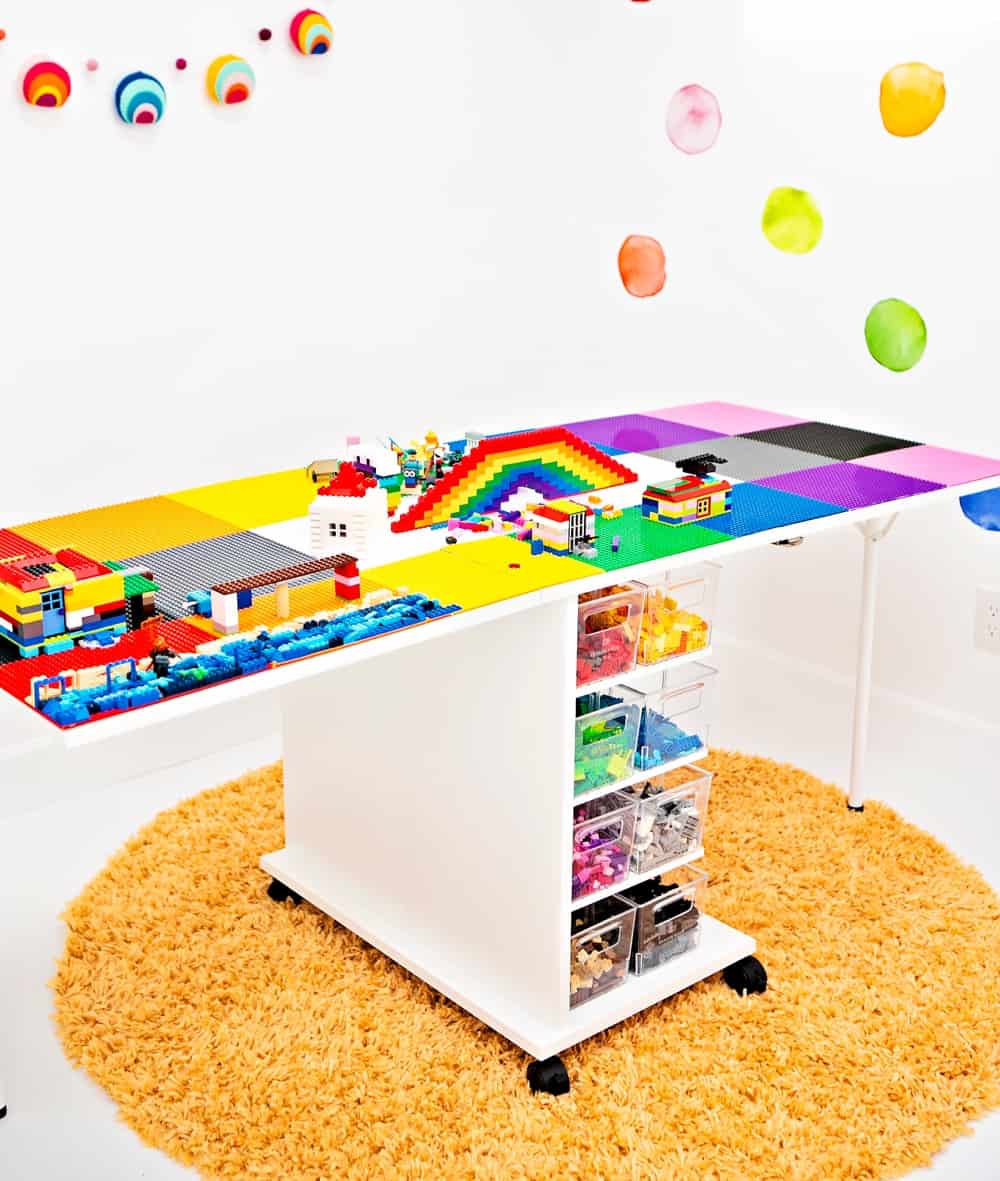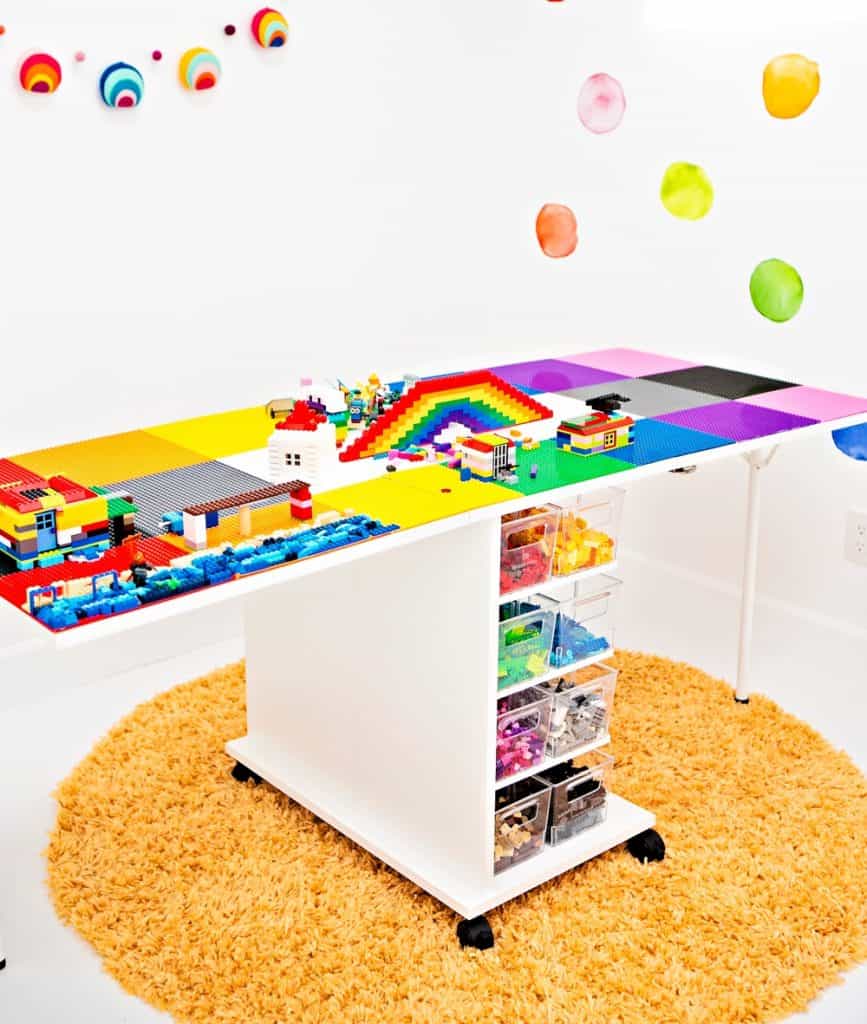 USE CODE HELLOWONDERFUL50 TO GET $50 OFF THE DREAMCART 
How do you cut LEGO plates? 
Great question – if you want to make your LEGO table look seamless as we did with  ours where the plates line up exactly all around the surface, you will need an exacto knife and a cutting mat. Just measure your plates and cut the plates to size. I promise you it's not as hard as it looks. I shared a video of how to cut LEGO plates here on my YouTube channel. 
How to stick your LEGO plates onto the table.
Once you have your plates cut, arrange them on your DreamCart table (with all leaves open). Then take your strong tape and apply 3-4 strips covering equal portions underneath the plates. Then place the plates on top of the table, press down very firmly. Continue to tape all the other plates firmly. We were able to play with the LEGO table as soon as the plates were taped down! To this day a few months later, they have not come off at all. 
Where do I get the DreamCart?
Here is the link to the Dreamcart, it has options for a one leaf or two leaves. We got the two leaf option. USE CODE HELLOWONDERFUL50 TO GET $50 OFF THE DREAMCART. 
Here is the link to the DreamBox. Stay tune as we will be doing a big blog post reveal with lots of photos on that soon! USE CODE HELLOWONDERFUL100 TO GET $100 OFF THE DREAMBOX. 
You Might Also Like: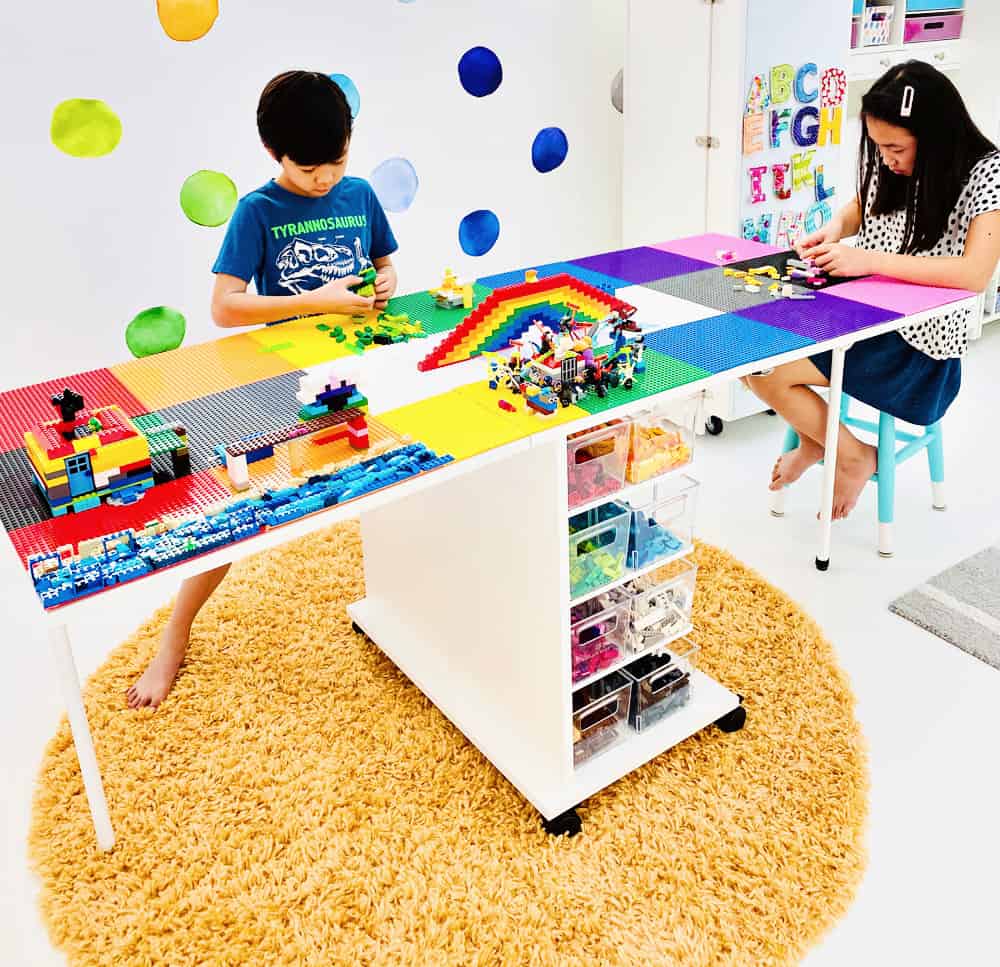 The post DIY LEGO TABLE appeared first on Hello Wonderful.